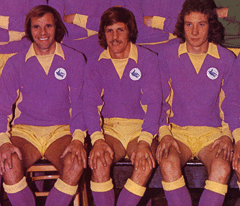 Regular readers may well remember this article from three years ago which included a cartoon drawn by former City winger Tony Pickrell of the 1961/62 Cardiff City squad he was a member of.
Speaking as someone who I'm fairly sure was the least talented pupil my old art master ever had the misfortune to teach, I've always had a lot of respect for and been very envious of someone with the sort of talent that Tony displayed in that drawing of his.
The piece mentions Tony's son, Adrian, who is a regular contributor to the Feedback Section which has become such an important part of the blog. I was aware that Adrian was also a gifted artist, but had never seen any of his work until, in his response to these caricatures of four current and recent City players by Super Ted creator Mike Young, he sent me a couple of cartoons of a pair who he called "City greats" (his words, not mine I must emphasise!).
Here they are in all of their glory;-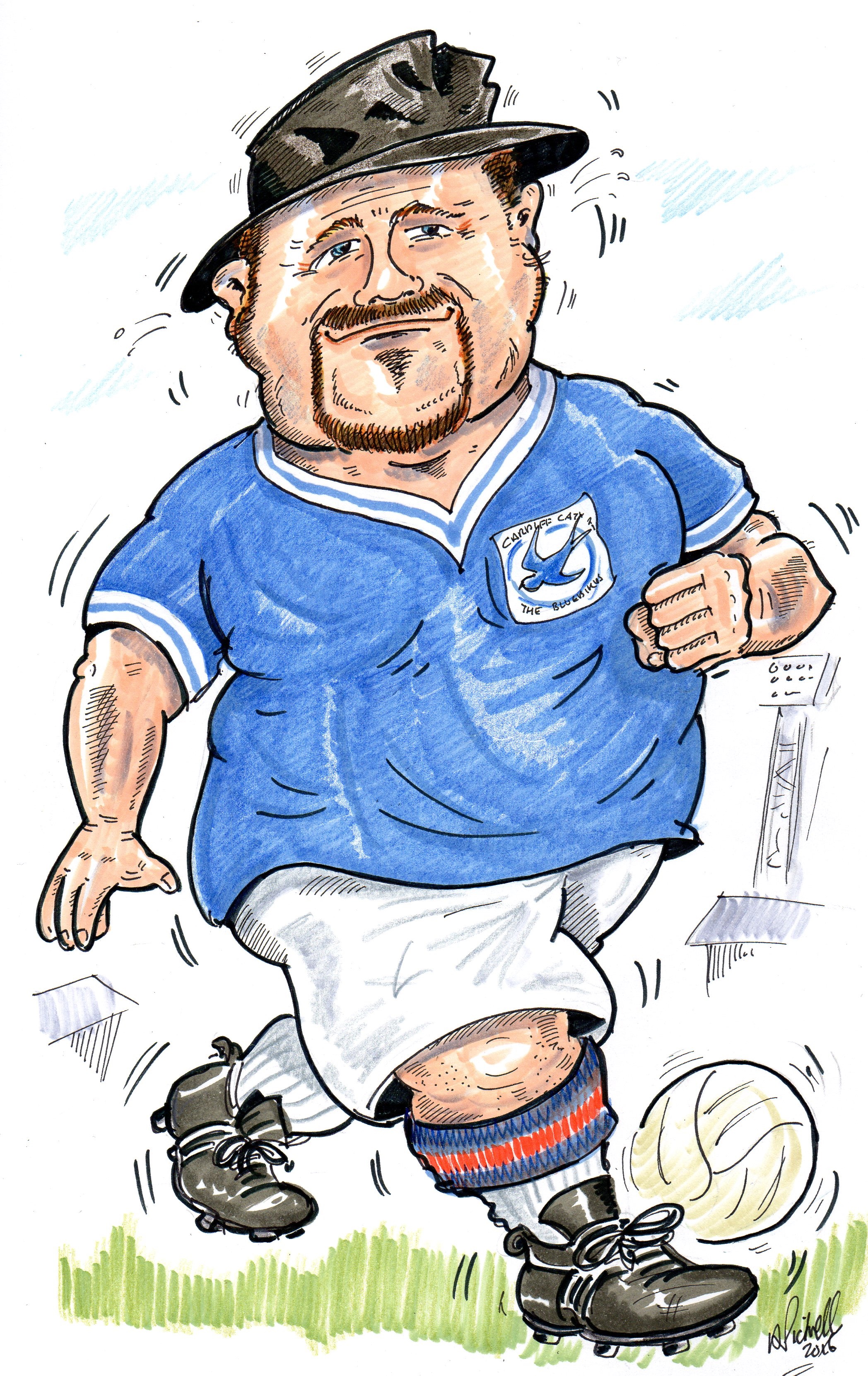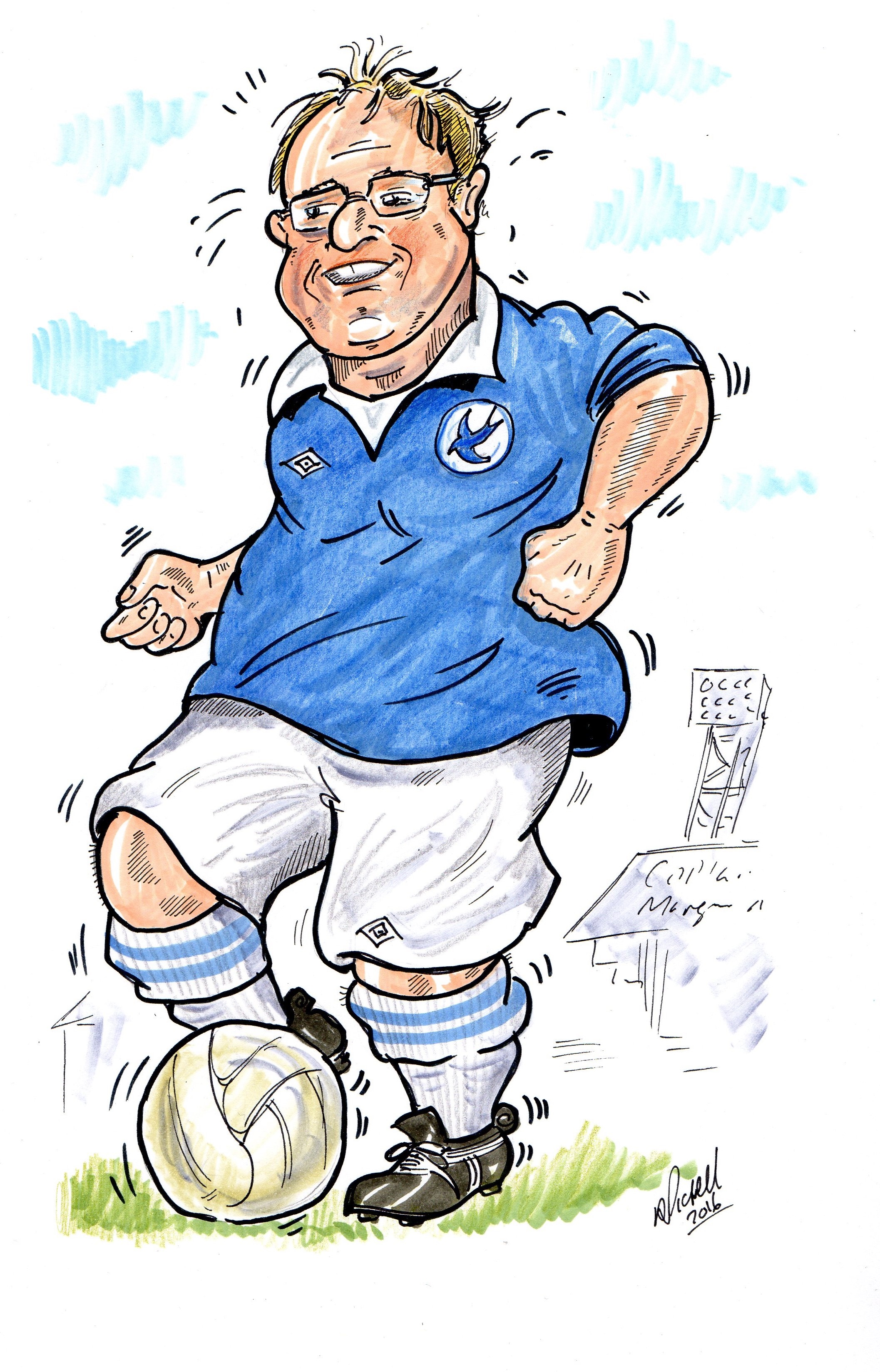 Now, before any of you start scratching your heads trying to recognise these two "City greats", I'll tell you that the first picture is of Dai Woosnam, who has probably posted the highest number of replies by any individual to my articles since the blog started in 2009, and the one below is of my good self.
Both Dai and I have remarked that Adrian has been very diplomatic when it comes to our waist measurements, but, speaking for myself, I'd say he's got me down to a tea otherwise – I suppose, to be hypercritical, he's given me a bit more hair than he should have done, but I've no problem whatsoever with that!
I'm truly grateful to Adrian for his wonderful gesture and told him I was honoured to be the subject of one of his cartoons – I know Dai feels much the same as well.
The good news for other regular contributors to the Feedback Section is that, in one of his e-mails to me, Adrian said "it would also be quite amusing to have the other regular commenters cartooned".
Adrian has said that there will be a charge to anyone interested in taking up his offer to cover his expenses on things like ink and postage, but says it will be "modest".
One other thing, Adrian put Dai and I in the kits he thought best reflected our tastes as portrayed in our writing on the blog, so Dai is in a kit that would have been worn by Danny Malloy and I'm wearing a Peter King – other categories he's mentioned he would be able to work with are Trevor Ford, Phil Dwyer, Dave Jones or Russell Slade, so could anyone who takes up Adrian's offer let him know which kit they would like him to put them in.
Can anyone interested in having their caricature done e-mail Adrian at
alpi.comics@web.de 
with their name, address, a photo of themselves and their kit preference and, hopefully, they can then feature in a "rogue's gallery" to be posted on here on a future date!