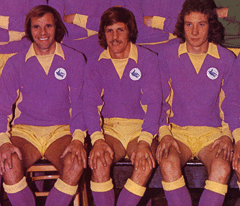 So, one first team game into his career as Cardiff City Head Coach and Paul Trollope already has a bigger win to his name than Russell Slade ever managed in his season and three quarters at the club – not only that, it feels like there was more tactical flexibility shown in that one match than there was in all of his predecessor's time here!
Actually, having seen us playing with just two at the back in the closing stages of our win over Bolton at Cardiff City Stadium last season, that  last bit's not really fair. However, by starting with a Wales style 3-5-2 in yesterday's 4-0 win at Shrewsbury, before making eleven changes in a switch to what looked like a 4-2-3-1 formation, Trollope did show an encouraging adaptability by using a warm up match for what it should be used for. There was a certainly a different feel to the approach used compared to what we were experiencing this time last year as we prepared for the 2015/16 campaign.
City started yesterday with a back three of Bruno Manga, Matt Connolly and Semi Ajayi in front of David Marshall with Fabio and Declan John operating as wing backs. In central midfield, the trio of Stuart O'Keefe, Peter Whittingham and Lex Immers combined, with the latter in a more advanced position behind Anthony Pilkington and new signing Frederic Gounongbe.
It was all change for the last third of the match with Simon Moore replacing Marshall and a very inexperienced back four of Theo Wharton, Jordan Blaise, Tom James and David Tutonda being given their chance. Tom Adeyemi appeared in a City shirt for the first time in nearly a year as he accompanied Kagisho Dikgacoi , with Craig Noone, Matt Kennedy and Kadeem Harris supporting lone striker Kenneth Zohore.
After the match, Trollope explained that Sean Morrison and Lee Peltier were hoping to be ready for the first league match at Birmingham in three weeks time following their operations during the summer and that Joe Ralls had been ill and so was not risked, but he was expected to available for selection for the upcoming matches in Germany.
As for the game itself, while it's always best not to draw too many conclusions from such occasions, it is maybe worth recording that Shrewsbury were able to win 1-0 at City in the Third Round of the FA Cup last year, having shared a 2-2 home draw with us on this weekend last year – they also drew by the same score with Wolves in a behind closed doors game earlier this week.
So, I think it's fair to say that when a Championship team visits the ground of a League One club for a pre season match, you don't usually expect there to be a four goal margin between the sides. Of course, such an outcome might be indicative of a weak Shrewsbury team in the coming season, it may mean a strong Cardiff showing or, most likely, it will have no relevance whatsoever to what happens in the nine months starting from 5 August!
After a strong start, City got their first goal on twenty six minutes when Pilkington cut in from the left to hit a right footed shot into the roof of the net from twenty five yards and there was then a first goal for the club by Gounongbe when he nodded in a Whittingham corner shortly before the interval.
The other two goals were scored after the host of changes made by both sides, with a Noone free kick being glanced in by James (although those commentating on City's website thought the final touch came off a Shrewsbury defender) and then Zohore was rewarded for his closing down of keeper Callum Brown, as he charged down a clearance to be left with a tap in from about a yard out.
Strictly speaking, the match yesterday was not the first under Paul Trollope's leadership. City had made their annual trip to Forest Green on Wednesday, but, unlike on previous occasions, it was more of a Under 21 cum Academy team which took on the Conference club and the new Head Coach only had a watching brief as he left James Rowberry to take charge.
Just how far Adam LeFondre and Federico Macheda have fallen down the pecking order at the club could be emphasised by the fact that they were the only senior players to figure on Wednesday (I know LeFondre is currently training with the Under 21s and presume Macheda is doing the same).
The two of them combined as Macheda put City ahead and then keeper Ben Wilson distinguished himself by saving a penalty, only to be beaten by another one awarded a few minutes later. Level at the break, an impressive looking Forest Green side got on top after that and scored two more unanswered goals.
I mentioned three first team men from last season who didn't feature at Shrewsbury, but there were two others missing as well. Aron Gunnarsson has been given a few weeks holiday following his exertions with Iceland this summer, but it would appear that the other absentee, Scott Malone will be leaving anytime soon as he in is in the throes of a transfer to Championship rivals Fulham with Welsh Euro 2016 squad member "Jazz" Richards (who made it on to the pitch for the last few minutes of the opening match against Slovakia) moving in the opposite direction.
I think it was on Monday that the news first broke that Malone was in London having a medical and then it emerged soon after that Richards was involved as well, but quite why the deal has still not been completed is unclear. It certainly appears to be going ahead because Paul Trollope talked of Richards arriving "in the near future" after yesterday's match and so I can only speculate that a a move which had been described as a straight swap in some places, may be a little more complicated that that.
Certainly, with us paying a reported £150,000 for Malone in January 2015 and Fulham, seemingly, spending half a million to get Richards before the start of last season, it may be that the London team feel they should also be getting some sort of fee for the former Swansea man who was, apparently, with City as a teenager. However, this would be in stark contrast to the attitude of Fulham fans on the messageboards I've read who, almost to a man and woman, would seem to be happy to pay us to get the player off their hands!
I always say that one of the best ways to judge a potential new signing is to read what the fans of his current team think of him because you tend to get a balanced range of opinions which give a fair indicator of his strengths and weaknesses. I have to say though that I've never seen such uniformly negative reviews of a player as the ones I've seen of Jazz Richards at Fulham – the only fairly positive one I saw was someone saying that while he wasn't very good, he wasn't as bad as everyone was making him out to be!
Now, these descriptions of a player who I feel has never let Wales down (I thought he was excellent in our 1-0 win over Belgium last summer) and always looked pretty useful when I saw him playing for Swansea and the clubs they loaned him out to, were so at odds with the opinion I had formed of him that I did a little research into Fulham last season and I found the following which I set out in a messageboard post during the week;-
"Fulham were awful at the back in the season they got relegated and have hardly been much better in their two years in the Championship, so it's not much of a recommendation that Richards couldn't hold down a regular place in their side last season. However, a closer look at things shows that their defensive record with Richards in the side was much better than it was when he didn't play – they conceded thirty eight in the twenty six matches he featured in and forty five in the twenty four when he wasn't involved. Furthermore, Richards was only involved in one of the five matches in which Fulham lost by three or more goals and that was a meaningless end of season affair at Brentford.
Richards and his new team were doing alright under Kit Symons' management up until he got injured at the end of October, but while he was out, they conceded eight in two matches which led to the man who signed him being sacked. Richards was back in the side in December, but Fulham would never win again for the rest of the season when he played – there were plenty of draws and they weren't getting thrashed when he played, but the new manager Slavisa Jokanovic dropped him in early March and he only featured once after that.
So, I think there is some evidence to say that he wasn't as bad for Fulham as many of their fans think he was, but, on the other hand, there's not much in his club form to indicate that he would be an improvement on Lee Peltier who, for all of his limitations going forward, was a very solid defender for us last season."
For me, the most damning stat about Richards at Fulham was that they only won three out of the twenty two League matches he featured in – they were far more likely to win when he wasn't there. However, the stats also show that Fulham fans would be wrong to characterise him as being one of the leading reasons as to why they, once again, had a woeful defensive record – they conceded almost two goals a game when he wasn't playing and less than one and a half a match when he was.
As I mention, Richards seemed to be doing pretty well under a manager who he was familiar with because of their Wales connections and it is to be hoped that the same applies if and when he teams up with some of the men who were there helping out Chris Coleman in France – time will tell I suppose.
One last thing, David Marshall was linked with the obligatory £6 million move from Cardiff when stories appeared saying newly promoted Hull City were after him. A long term injury to first choice goalkeeper Alan McGregor means that Steve Bruce will need to bring someone in for the new season.
If you are a Premier League club looking for a keeper in the domestic lower leagues, then, especially when you consider the glowing reviews he got during City's season at that level in 13/14, Marshall looks the best option out there to me – I think Marshall deserves another chance in the top flight and would accept a bid in the region of the figure quoted for him as long as a large portion of that fee was added to the playing budget for the new season.