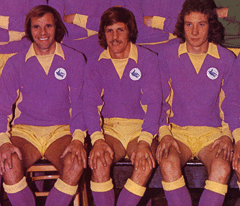 Maybe the afternoon on which City CEO Ken Choo has had to issue a statement on the club's website outlining his disappointment with a journalist at Wales Online following a story on the weekend which headlined that Mr Choo believed Russell Slade had "failed" as Cardiff City manager is not the best time to place too much faith in another article that media outlet had published on the club in the past few days.
However, I'm going to accept as true something they reported on Friday when they stated that they understood that the new Head Coach would be "young, energetic, stats driven and very much in tune with modern-day football".
Reading that piece again, the strong impression given is that Wales Online were being briefed by someone in a senior position at the club. It seems reasonable to me to assume that this person carries some influence and the lack of any subsequent denial from the club about the claims made in the piece could be viewed as an implicit approval of what was said.
Therefore, if we accept that the new man is indeed going to be "young, energetic, stats driven and very much in tune with modern-day football", what does that tell us? Well, we are talking about a profession where someone in their forties is often described as young and energetic can mean all sorts of things really – will he take part in practice matches in training? Will he be unable to keep still for more than five seconds in the dugout? etc. etc.
Similarly, "very much in tune with modern-day football" is sufficiently vague to mean all sorts of things, but "stats driven"? No, for me, stats driven can only mean that we are talking about someone who sets great store by statistical information – this qualification seems perfectly clear to me and is the sort of thing which would not have been mentioned unless it was exactly what the club was looking for.
Now, there are questions of degree here which need to be taken into account. For example, I've seen Russell Slade described as something of a stats man in the past and he did make fairly common reference to what the stats said about the game just finished in his post match press conferences. The thing is though that, if the club were only looking for a continuation of the Slade approach to stats, why, seemingly, brief the local press that this will be a requirement? No, to me, this means that City want to go well beyond the influence that stats played in the Russell Slade era.
Certainly, "very much in tune with modern-day football" could relate to the increasing part statistical analysis is playing in the game, be it analysis of a player's physical output during a game or season or analysis of their effectiveness in terms of things like anticipation and positioning, or overall influence on a match.
Probably, the most extreme example of reliance on statistical data comes from Denmark. FC Midtjylland are owned by the man who bought Brentford, Matthew Benham, and this fascinating article   explains how data is now king at the team which won the Danish Championship last season and beat Manchester United in the First Leg of the Europa League tie between the clubs in February.
The signing of Tim Sparv as described in the article is pretty mind boggling to this sixty year old. Around a decade ago, I can remember Sparv being at Southampton I think it was (I only knew this because I can recall scouting him and dismissing him as not being good enough for my Cardiff team while playing Football Manager!). Since then he has played in Sweden, Finland, the Netherlands and Germany for a variety of teams you'll probably never see competing in the Group stages of the Champions League before arriving at Midtjylland because the data had marked him out as one of most important players in a Greuther Fürth side that had been identified as big over achievers in European club football in the model the Danes relied on.
Hardly surprisingly, the closest the Football League has to a Midtjylland is Brentford. Benham has allowed the London club to operate on similar lines to his other team and I must say that last season's Brentford side was the best I've seen at that club in my lifetime.
However, although they finished the campaign like a train, Brentford have not been as successful this time around and I'm sure many of their fans are convinced that the decision to let Mark Warburton go this time last year was a retrograde step.
Warburton has been described as Brentford's best ever manager and much of that reputation was gained because of his success in the transfer market. He was reckoned to have an eye for spotting talent and his subsequent success at Rangers, despite spending an amount which I have seen described as "minimal" by that club's standards, only tends to back up this view.
So, was Brentford's fine season last year more down to Warburton than the stats which the club set such store by? In this article, Warburton argues that, while he accepts that the use of statistical data is a rapidly growing aspect of football in the 2010s, it should be used in conjunction with the more traditional methods of acquiring players, not at the expense of them.
This exactly mirrors my feelings on this subject. I'd read about Midtjylland at the time of the Manchester United tie and thought to myself that all of this data analysis is all well and good, but it doesn't tell you about a player's character and temperament (surely as important as talent when considering whether to invest in him?).
However, the article on Midtjylland I posted a link to earlier shows that the club have a radical answer to that problem – they believe sending someone to watch a potential recruit of theirs in action could be counter productive and so they use scouts to investigate whether they are "a fit from a personal, psychological point of view."!
Cards on the table, I find the Midtjylland approach (they also pay particular attention to dead ball attacking ploys) to be a bit cold and lacking in spontaneity, but I can't help thinking that it's one more and more clubs are going to follow, so are Cardiff City intending to and would they be right to do so?
To try to answer the second part first, I think they might well be right to do so and I would argue that we've not been a club where all of the suggestions for new players come from the manager for some time now. For example, in the summer of 2005 (Dave Jones' first year at the club) we bought in Glenn Loovens on loan from Feyenoord and it was widely reported that we did so because of Peter Ridsdale's "contacts" within the game.
Similarly, the impetus for the signings of Steve McPhail and Michael Chopra a year later must, surely, have come from Ridsdale who knew the former from his Leeds days and had both players at Barnsley while he was at that club. Besides that, we signed Kevin McNaughton. a player we were supposed to have been after in 2001, that year, so it may well have been that Super Kev was recommended by, say, Sam Hammam.
Malky Mackay might have been interested in Etien Velikonja when he was managing Watford, but he has hinted that he thought he could do better than him once he came to Cardiff because of the increase in spending power he was given. When you consider the way Velikonja was used (or not used to be more accurate) by Mackay at City, the rumours that the Slovenian was a "Vincent Tan signing" look like they may not be too wide of the mark.
It seems to me that much the same could be said about Javi Guerra and Juan Cala with the first named barely used by Ole and the latter only included as a last resort, while Guido Burgstaller (who could well be in Austria's squad for the Euros and is, reportedly, attracting interest from Southampton) is another one who was seriously under used by City.
Leaving aside any opinion on whether the decision to virtually ignore these players was right or wrong, it does make you wonder nevertheless if the manager's concerned might have been making a stand against the bringing in of players they didn't want.
Could it be that an owner who, trying to put this diplomatically, has original and unusual ideas on how the game should be played, has been penalised when it comes to using footballers he played a significant part in bringing to Cardiff simply because the men in question were regarded as "his" players?
Maybe, as I often am, I'm wrong there, but, if I'm not, then the use of a trusted statistical model which is accepted by all concerned (including the new Head Coach) would, hopefully, see a degree of unanimity among the club's transfer committee and would lead to less of the looking down on the football opinions of the money men by the professionals which I'm sure goes on at most clubs – and has done for decades.
Indeed, when you consider the case of Lex Immers, I have to wonder if something along the lines of the Midtjylland approach has been used already at Cardiff?
I apologise now to those regular readers who have become pretty familiar with this piece in recent months (this is the third time I've posted a link to it on here!), but I find it fascinating how much at odds the opinions expressed in the article are from the ones to be found so commonly on all forms of social and broadcast media about the player who made a big impact at City in the last three months of the season.
Just how much you can be influenced by what you read or hear about someone you've never seen play before becomes apparent when I remember thinking "we've signed a right donkey here" when the Immers loan was confirmed – I always try very hard not to prejudge the players we sign, but, being honest, I did not do so with Immers as I reasoned all of these people cannot be wrong.
Instead though, we ended up with a player I recognise now from the description of him in that article. For example, I must have mumbled "good ball" six or seven times on Saturday before realising that it was Immers playing another of those "expected assists" mentioned in the piece on him – it wasn't his fault that his team mates were unable to make anything of the openings his clever passing created.
Perhaps the decision makers at the club ignored all of the criticism and ridicule about Immers and looked instead at the stats when making a decision on him – if they did, then well done to them, because this is a case where the figures were right and the people were wrong.
Also, when I look at another of our January arrivals, Kenneth Zohore, I see a player who would probably tick a lot of the statistical boxes that a target man type striker for this division might have, but the inconsistencies revealed during his appearances for us (e.g. very good at Burnley and Brentford, pretty good against Bolton and off the pace for much of the time in the rest of his home appearances) suggest to me that the club need to do some Midtjylland style scouting on this player before they commit to bringing him here.
Of course, with Zohore being a K.V. Kortrijk player currently, it's not certain that he will end up here, but the cooperation between the two clubs in getting him to Cardiff, despite our embargo, is suggestive of there being more to the relationship between them than the fact that they are owned by the same man.
With Ken Choo, reportedly, saying that the nationality of the new Head Coach will not be important as long if they are the right man for the job, the idea that we may be looking at a someone moving from one Vincent Tan owned club to another begins to look more likely to me by the day.
Finally, I suppose the most important question about this stats based approach is does it work? At the time of that piece on Midtjylland, with them on the way to winning their league and Brentford heading towards the Play Offs, those who advocate it would have assuredly said yes. However, with Brentford having dropped four places from last year while never really threatening a Play Off challenge and the Danes currently down in fifth in their league, thirteen points off the top, it now looks like Mark Warburton might be right  - I still wouldn't be surprised to learn that City intend to operate with a system that is something like the Midtjylland one though.