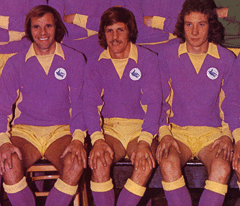 Sometimes a 0-0 scoreline is no indicator of the quality of a match – it's possible to get games where high quality attacking play from both sides is denied time and again by excellent goalkeeping and defensive covering and organisation.
Cardiff City 0 Brighton 0 on a cold, bleak Saturday afternoon with a definite midwinter feel to it was no such occasion – when you consider the amount of goalmouth action at either end of the pitch, it was the sort of game where you might have expected the final whistle to be greeted by boos, abuse and howls of derision from the home crowd.
Why is it then that I have a sneaking suspicion that City manager Neil Warnock might well have been more satisfied after yesterday's match than he was after the previous one played at the ground where high riding Huddersfield were beaten 3-2?
My take on that question is that, given the nature of the squad he has at his disposal throughout December, our manager could believe that the Huddersfield result was something of a one off.
Even with Rickie Lambert, who missed yesterday's game with an injury which didn't seem too serious judging by the manager's post game comments, this is not a group of players that gives an impression that they have it within them to win matches by scoring three times on a regular basis.
No, in terms of attacking potential, the City squad for the first half of the 16/17 season is one that should have you thinking that the most likely winning score would be 1-0, but then that takes you on to the nub of the problem that this season has been so far – how can a team win 1-0 when they cannot stop the opposition from scoring?
Mauve and Yellow Army corp (as if!) will not be charging the club any consultancy fees, but it's perfectly obvious that the piece I did last week following the 3-1 loss at Villa where I pointed out that this City team were fast closing in on a post Second World War record for the most games played without keeping a clean sheet had a profound effect on everyone one at Cardiff City Stadium. Minds were concentrated by what I had to say and it was hardly a surprise to hear Warnock talk about how much work had been put in on the training ground on defensive matters in the days leading up to the game.
Getting my head out of the clouds and returning to reality again, this time last week I had given up on yesterday's game and so was thinking that the only chance we had of stopping the current squad equalling that post war record of twenty matches without a clean sheet came at Ipswich next weekend. However, not for the first time, and certainly not for the last, I was proved to be wrong.
Instead, against a team on an unbeaten run of twelve matches that would have gone top of the league with a win yesterday, City were able to gain that elusive clean sheet in a relatively comfortable manner which had me scratching my head as to why it had been virtually four months since the last time it happened.
Part of the reason as to why we were able to stop our highly rated and in form opponents scoring was that they were nowhere near as good as I expected them to be. Some of their play was distinctly sloppy as they gave possession away in dangerous areas and better sides than us would have punished them to the full for their carelessness.
Such errors hinted at a degree of complacency on the visitor's part, but Chris Hughton, who I rate as one of the best managers around at this level, would surely not have let that happen and so it's more likely that it was a case of our opponents simply having an off day, as Hughton put it after the game, as opposed to them under estimating City.
That doesn't fully explain why it was that Ben Amos was relatively untroubled in finally achieving his first shut out in a Cardiff shirt at the twelfth time of asking as Hughton also praised City for the way they had stifled his side.
Hardly surprisingly, the Brighton manager thought his team were the better one overall, but I thought a draw was the right result overall in an encounter in which it could probably be said that we successfully managed to drag our opponents down to our level.
Now I realise that sounds critical and, somewhat, insulting towards the team I support, but I would suggest that, instead, it is just being realistic.
When you looked at the league table before kick off, you saw that there was almost the whole of the Championship between the two sides and so, logically, as a low scoring team that was missing it's number one striker, the only way we could deny Brighton the win was to play an attritional game designed more at stopping our opponents playing than doing anything too creative with what limited possession we could manage.
So, in the end, the plan worked, but, was I really the only home fan who watched the game develop with a distinct feeling of deja vu? The fact of the matter was that the match panned out in just the sort of manner that so many others at home this season had done and therefore, right up until the final whistle (even after Brighton had been reduced to ten men), I was still awaiting the, what I considered to be inevitable, goal from our visitors that would see them nick all three points.
Five times home games have been 0-0 at half time this season before yesterday and we ended up losing all of them. Just as against QPR, Reading, Leeds, Derby and Wigan, we had made a lively start which saw Junior Hoilett go quite close with a chip and Aron Gunnarsson force a diving save from David Stockdale after a powerful and skilful run, but, just as against those other teams, the closing stages of the first period were played out with an impression that City had shot their bolt as our opponents enjoyed more territory and possession.
Increasingly this season, the half time interval has been a time when you could reflect that the best City had to offer as an effective attacking force had come and gone and we could now expect forty five minutes of us "attacking" the Canton End that would see us huffing and puffing a bit, but getting absolutely nowhere. In those five matches that had been 0-0 at the break, three of our opponents had been able to get a goal, that you felt had been coming, around the hour mark and then add another one late on and, in the other two (Reading and Wigan) the decisive goal had come in the dying minutes, but come it did, because this Cardiff team always gives you a chance somewhere along the way.
This time though things were different. Of course, a Sol Bamba header just wide excepted, we did next to nothing going forward when attacking the Canton Stand as per normal. However, apart from a Glenn Murray "goal" disallowed for an earlier push on Bamba which may have been allowed on another day and a fairly routine save on his near post by Ben Amos from a Sam Baldock effort, there was little to trouble us and, with hindsight, such was the organisation and resilience shown by the team at the back and in defensive midfield areas, my pessimism, in terms of us avoiding defeat at least, was groundless as we did not need to trust to luck in the second half.
Perhaps there was an element of good fortune for us though in that, on the only occasion we made the sort of defensive mistake that has been costing us so many goals this season, it came right at the start of the game, rather than late on. I say this because, when Joe Bennett got himself in trouble by losing the ball very close to goal after a piece of self indulgence that would have had steam coming out of Neil Warnock's ears, there was a feeling that Brighton were not yet enough into the game to capitalise – how else can you explain the cross from Baldock which wasn't quite good enough and the shoddy control Murray showed when presented with what was still the sort of opportunity he has been putting away at this level for getting on for a decade?
If that chance had been converted, then the evidence since August strongly suggested that the best chance City had of getting back in the game (or in front with the game still at 0-0) lay with us scoring from a dead ball situation because very little has happened in home games in particular so far to suggest that we would trouble Brighton from open play.
Perhaps the best illustration of this comes when you try to assess the performance of Frederic Gounongbe who was given the job of replacing Lambert. Now, I don't believe Gounongbe is as bad as his army of critics on social media and in the local press make him out to be – I thought he did a pretty good job up against two good Championship centrebacks (and, despite his mare for Blackburn here in August and the booking he picked up yesterday after a bit of the sort of slipshod Brighton play I remarked on earlier, Shane Duffy is good at this level), but, not at any time, did I think he was going to score for us.
Part of me says that's because there is a doubt in my mind that Gounongbe would be able to score if a chance was created for him in open play, but it's more to do with another of those big problems we have this season – our central midfield players given some licence to get forward and be creative are, in one case, not best suited for such a role and, in the other, no longer able to make the sort of contribution they once could.
This is especially true under Neil Warnock who has with one exception when Keiron Richardson started at Newcastle, gone with Joe Ralls and Peter Whittingham in the positions I talked about.
Last season was a breakthrough one for Ralls in which he made the transition from promising, but still a back up, to established first teamer. However, with that new status comes a level of expectation and less tolerance of mistakes and Ralls is attracting criticism this season that he hasn't had before in his career with us.
Is this criticism justified? Well, I think it is to a large degree, but in the player's defence, I would repeat my opinion that he is not being played in a position that he is best suited to and, consequently, most teams we play have someone far better suited to doing the job Ralls is being asked to do than he is.
This brings us on to Peter Whittingham who has to be the player who provokes the most argument among City supporters these days. To some, Whitts is still the same Championship thoroughbred that he was five years ago, but a succession of City managers have not known how to best utilise him, while to others, he symbolises the decline in playing standards at the club in recent years as someone who is now living, solely, off his reputation.
I sound like the perennial fence sitter here, but I can honestly see both sides of the argument when it comes to Whitts. On the one hand, the notion of dropping him seems daft when you look at things like goal assist, completed pass and key pass stats and compare them to his team mates, but, on the other, you look at what he offers us these days and ask would he get into many, if any, of the teams in the top half of the Championship this season?
I suppose my opinion on Whitts is that we have to keep on picking him, but that's more because of the shortcomings of others in our squad who are below par when it comes to those areas where Whitts is still strong than anything he does himself now.
That said, my opinion will change if we get many more displays as odd as yesterday's was from our longest serving player – Whitts was so poor yesterday in the parts of the game where he is normally strong.
Unusually off key with his passing in open play, Whitts was presented with a couple of shooting opportunities from near the edge of the penalty area of the kind he would have really relished in his pomp. In the first half, his effort flew a long way off target and then when  the increasingly influential Kadeem Harris set him up in the second half, he got himself into such a poor position to strike the ball and showed such poor technique that the resultant shot, which sailed miles high and wide, put you in mind of something which, say, Willie Boland, would have produced in such a situation.
As is always the case in recent seasons, great responsibility falls on Whitts' shoulders when it comes to attacking free kicks and corners, but yesterday, his delivery from set pieces matched his poor contribution with the ball in open play – in fact, it was probably even worse.
We only got the one corner, but there were numerous free kicks in areas of the pitch where you would have thought someone with his reputation could have helped make all of the difference in such a tight game, but, not once, was Whitts able to get things right as a variety of under or over hit efforts represented no threat to the Brighton goal.
Well into added time, as he prepared to take the free kick awarded after the foul which resulted in Gaeten Bong being shown the second of his yellow cards, I remarked that this was in an area of the pitch where Whitts has shot, and scored, from in the past, but you would never have guessed it as another crossed effort drifted harmlessly beyond goal and out for a goal kick.
Weak in areas where he is normally so strong,  I thought Whittingham, paradoxically, did best yesterday in the one where he is poorest. For me, Brighton looked most dangerous when they broke at pace from Gunnarsson long thrown in's and, given a role where he stood about thirty five yards from goal to pick up any half clearances from our opponents, Whitts was very much in the eye of the storm so to speak when we were faced with, say, three on three counter attacks, but, albeit at the expense of a booking which leaves him one yellow card short of a suspension on one occasion, he played a full part in making sure nothing came of these breaks.
However, the overall impression given by the Ralls/Whittingham partnership in recent weeks is that this is one of the areas where we could do with strengthening in next month as the latter completes a decade at the club – with a contract that expires this summer, could it be that such a great servant of the club will be one of those who leave in January?
City's draw lifts us one place to twenty second following Wigan's home loss to Derby after a week in which a series of unlikely away wins from teams around us at the bottom of the league had seen more of an acceptance that we could be in relegation trouble throughout the second half of the campaign as well as the first.
As mentioned last week, we now have four matches that offer us a better opportunity to climb the table than most of our ones recently have done. To use a cliche, no game in the Championship is easy, but, even though yesterday's match was a pretty awful one, I'm more confident after it that we can be in a healthier position when we travel to face Brighton again in four weeks time.