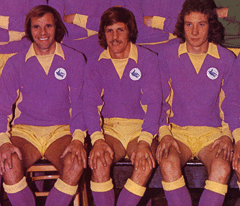 Take Wales' 2-0 defeat to Portugal last night out of it's context and look at it in isolation and I have to say that I would have been among a very substantial number of critics having a moan about selection matters, substitutions, tactical choices etc. etc.
However, even as the criticism homed in on Chris Coleman, there would also have to be an acknowledgement this was one of those matches where the first goal was absolutely vital – it can never be proved of course, but I'll believe until my dying day that we would have won that game if it had been, say, Gareth Bale, rather than Cristiano Ronaldo, who had scored it.
Therefore, if you return the match to it's rightful context. I believe it's entirely reasonable to say that for fifty minutes, Wales gave as good as they got in a contest to decide one of the teams which would compete on Sunday for the title of being Europe's finest international football team.
Just stop and think about that – think about everything the history of tournaments like the one Wales have been competing in for the last four weeks and the World Cup signify, think also about the fact that our population may be nearly ten times the size of Iceland's, but it's still only very slightly over three million.
Once you've done that, think about what being a supporter of the Welsh national team was like throughout your lifetime until 10 October 2015 when our qualification for 2016 was confirmed. Maybe if you're under twenty there may not have been the strange mixture of frustration, self pity, envy and anger that your elders felt every time the teams congregated to contest the Finals of a World Cup or European Championship, but I'm not so sure about that – after all there were books, websites, podcasts and videos aplenty around to remind you that Wales just didn't do Finals tournaments.
It was somehow typical of what being a Welsh supporter meant that, when they finally ended their qualification drought last autumn, they did so because a twenty seven year old Londoner playing his club football as a right back for Walsall scored for Cyprus in a game played at the Teddy Stadium in Jerusalem! Jason Demetriou became a Welsh national hero because his goal beat Israel and enabled us to seal second place in our qualification group on a night when we were beaten 2-0 in Bosnia.
However, whether we had stumbled over the line or not, we were there, we would finally be playing on the big stage and the enormity of what had been achieved soon began to sink in.
From where we are now, my use of the word "emormity" there may seem a bit melodramatic. However, just recall how you felt just after we had beaten Belgium by that Gareth Bale goal in June of last year and how, after so much final match heartache down the decades, you were able to watch us play our last qualification group game safe in the knowledge, that, no matter what happened, we had already secured our place in France.
In a post about England's latest failure in a major tournament I made on a City messageboard last week, I said that there were people born after 1966 who had lived well into middle age and then died without ever seeing England achieve anything truly significant (by the terms their media judge them by at least) in their lifetimes in a major tournament.
This applies even more so when it comes to Wales and qualification for such competitions  - it's just about possible for you to be looking ahead to getting your bus pass in a couple of years time as you celebrate your ruby (fortieth) wedding  anniversary with your great grandchildren, having not been alive in 1958 when Pele's goal beat us in a World Cup Quarter Final!
So, yes "enormity" is justified in the manner in which I used it. Having done so though, I need to be a better wordsmith than I am to come up with the descriptions that can adequately describe what we've done since arriving in France to partake in a tournament for which I'm sure "mere" qualification would have been more than enough for many beforehand – myself included.
If it was "enormous" to qualify, then what was it when, in beating Slovakia, we became the first British side ever to win an opening group match in a Euro Finals tournament? What was it when we blew away the country which was the foundation stone behind the union that won the first ever European Championships and contested three more finals up to 1988 to win our group?
What was it when we edged past Northern Ireland to equal the achievement of the 1958 team? What was it when we surpassed that by beating the team FIFA ranked the best in the tournament to become the first side from these islands to contest a semi Final in twenty years? What was it when, amazingly, we became only the second British team ever to take part in a Semi Final in a major tournament held outside these islands?
I've read a newspaper article this morning which states that what our football team has done in France since June 11 is "An achievement which eclipses any other Welsh sport has delivered" – more media hyperbole or does it have a ring of truth to it?
For myself, I always have a problem when it comes to comparing achievements in individual sports with those in team ones, so I'd, maybe, stop short of putting Wales' 2016 European Championship Semi Finalists over some of the many Welsh gold medalists and world champions (we've had plenty who have managed to win both of these) who have done this country proud, but Wales' greatest ever team? Yes, I think so.
In saying that, I can think of Welsh rugby teams I've seen with more talent than this one – actually, I can also think of more talented Welsh football teams than them! However, when you factor in those history and population elements I mentioned earlier and combine them with what was at stake in our last six matches, then the 2016 team beats all other contenders for me.
This goes right to the heart of nature of what the last four weeks have been all about – Chris Coleman has got his country's football team so much further in this competition than they should have done given the resources available to him.
In terms of population, Wales are the smallest team ever to have contested a World Cup or European Championship Semi Final. Has a previous Semi Final ever featured a player (Simon Church)  who was considered surplus to requirements by a club relegated from the second tier of their domestic league?
Yet, in spite of all the overwhelming odds against us, there we were with more than half of the match played last night with as good a chance as Portugal of making it through to face France or Germany on Sunday.
It needed just one goal and then we would have been well within reach of the Final. True, Portugal had come back from behind three times against Hungary in the game when it looked at times like they wouldn't even get out of their group, but they were playing the side with the worst defensive record in the competition then and, that match apart, there had been little in their play to suggest they would have found an equaliser against us.
All of this, of course, is to ignore Ronaldo. To be honest, I didn't think he was great overall last night, but you have to say that, if you want to look at the match in the simplistic Bale v Ronaldo terms that the media seemed determined to do all week, then what the latter did in the fiftieth minute meant that there was only one winner.
In my piece on the Belgium match I ended by making the case for Jazz Richards, rather than James Collins, to replace the suspended Ben Davies for the Semi Final because I reasoned that having Chris Gunter as one of the three centrebacks made more sense than having a traditional stopper like Collins there given the sort of challenge Portugal would pose.
Not for the first time (and not for the last!), Chris Coleman proved he knows more than armchair managers like me. I had not figured the new incarnation of Ronaldo into my thinking – whether it's by choice or through the effects of the passing of time, the old jinking and sprinting wingman seems to have gone and has been replaced by someone who was seen by his countrymen last night as more of an old style target man.
In the decades after he's retired, I've always assumed that if people were asked what they see in their mind's eye to describe Ronaldo the player , then it would be a picture of him dribbling past opponents on the way to scoring or an image of one of those crazy free kicks, which he patented, that swerve in all directions before hitting the net or it could be an example of his prima donnaish behaviour as he sulks to the ref about the free kick or penalty he's not been given.
However, maybe there's a chance that the picture conjured up will be of him hanging in the air above all markers to power home a header, because that would appear to be the way that the rest of his career might pan out.
I can always remember how Pele made scoring look so simple when he headed in Brazil;s first goal in their 1970 World Cup Final against Italy. It was proof that while he may not have been a prolific scorer of headed goals, this wasn't because his technique in that area was lacking in any way – George Best was another one from that era who was far better in the air than you'd expect him to be given his size and the way he played the game.
With the very best players you get the full range of talents – Gareth Bale has scored nine headers this season for his club and, if it's possible to "blast" a ball home with your head, then that's what he did with a leap and header to clinch a Welsh win in Cyrpus which reminded me of John Toshack and, no doubt, left those older than me recalling John Charles.
However, that fine goal was eclipsed by the header Ronaldo scored last night. Chris Coleman's selection of James Collins turned out to be justified because, by and large, he was able to dominate the first half aerial battles with Ronaldo. Indeed, I've seen a few comments about how the outcome would have been different if it had been Collins, rather than James Chester, who was marking Ronaldo for the goal, but I'm not sure about that. Once he was given a bit of room to get a run on as he moved to meet the ball, Ronaldo was able to leap to a height which I don't think Collins could have matched.
Maybe Collins was one of the Welsh defenders whose concentration lapsed a little when Nani added a fortunate second for the Portugese three minutes later, but, apart from one or two awkward moments early on for Chester as he settled into a position on the left of Wales' back three, I don't think Ben Davies was missed too much – if only the same could be said for our other suspended player, Aaron Ramsey!
There's no doubt that Ramsey's stock has risen dramatically over the last four weeks (I've even seen him described as the player of the tournament so far in some places) and his reputation was probably further enhanced once it became clear that Wales looked nowhere near the same goal threat without him as they did when he was prompting in his number ten role.
I'd thought we'd see Jonny Williams in the starting line up last night because he's the closest thing we had to Ramsey in terms of the problems he can cause opponents. In saying that mind, "Joniesta" is not really that much like Ramsey at all in terms of vision, stamina, defensive discipline and goal threat, so to say that he was the nearest we had to him tends to emphasise again that we achieved so much with a squad which did not have the depth and overall quality of so many of the teams we faced.
I can remember us being without Ramsey and Joe Allen for the home qualification matches with Bosnia and Cyprus in autumn 2014 and we did well to get four points from them, but, that was one level and to go to the stage we were performing on last night without the Arsenal man was a huge blow which turned out to be as damaging as many suspected it might.
Ramsey's absence put so much pressure on Gareth Bale to be both the instigator and finisher of our attacking moves – he tried his heart out and I thought he was our best player on the night, but a canny Portugese defence were in control at the back for nearly all of the time and, in truth, that single goal I yearned for was never really that close to arriving.
Before the Finals, it was considered that it would be a catastrophe if we lost Bale for any time. Now, for me anyway, Ramsey, as the most influential Welsh player in the tournament, falls into the same category – we can replace any other member of the team and cope fairly well I believe (even in the final stages of major competitions), but we now have two players who we cannot get by without.
I'll probably do a round up piece on the tournament overall after the Final and include some thoughts on what the future may hold for Wales, but, to be honest, I think this may be as good as it gets for us in terms of coming close to actually winning something. In saying that, I don't see why we can't go on to have a couple more qualifications, at least, in the next few years – the big challenge for us in the short term will be coping with the raised levels of expectation that will, no doubt, be around when we kick off our World Cup qualification campaign in September.
Finally, a prediction as to what's going to happen tonight and on Sunday. As for the other Semi Final, I'd back Germany at a neutral venue, but I'm going to opt for France to just scrape through because of their home advantage. That said, I'd be more confident of a German win over Portugal in Paris on Sunday than I would be of a French one in the Final because I can see that home crowd which can work to their advantage tonight maybe counting against them on Sunday.
I'll go for a win to whoever plays Portugal though – congratulations to them on getting to the Final and they'll make life awkward for whoever they face, but I hope they don't win because, although I'd say they're improving with every game, tournaments like this should have winners that offer more than Portugal have over the past four weeks.
*Once again, apologies for the absence of photographs, but it seems that Getty Images are intent on world domination!