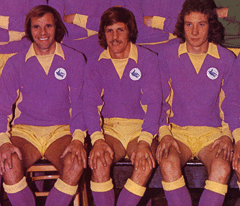 It's because of the feeling that your team were within touching distance of getting a draw only to have it snatched away from you so late in proceedings that losing to a goal in added time is so much harder to take than going down to one scored in, say, the sixty fifth minute.
Whenever it happens to City, you can almost guarantee that someone on some messageboard somewhere will be saying that there is a deep, fundamental, flaw in our training, tactical, managerial etc. etc approach which makes us particularly susceptible to such things happening.
However, while it's true that we were the victims more than the instigators when it came to very late match deciding goals last season, my suspicion is that City are just like most others teams in this regard – we may concede more of them than some, but there are many who it happens to more.
Scanning my memory banks, it seems to me that Wales may find themselves quite near the top of any table which has the side which concedes the least late winners at the top and the one who lets in the most at the bottom – my impression is that our national team have been good at holding out for a draw down the years.
Therefore, it's all the more disappointing I suppose that when they fall victims to such a goal, it so happens to be in a major tournament against the team that most of us would regard as our biggest rivals on the international front.
And yet, although it's hard to get "what might have been" type feelings out of my mind, the truth is that the 2-1 defeat to England in Lens yesterday does not feel as devastating as I would have expected it to if you had asked beforehand how a late, late winning goal for our opponents would effect me.
Presumably, part of the explanation for this is that yesterday's match did not carry that air of finality which tells you there is no coming back from such a setback? Chris Coleman said more than once in the build up to the game that it was just one of three which would decide whether we would make it into the next stage of the competition and he was right. For now, I'm looking forward to Russia on Monday rather than back to England on Thursday, but whether I can be as philosophical about Sturridge's goal if our final group game goes against us must be open to doubt.
That said, even though it was England, if I'm being totally honest there is a part of me which has to acknowledge that, in truth, justice was done in the end yesterday – the far better of the two sides won the game.
Two factors dominated the build up to the first ever Wales v England meeting in the Finals of an international competition. I'll deal briefly with the threat of more of the sort of violence seen in Marseilles between England and Russia supporters and a contingent of locals during the first round of matches later on, but I want to talk now about the phoney war regarding which one of the two sides was the most passionate.
Yesterday morning I read a few opinion pieces in the media which claimed that Wales had "won" the pre match battle hands down. Now, I know "mind games" are an accepted part of modern day sport and I can understand why some place so much emphasis on them, but, perhaps due to my age and the nature of the times I grew up in, I've always thought they came second by miles to what happens on the pitch, track, court etc.
More than that though, accusing your opponents of not being as passionate as you are never struck me a particularly clever fight to pick in the first place, because I found it hard to work out how Wales could win it.
Whether things developed as they did as a result of a deliberate policy in the Wales camp or whether it all just snowballed after some unusually frank remarks from a modern day footballer is a matter for conjecture. However, Gareth Bale has had ten years experience of dealing with the football media and it did strike me as odd that he would come out with what were, by some distance, the most controversial comments he's made in that decade now.
In the event, just like their English counterparts. the Welsh players and supporters at the ground ensured the occasion was dripping with passion, but, as far as the team went, it seemed to me that they brought their hwyl out on to the pitch with them, but, to a large degree, left their footballing ability back in the dressing room.
Don't get me wrong, I know that if Wales had gone out to take England on in a game of pure football, they would have. almost certainly, lost, but we needed to respect possession a lot more than we did – unfortunately, although England had one or two who wilted on the day when it came to playing to their potential, Wales had more.
During the first half, which ended with us in the lead courtesy of another unlikely free kick from Gareth Bale, Wales were able to keep England at arm's length to a large degree, but the writing had been very clearly on the wall for much of the time as they were, almost completely, unable to play what I call joined up football.
With Wayne Hennessey back in goal, Joe Ledley in central midfield and Hal Robson-Kanu leading the line, I think it's fair to say that Chris Coleman was able to field what he would regard as his first choice starting eleven. In the past, this team, and variations of it, have been able to pass the ball accurately and progressively as they gradually work the ball up the field (a good example of this being the winning goal against Slovakia), but, for some reason, they couldn't do it yesterday.
The strange thing was that when they got into the game, the three players charged with mostly attacking functions (Bale, Robson-Kanu and Aaron Ramsey) all looked like they were able to cause problems for the England defence, but it was always on an individual basis – there was little or no link up play between them.
Worse than that though, there appeared to be an almost complete breakdown between those three and the rest of the team – whether it was via longer or shorter passes being attempted, it made no difference, the link between the three attackers and the other seven outfield players was virtually non existent.
Against Slovakia, wing back Chis Gunter and Neil Taylor were able to provide support for the attacking trio as we made good use of diagonal passes played into spaces for them to exploit, but that never happened yesterday – indeed, England's two full backs, ostensibly, part of a normal, flat, back four, made for far more effective wing backs than our pair who were too preoccupied with defending.
I should say here that credit needs to be given to our opponents for the part they played in making it so hard for Wales to find any rhythm to their passing. England surprised me with their very effective pressing of the ball and I'd say that this was the most impressive aspect of a performance that was far too good for Wales on the day, but still some way short of what I would term a complete display.
It was tough for Wales to impose themselves in the battle for possession then, but I still feel that they are capable of a lot better than they showed. If Bale's muted display on Saturday could be put down to a combination of playing in an unfamiliar position and an inability on his part to impose himself on proceedings, that was not the cause of his lack of real impact, his goal apart of course, here – he looked more like his normal self when in possession in the right areas of the pitch for him, but his team mates just weren't able to ensure that happened often enough.
Our front three may as well have been isolated lone strikers in much the same way as Kyle Lafferty was for Northern Ireland in their first match against Poland for all of the good they were able to do as a threesome – just as all over the pitch with this Welsh team, the teamwork was there when we didn't have the ball, but notably absent when we did.
So it was that Ledley and Joe Allen, and to a lesser degree, Gunter and Taylor, could be complemented for the defensive side of their game, but not for what happened in the other facets of the sitting midfield role.
Hardly surprisingly, us mug punters tend to look at what players do when they have the ball first when forming our opinions on them, but the passing of time, along with being told by pundits how good someone is at the "unseen" things in the game has meant that there is more recognition now that what someone does without the ball is a huge factor in determining how good or bad they are. Nevertheless, any midfield player especially has to be able to contribute with the ball to a level which is consistent with what should be expected at the standard of football they are performing in and, for me, Allen and Ledley came up short in that respect.
Roy Hodgson's decision to persevere with Kane and Sterling (the first drained of energy after carrying a very heavy workload in Spurs' very physically demanding style of play and the second still unable to reach former heights following the move he and his agent(s) instigated last summer) helped in us surviving the first half fairly comfortably, but if anything emphasised the disparity in resources, which will always be there, between the two countries involved, it was that he could turn to Vardy and Sturridge to replace them at half time.
As it turned out, Vardy did nothing except net an equaliser for which he was praised by the critics for his goalscoring instincts, when it seemed to me that all he did was "goal hang" like I used to do in the schoolyard and got lucky because the ball deflected off Ashley Williams' head  to legitimise a goal, which would have been disallowed for offside otherwise.
Similarly, Sturridge didn't do a great deal else beside score, but, this time, we saw the sort of instinctive striker which Wales just do not have at work, as his shot was taken so early and with so little backlift that Hennessey was blameless, despite being beaten on his near post.
With Rashford on as well to prove what a plethora of good strikers England have, it is easy to feel sorry for ourselves when you compare our resources to their's. Indeed when Jason Mohammad interviewed Ian Rush before the game and asked him if he was wishing he was still able to play on a occasion like this, I found myself thinking that this Welsh side with Rushie in it could go a very long way in this tournament, but what happened in the ninety minutes which followed made me realise that we could have had Rush, Hughes and Giggs in their prime playing for us up front yesterday, but it would have made no difference because we never found an effective way to service our front men.
So, we now face Russia (who were beaten 2-1 by Slovakia on Wednesday) knowing that a draw will, almost certainly, be enough to put us in the last sixteen. There is a part of me which fears that England and Slovakia (who play at the same time as us) may not chase a victory too hard as they decide a draw will suit their purposes fine, but that would be a risky strategy for the latter in particular.
Does the knowledge that a draw will do mean that we will sit back and play for a point on Monday? I hope it doesn't and, more than that, it, surely, would be the wrong policy given what we saw yesterday and have seen from the Russians in their two games so far.
Our next opponents have been very unlucky to be missing important players with injuries sustained in the lead up to the tournament and, without them, they have looked a limited outfit which lacks pace in many areas and has an aging pair of centrebacks against whom you could imagine Gareth Bale, for one, having a field day.
However, there is a doggedness about the Russians that has seen them scoring late goals in matches in which they finished the stronger, despite having been outplayed for much of the time. If Monday's match goes into it's final stages with us clinging on to a point, Russia will have the evidence of their previous matches and what happened to us yesterday to make them believe they will win the game in it's last few minutes.
However, as long as we can remember to take our footballing ability out on to the pitch with us this time, I'm confident we can qualify – for the last two years Wales have shown in their competitive matches that they have it in them to succeed in the sort of challenge they face on Monday.
Finally, it would appear that the three days which saw English, Russian and Welsh fans all staying in Lille amid fears of an escalation in violence have passed off without major problems. Well done to the those who are in France supporting Wales – you have done our country proud so far, as indeed has the team, despite the result and performance against England.
*pictures courtesy of http://www.telegraph.co.uk/