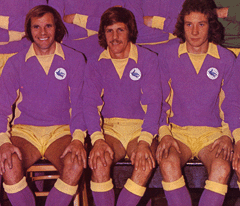 This piece won't just consist of the five words that form it's title, but I did think about doing that for a very short time because any reasonable analysis of City's 3-0 defeat to Arsenal yesterday at Cardiff City Stadium will eventually come back to this stark and unarguable fact. That said, "they are/were better than us" has applied and is going to apply to the majority of matches we play this season – the two Manchester sides are/were better than us, but it's one of football great attractions that this did not stop them dropping points on their visits to our ground this season.
The teams which finished first and second in the Premiership last season dropped those points essentially because their midfield (their central midfield in particular) struggled to establish themselves in United's case and their whole team were poor in defending, corners especially,  in City's case. It has to be said as well that Cardiff were good enough to exploit these weaknesses in our opponents and the way they forced Arsenal back for long stretches of the second half suggested we would have been good enough to do this yesterday given the chance, but I'm afraid Arsenal didn't show any in my opinion.
Whereas Manchester United were weak, by their standards at least, in midfield, it's my belief that Arsenal's main strength lies in that department. I've seen the opinion expressed that the main reason Arsenal are steaming ahead at the top of the table this season is that shirt vandaliser Mathieu Flamini has stiffened up and added aggression to the Gunner's midfield, but Flamini couldn't even get into their starting line up yesterday.
Arteta, Wilshere, Carzola, Ozil and Ramsey are all highly gifted technical footballers who are always going to cause the best midfield combinations in the Premier League, let alone ours, problems if they play to anything like their potential. If it was a question of that five keeping rigidly to a set position then opposing teams might fancy their chances a bit more, but, with the exception of captain Arteta, there is fluency and movement to the Arsenal midfield which is very hard to cope with.
The returning hero Aaron Ramsey epitomised this aspect of their game, he popped up all over the pitch and looked thoroughly at home wherever he found himself. Ramsey's mobility and stamina meant that he was not really doing this, but he gave the impression that he was strolling through the match and his confidence shone through in everything he did. I remember Gary Medel closing in on Ramsey in the second half and awaited the collision with the inevitable result that our record signing would emerge with the ball – instead, the Chilean was left completely flat footed by a short flicked pass which was made to look so simple in it's execution and yet it was only capable of being played by the very best.
The crowd of nearly 28,000 were treated to a masterclass of modern midfield play by Aaron Ramsey yesterday and, for me anyway, the player's background, together with what he went through after his broken leg, made it more bearable that it was  an opposition player that was giving it.
Faced by this assortment of riches, City's midfield assuredly came second, but, for me, did so with honour. Medel started poorly with some misplaced passes, but grew into the game, Cowie gave another of those performances that mark him out as someone who deserves to be starting at this level, Mutch wasn't as effective as he has been at times recently, but there were a couple of occasions when he came very close to repeating the sort of pass that Robbie Savage thinks he'll never manage again and Kimbo, while not making anywhere near the impact he did last week, did his bit in showing those who persist in labelling us a long ball team are a long way from the truth.
What I enjoyed most about our midfield yesterday though was Peter Whittingham's performance. Unfortunately his dead ball delivery wasn't quite at it's best on the rare occasions he got to play in the sort of crosses that have caused so many problems this season, but I thought he looked like someone who had taken heart from his good display against Manchester United and had the confidence to pass the ball more ambitiously than he had been doing – if he is able to maintain his form and belief over the next month then I'm sure we'll get the rewards from it that we didn't yesterday.
This takes me on to the comparison between Man City's defending and Arsenal's. In previous seasons, Arsenal have shown weaknesses at the back – apart from a dodgy first season with the London club, I've always rated Koscielny, but, until this season, thought  Mertesacker  could be got at. Over the last three months though there's been a solidity to the centrebacks, which has not only stiffened up their rearguard considerably, but, also given their full backs that bit more licence to attack.
All of this suggested that Fraizer Campbell would be in for another frustrating afternoon as our lone striker, but credit to him, he ruffled Koscielny and Mertesacker's feathers on more than a few occasions and looked to be another player who had drawn confidence from what he did against Manchester United. I've mentioned before on here that I'm not someone who presumes I know more about the game than our manager and his coaching staff by telling them what they should have done because I don't – what I try to do is comment on decisions which surprised me and the one to take Campbell off with twenty five minutes left did just that. It seemed to me that Campbell playing just off Cornelius or Odemwingie in the hole behind Fraizer were the more likely options if Malky didn't want to go to a straightforward 4-4-2.
Talking of Malky he's as popular as ever with the vast majority of City fans and Vincent Tan must surely have become reconciled by now  to hearing our manager's name being chanted by our support while he is, to all intents and purposes, ignored, but what must he have made of the applause from home fans that greeted Aaron Ramsey's goals? Now, it must be said that a look on the messageboards last night would have told you that this action did not have the universal backing of all Cardiff followers, but, for myself, I thought it was great to hear and I joined in with the clapping on both occasions. However, I can imagine Mr Tan being bemused when seeing an opposing player treated like that.
The thing is though, by reacting like he did after scoring, Ramsey showed respect for Cardiff City and what the club means to him and hundreds of thousands of people all over the world (as well as to the memory of millions more no longer with us) – maybe when Mr Tan begins to show the same respect to the club and it's roots, he'll start getting the respect I'm sure he feels he's due.
Finally, a few words on the Academy matches I watched at Leckwith yesterday lunchtime against Crystal Palace. Most of my time was spent watching the Under 18's and the only incidents worth recording in a dull, and goalless, first half came from sidefooted shots from around the edge of the penalty area which had the keeper at full stretch but flew just wide – we had two of them and Palace one. I wandered over to Asda's at half time and then spent five minutes or so watching the Under 16's (Palace hit the post and scored in that time in a match they won 6-2) before concentrating on the Under 18's again.
When I got back, I was told Palace had scored twice and were 2-0 up. This certainly came as a surprise because, apart from that one effort, they had done little to suggest they had a goal in them in the first half and they weren't much more of attacking threat in the last half an hour or so of the game either. City had just shaded the first half in my book and it was them who did most of the attacking in the second half in an encounter which always had a physical edge to it – judging by the size of the visitors team and the number of bookings they picked up (yellow cards are something of a rarity at Under 18 level), it would seem Tony Pulis is having an effect already!
For most of the period of the second half I watched, City laboured away – as in the first half, they played some neat stuff at times and they did well to harry their bigger opponents into mistakes when they were in possession, but there was little suggestion that anything tangible would come from all of this effort as the match entered it's last fifteen minutes. It seemed that my suspicion that I'm something of a Jonah for the Under 18's this season (this would have been four losses in five matches I believe) was going to continue to grow, but it  was then that striker Eli Phipps (who has been scoring a lot of goals in Welsh Youth Cup matches recently) took a hand in proceedings by twice putting away chances with the sort of composure rarely seen in the match until then, within the space of three minutes to give his team a 2-2 draw which was the least they deserved on what I saw.
Pictures courtesy of http://www.walesonline.co.uk/