+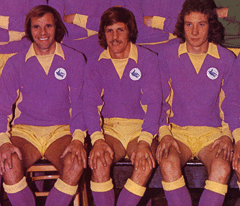 The third of five home matches played at Under 18 and 21 level by Cardiff City in the space of a crowded eight day spell produced the goals the first two had been short of, as City's Development team recorded a fourth consecutive victory by coming out on top 3-2 against Colchester at Leckwith yesterday afternoon.
A look at the League One table will tell you that Colchester are struggling badly at senior level. However, their Under 21s have been doing well, especially recently, and a victory for them yesterday would have taken them into the second of the two play off places up for grabs in what becomes a mini end of season tournament with the two top teams in the Northern section.
So, it was a big match for our opponents and the same could be said of City, who, after spending the first two thirds of the season in a mid table position are now in with a chance of making the top two themselves – this up to date table shows that they are now within a point of Colchester in third position with a game in hand, but they have played a game +more than second placed Millwall (visitors to Cardiff on 1 April) who are three points ahead of us.
The game was played in the same bright, sunny conditions as on Monday when Jamie Veale's added time goal clinched a 1-0 won over Ipswich, but the strong breeze that had been such a factor in that match was much reduced this time. However, this only served to highlight something else – a lively pitch which, although well grassed, was prone to see the ball bobble disconcertingly just as the players thought they had it under control.
Therefore, it became a game where, despite there being plenty of goalmouth action, not all if it came about through good quality football – there were also quite a few errors, but the "culprits" could often justifiably claim that they had done little wrong in reality, it was more down to the playing surface.
While it's true that struggling teams generally use more players, the fact that Colchester's team contained six with first team experience offered a clue as to why they were so high in the table and this helped ensure that, despite the vagaries of the pitch, the game remained competitive and watchable throughout.
City made three changes from Monday with Dylan Rees coming in for Ashley Baker at right back and, hardly surprisingly, first team squad members Idriss Saadi and Kenneth Zohore were replaced by Rhys Healey and Kadeem Harris.
it was the home side who struck first when, with about ten minutes played, Rees and Macauley Southam combined to give Healey a sight of goal. Although his shot was from an angle which made scoring difficult, visiting keeper James Bransgrove could only get a very slight touch on the striker's well struck effort which may have gone in anyway without the touch from Theo Wharton stood a yard or two – from where I was sat, it looked like the ball could have gone wide, so it seemed to me that the skipper had made the right decision in applying the finishing touch.
That shot formed part of a very impressive opening to the game by Healey against the team he had a loan spell with last season. Showing plenty of strength for a fairly slight figure and a lot of mobility, the young striker certainly compared pretty favourably with the two senior players used on Monday and he showed that ability to hit the target that got him so many goals for City at this level a couple of years ago again as he fired away another powerful shot which was touched over (possibly with the aid of a glance off the top the crossbar) by Bransgrove.
The keeper was in action again about ten minutes later this time making an easier save above his head as Wharton looked for a second goal with a crisp effort from a fifteen yards, but, with Healey's influence waning somewhat from around the thirty minute mark onwards, the home team generally struggled to create chances.
Even so, they were able to keep a spirited Colchester outfit largely in check with only a good save by Luke O'Reilly from a Jack Curtis effort to offer the visitor's hope of an equaliser.
However, the feel of the game began to change in the five minutes before half time as Colchester were able to put City under some pressure for the first time. For me, they were helped along in this by City becoming a bit sloppy – the pitch had a part to play of course, but we did not help our cause by wanting too many touches in defensive areas at times.
Colchester must have sensed they could go in level (I certainly did!) if they kept pressing in the minutes before the break and they duly did when Charley Edge curled a fine free kick from around twenty five yards beyond O'Reilly.
So. despite having largely controlled the game, City were only on terms as the sides took their half time break out on the pitch and things got worse for them within two or three minutes of the restart when Colchester's centre forward Femi Akinwande stepped inside a challenge and put his side ahead with a shot from corner of the six yard box.
Akinwande went on to cause centrebacks Jordan Blaise and Rollin Meneyese problems of a kind they didn't encounter as we kept clean sheets in our recent home wins over Bristol City and Ipswich and it might have been that the replacement of the former by Baker for the game's last quarter was tactical rather than forced by an injury.
Before then though the centrebacks combined when City threatened an equaliser within seconds as Blaise's header from a free kick was cleared off the line and Meneyese fired the rebound narrowly wide.
In truth though, this was just about the only occasion in the early stages of the second period when City suggested they had it in them to get back into things and, as the game went into it's last half an hour, it was Colchester who were now looking pretty comfortable.
Indeed, it was very much out of the blue when the home team squared things up as referee Mark Russell played an advantage after Healey had appeared to have been fouled because the ball broke to Harris who maintained his good goalscoring record at this level by shooting powerfully past Bransgrove from just inside the penalty area.
Harris, now being used more centrally, was involved more in the game as City reacted well to their goal and they were now looking the more likely winners as Healey's attempt at an acrobatic volley from a Rees cross was gathered by Bransgrove.
The striker was in action again when City looked to take a dubiously awarded free kick quickly and, as his pace took clear of his marker, the striker went down under a desperate looking challenge inside the penalty area – it looked a sure fire penalty, but Mr Russell thought otherwise and waved play on.
It was around this time that, just as on Monday, David Tutonda became more of a factor in the game with his ability to get up and down the left touchline using a combination of pace, power and dribbling ability beginning to cause the opposition serious problems.
From where I was stood, it had appeared as if Tutonda had been at fault in the build up to Colchester's second goal, but he more than made up for this as he got himself on the end of a sweeping counter attack and was only foiled by a good save by Bransgrove and then broke clear of his marker to sprint towards goal only to brought down.
This time the ref did point to the spot and the lack of protests from the Colchester players suggested he had got this decision right. It was Healey who took responsibility for the kick and, albeit via Bransgrove's hand and then the post, he found the net.
With Under 18 regulars Jamie Bird and Lloyd Humphries introduced into the midfield, City were generally content to invite Colchester on to them after that and they could have had a fourth on the counter attack when, firstly, Veale was just unable to convert a tempting cross by Harris and then the scorer of City's second goal was denied another one by a diving save from Bransgrove.
For the most part though, it was Colchester who attacked now as they forced O'Reilly into a couple of saves. Truth be told, they were routine pieces of work for the keeper, but the visitors must have been left wondering how they weren't level as the game went into added time when the ball was cut back from the byeline and Sembie-Ferris' shot from a central position was blocked. Whether it was a genuine save or whether the ball just hit him, it didn't really matter, O'Reilly had protected City's lead and when the rebound was fired high and wide, the game was, effectively, all over.
Colchester probably left the field thinking they had not deserved to lose, but I thought, by being on the front foot for about two thirds of the game and, despite Akinwande's efforts, having the better attacking players, City just about deserved the win – next up they entertain another struggling League One outfit with a useful second string in Crewe Alexandra on Monday.
Finally, I mentioned there had been two earlier games this week, here's what I wrote on a City messageboard about Tuesday's, largely forgettable, goalless stalemate for the Academy side against Watford;-
"It was a strange game because both sides enjoyed five minute spells when they looked to be getting on top throughout it, but there was always a sloppy pass to ruin a promising move or a mishit shot which went miles wide or high. Aiden Chappell-Smith posed the greatest threat for City in the first half with a shot that forced the Watford keeper into a decent save and then he put in a header that was easily saved after our best move of the half, while up the other end, there was a cross that bounced about dangerously close to our goal without a Watford player able to get a touch.
For the majority of the second half, the standard was lower than it had been in the first period. Mark Harris missed a reasonable chance following a good run down the right by Cameron Coxe, but, again, there was little in the way of a goal threat from the visitors until the closing ten minutes when the game finally livened up.
Watford began to press City into making errors as some of our players began to look quite tired and their number three was inches wide when he flicked on a cross. There were a couple of other shots which flew not far wide as City looked to be hanging on, but, just when I started thinking a goal for the visitors seemed to be inevitable, it was City who finished the game on the front foot as a couple of efforts from City subs (think they may have been Sion Spence and Keiran Proctor) forced the Watford keeper into his two most difficult saves of the afternoon.
So, I'm pretty sure the match finished with a scoreline I'd never thought I'd see from this season's Academy team, 0-0. This means that in the three matches I've watched involving City teams in the past four days, there has been the grand total of two goals, but the good news is that we haven't conceded one yet.
With the Under 21's due to entertain Colchester on Thursday and Crewe on Monday, while the Under 18s get a visit from Sheffield United on Saturday morning, there are certainly plenty of games being packed in the space of nine days as City try to catch up on postponed matches – I'm going to try and make all of them and surely there'll be a 4-3 in there somewhere!"
Here's the up to date Under 18s table.