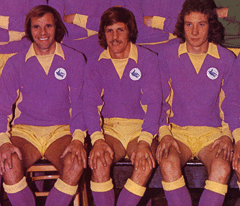 In as much as it was one, Cardiff City's challenge for promotion to the Premier League ended at Hillsborough yesterday as Sheffield Wednesday sauntered to a 3-0 win which was as conclusive as the scoreline suggests – even though they are one of a few sides at the top of the Championship that I'll be awaiting the decision on whether or not they have broken the Financial Fair Play Rules this season with interest, Wednesday's position in the top six is a fully justified one on performance alone.
As for Cardiff, it was a shame, but not a total surprise, that their chase for a top six finish should end so feebly. They hung on to a 0-0 scoreline (which, of course, wouldn't have been enough to prevent the home side cementing their top six place) for over an hour, but, once they fell behind, they never ever suggested they had it in them to get level again, let along go on to get the win they needed.
The gap between the two teams was embarrassing at times, but when you compare the financial resources available to both of them this season, should that really be too much of a surprise?
Let's not forget either that City were missing significant members of their first choice team with injuries. Lex Immers. who, in my view, was the biggest single reason for the improvement in results and performances we saw in February and March was missing again. Joe Ralls, deemed to have been out of form by many in the chattering classes of our fanbase since about January, but the best, most important and most complete central midfield player at the club this season in my opinion was also absent and Anthony Pilkington, short of goals but so important to our attacking play, only lasted twenty minutes before limping off.
I think I could make a decent case for Immers, Ralls and Pilkington being the most important players in our first choice front six, so it was always going to be tough for us to get the only result that would extend our interest in a top six finish into the last match of the season. However, the thought still lingers that a team, and support staff, which genuinely believed they had it in them to finish in the top six should have had a lot more to offer than City did yesterday.
That's the thing, despite the seemingly positive noises coming from players and on and off field management throughout the campaign, I think I'm one of many supporters who were never convinced by such claims – I've seen four Cardiff sides finish in the top six of this division since 2010 and this one lacks qualities that all of them had.
I'm not just talking about playing ability there either. The closest of those four sides which reached the Play Offs or better to this one was the 2011/12 team – in terms of technical ability, I'd say it would be hard to separate the two squads, but the one which also reached the League Cup Final had a mental toughness to them which I don't see with this group.
Granted, that may sound a bit harsh when you look at an impressive home record based more on an ability to wear opponents down, rather than blow them away with eye catching football. However, the occasional inability to hold on to leads that should have been comfortable and the relative lack of late match winning goals when compared to other sides competing at the top of the league, point to a lack of that feeling of "we're good enough to do this" at the club.
The lack of true belief argument is easier to make when you look at our away performances and results. The truth of the matter is that City's home record this season has been better than it was for three of those four top six teams, but, apart from the 11/12 squad (who lost only four times on their travels compared to this squad's ten), all of them managed at least twice as many away wins as this one has.
You need to go all the way down to QPR in thirteenth position before you find a side in this season's Championship with less away points than us and even they will better us with a win in their remaining game on the road – if you look below thirteenth, then you'll find four teams with more away points than us.
So, as is so often the case in football (particularly at Cardiff under this manager), an improvement in one aspect of the game comes at the expense of another – we start conceding fewer goals and they stop going in at the other end, we score more and the goals against column suffers, we sort out our home form and our away results go to pot etc, etc,.
We've wilted too many times on our travels this season. Winning at only one of the current bottom five and losing at three of them is just not good enough, but, if anything, our record against the better teams is even more damning – we've not won on the grounds of any of the current top thirteen, while we've picked up just four draws (three of them goalless), and scored a pitiful three goals, in our eleven matches against the sides occupying top half positions currently.
Figures like that are hardly indicative of a club which has consistently said that it's aim this season was a top six finish – they are indicative of a team which goes away to face their "betters" with an attitude based on fear.
When you think about it, a stated target of a top six finish sounds ambitious, but it does contain an implicit admission that you do not think you are good enough to go up automatically.
I don't say that in a critical fashion because I believe it's a realistic assessment of our ability in terms of a top two finish, but I'm pretty sure that at some time in the campaign, you would have heard pronouncements from the clubs above us, and a few below us, that they could be celebrating automatic promotion come the season's end.
This is even more true when it comes to supporters – when, if ever, have City fans been saying that a top two finish was on for us this season? The only time I can think it might have been done was after we opened the season with three wins and three draws – we were third when we entertained Hull in mid September and perhaps a few believed we were top two material then, but realism soon asserted itself and our "promotion challenge" eventually settled down into a dogged pursuit of a top six which was gradually inching themselves further and further away from us as one month moved into the next.
The fact that Cardiff kept up the chase of the top six longer than anyone else should be acknowledged and credit should be given for this. To finish no lower than eighth on a transfer budget which is a fraction of that of all of those who are above us, and many who are below us, have had to spend is a creditable achievement, but it doesn't really tell the whole story.
For example, while I can point out how much more others have spent on new players this season compared to us, the fact is that Russell Slade has consistently used players who cost millions (e.g. Manga, Morrison and Noone) in his starting line up ever since he took over. Furthermore, the wages being paid to some who may have not cost in terms of transfer fees (e.g. Fabio, Dikgacoi and, probably, Ameobi) are all factors which go to explain why we should not be viewed in the same way as, say, Rotherham, Preston and MK Dons are – we may not be the moneybags team we were when we were winning this league any longer, but I'd say we are still more Goliath than David by Championship standards.
Maybe this partly explains my contradictory feelings about the subject which is now increasingly excercising the minds of Cardiff fans – should Vincent Tan offer our a manager a new contract?
Once I had watched us play a few times this season, I concluded that we shouldn't be in relegation trouble, but I didn't think we could make it into a Play Off position either – my prediction was that we'd finish between eighth and tenth.
The likelihood now is that we will end up slightly above where I thought we would, so why is it that I'm moving more solidly behind the notion that we should appoint a new manager in the summer when we have over achieved in terms of what I thought we were capable of?
The truth is that I've always wanted a change of manager at the end of this season, but, at the beginning of last month, after we'd been beaten Derby and drawn at Burnley, I was as close as I have been to being a Russell Slade backer – I wrote at the time that I was 55/45 against offering him a new deal.
That first week in April was the one time when I truly began to think we could make the Play Offs and I can remember taking up much of my blog pieces then outlining how and why we could finish above Derby, Sheffield Wednesday or even Hull. I backed Russell Slade when we went to Burnley and used Kagisho Dikagcoi as a holding midfielder in what was a defensive selection because I thought it was appropriate in a match we didn't have to win and yet, with a bold substitution or two in the closing stages, we almost did take the three points.
After that match, I hoped we had a manager who was coping with doing the job at a higher level than he had ever done before well. Since then though, I've been reminded as to why I've thought Russell Slade has "felt" wrong at Cardiff for me almost from day one.
Sadly, as I searched for signs of one of the top six "bottling it" in the closing weeks of the campaign, it was Cardiff who started doing so almost as soon as they, briefly, became genuine contenders. Three, deserved, away defeats, a last minute win over a relegated team and a 0-0 draw where we only started showing the necessary urgency in the last quarter of the match are a dreadful return from our last five games in the circumstances and I'm afraid that, in my opinion, our manager was not able to ignore his instincts and fully adjust his outlook to what was required from his team at a particular time.
According to Wikipedia , Russell Slade has now been a manager for almost 760 games (all but the 133 at Scarborough have been at Football League level). Our manager frequently makes reference to this experience, but what really strikes me as odd is that he has still not won anything during his career or even taken a side to promotion.
Is there any other manager in full time professional football in this country who can boast so many matches in charge and no trophies, or promotion bonuses, won? I'm not saying that this is the be all and end all when it comes to judging Russell Slade, because it seems to me that our manager's reputation has been made, essentially, by firefighting and, by and large, he has been successful at that – there aren't many, if any, relegations to go with the lack of promotions after all.
However, although he has come very close to succeeding once or twice, his record once those fires have been put out does not inspire confidence and it's when this has happened that he appears to start hitting problems.
So, I suppose the question is have the fires at Cardiff been put out? We can guess at the answer to that, but, as has been the case at the club for almost half a decade now, only the opinion of one man really matters here – if Vincent Tan believes the club should be managed in a way where making cuts takes priority over success on the pitch, then he could do a lot worse than Mr Slade, but if he thinks it's time to look beyond that somewhat, there are plenty of reasons to believe he needs to consider a change.
I've used the term "underdog football" to describe how we've played under Russell Slade. Although I'd say the evidence of the view that he is unsure about his ability at this level, something I thought was in plentiful supply last year, is harder to find now, I reckon it's still there if you look in the right places – for example, look at what he did yesterday (in a match we had to win don't forget).
It was telling how often our manager talked of us "staying in the game" in the lead up to what has been called our biggest match for two seasons. This indicated a mind set which I would argue repeats itself in almost every game we play under Russell Slade. That woeful goalscoring record against the better teams in this division I mentioned earlier cannot be a coincidence, but it is not just in away matches where the priority is "staying in the game" – I can only think of one game, Derby, at Cardiff City Stadium this season where we have torn into our opponents in the opening minutes like Wednesday did to us yesterday.
The selection of Dikgacoi may have been justified at Burnley where not losing was the first consideration, but, we took the field in a match we had to win yesterday with  Whittingham, Noone, Pilkington and the very inexperienced Zohore as our only players who could evenly loosely be described as natural attackers –  increasingly, as the possible prize got closer, we've reverted to a team which relied on set pieces for it's goals.
Maybe it was the notion of throwing two more centrebacks on as we bombarded Wednesday with Whittingham free kicks and corners and Gunnarsson long throws in the dying minutes which was behind the selection of both Ben Turner and the fit again Bruno Manga on the bench,  because I can't think of any other reason for it.
I repeat, this was a game we had to win, so why wasn't Idriss Saadi  there in the eighteen? Actually, I think I know the answer to that one, it's because he is another in a very long list of strikers that our manager has tried and not been convinced by since he took over.
At least Saadi and all of the rest can be grateful I suppose that they at least were given their chance in the first team – Rhys Healey scores in virtually every game he plays for the Under 21s and yet is as far away from the first team as he's ever been.
It would be untrue to say that Kadeem Harris has not been given first team opportunities, but, when his cautious selection meant there was no specialist striker available to replace the injured Pilkington, our manager decided not to put his faith in someone who had won a match winning penalty last weekend and had played superbly for the Under 21s on Monday, but went with the tried, tested and consistently failing Sammy Ameobi instead.
Harris eventually got on when all of the momentum was against us and the game was almost gone, but Tom Lawrence, who looked so good in his early games with us, was, not for the first time in recent weeks, completely ignored – I can only assume that his transformation from regular starter to occasional substitute has come about because of what he is or isn't showing in training, because I've not seen anything to justify it during games.
Lawrence, like Declan John (who at least made the twenty man squad who traveled north on Friday), have seen their hopes of selection for the Wales squad this summer dwindle at Cardiff under a manager who, despite the financial restrictions he has to work under, has resolutely declined to trust in youth. If Russell Slade really did misjudge Lawrence to the extent that his recent treatment of him suggests, then it's another signing he's made to be used against him in what is a pretty uninspired record in the transfer market.
I'll end by mentioning that Declan John is one of a very substantial group of young players Russell Slade appears to have looked at for a week or so when he came here and decided there and then that they are simply not good enough for Cardiff – all of this coming of course from someone who nominated Federico Macheda as one of the two players who impressed him most at the club when he first arrived!
I don't want to see Russell Slade stay in his job next season because I have this nagging feeling that what's happened this season will be as good as it gets for him. That's a guess, but my fear that the current position, whereby we've stopped developing first team players at the club, will transform itself into a situation where the standard of youngster committing to Cardiff City will decline dramatically if our manager is allowed to continue with his approach, is a more educated one – we need better than what Mr Slade has provided in the past eighteen months.
*http://www.walesonline.co.uk/