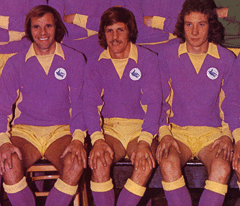 Back in September, a team from Yorkshire came to Cardiff City Stadium and won 2-0 to inflict a first home league defeat on the team and last night another side from the same county departed 2-0 winners as City lost on their own ground in the league for the first time since then.
However, any similarity between the two occasions ends with the result and scoreline. True, Hull City needed some help from the utterly appalling Christopher Sarginson (who has been almost completely consigned to officiating in the lower divisions since his horror show in Cardiff six months ago), but they were able to keep a City side that played well on two thirds of the pitch at arm's length with some resolute and canny defending which meant that their keeper Alan McGregor was barely ever called into serious action.
Many City fans rate Hull as the best side to visit our ground this season, but I doubt whether there'll be any who place Leeds United in the same exalted category after their victory last night.
Having seen all of our home games this season, I must say that I thought Leeds were one of the worst sides to come here so far. I've read a lot of post match guff from Steve Evans and some Yorkshire based journalists about how Leeds' win was down to discipline and hard work – laughably, the manager even claimed his side deserved their win!
What Leeds did have last night was a goalkeeper in top form, a pretty dominant centreback in Sol Bamba, a speed on the break which they used to fine effect on one occasion and lashings and lashings of good fortune.
Where Hull were able to ensure their keeper had a pretty quiet night, Leeds, despite usually having plenty of men behind the ball, were, at times, almost completely reliant on Marco Silvestri as they, somehow, managed to preserve their clean sheet. The keeper spent the final two thirds of the game making a string of fine saves, but, even then, Leeds needed the assistance of the officials and the woodwork to keep their goal intact.
While referee Darren Deadman was hardly in the Sarginson class when it came to ineptitude, he did enrage Russell Slade with his failure to award a penalty early in the second half when Giuseppe Bellusci blocked Matt Connolly's cross with his arm and the City manager was critical of the official's overall performance.
I had a very good view of the penalty claim which took place about twenty yards in front of my seat in the Ninian Stand and I was amazed that no spot kick was given at the time. Having now seen these highlights of the game, I'm even more convinced that the officials got it wrong – Bellusci had his arms out to the side in an unnatural position and was about five yards away from Connolly when he crossed it.
It seemed to me that Deadman was weak when dealing with the time wasting and play acting which Leeds indulged in throughout the second half as well. He did add on six minutes at the end, but, with both teams making three substitutions each, one or two injuries which held up play and the time needed to sort out a dust up between the two managers as well, a couple of additional minutes more seemed justified on this occasion, given that the official had started warning visiting players about their time wasting as early as five minutes into the second half.
That said, I believe the ref had no alternative but to send Fabio off for the second of two reckless lunges within a few minutes. The first foul drew a justified yellow card and, although Fabio had reason to feel he was put into an awkward position by a very poor,  intercepted Bruno Manga pass, he did have alternatives in trying to deal with the situation that did not involve him receiving a tenth caution of the season.
One of the reasons Fabio is a crowd favourite is because he "gets stuck in" when it comes to tackling, but that's a dangerous policy for any defender to employ in these days when the slightest mistiming in making a challenge leads to a red or yellow card. Flying into tackles while a few yards away and getting them spot on has to owe as much to luck as it does judgement and it's indicative of a lack of discipline on the part of the player who makes them.
That failing was also apparent in the first Leeds goal. While I've seen Scott Malone being criticised for the way he defended the situation, the fact of the matter is that he was left in complete isolation after the other player charged with defensive duties from the corner we were taking (Fabio) went chasing the ball when it was about thirty yards away from him. In the event, given how far out of position he had got himself, Fabio did well to get back and try to block Souleymane Doukara's scoring shot (the BBC's match report claimed the ball deflected off the defender on it's way into the net, but the video evidence is inconclusive on this), but we would have stood a much better chance of dealing with what was a good and incisive counter attack if he had stuck to doing the job he had been tasked with.
Fabio's indiscretions and the sort of carelessness seen in the pass which led to his second booking offer proof that it would be wrong for City to claim that their defeat was entirely down to a combination of bad luck and inept refereeing.
With the confidence built up over a good recent run of results and performances, it would have been good to have seen the team start the game with a real attacking intent against an outfit which found themselves 4-0 down inside forty minutes in their last away match, but, as is the case in so many Championship matches these days, it was hard to tell which side was at home and which one away in a cagey opening quarter that  resembled so many others seen at the ground this season.
So much of our recent upturn in fortunes has been down to the Pilkington/Immers/Lawrence combination up front, but only the last named looked capable of making things happen in an attacking sense for us in the opening half an hour and I was a little disappointed that it was him who made way for Sammy Ameobi, because I thought the on loan Leicester man had posed a threat every time he received the ball.
By contrast, Pilkington (a nominee for Championship Player of the month in February) had the occasional inspired moment, but was generally the quietest he has been in any game since his move up front. Immers grew into the match after contributing little in the opening stages and typified the drive and spirit in the team which I will come back to later, but, overall, I believe we would have won the game if the front three had been as influential as a combination as they have been in so many other matches recently.
So, City were not perfect by any means on the night and, when all's said and done, a team that have not gone into too many games this season with their fans, generally, expecting them to win failed to deliver when expectation levels were raised. Nevertheless, it was impossible not to sympathise with them when what they got out of the game so manifestly failed to match what they put into it.
Truly, the last half an hour of the match offered a first for me despite the more than half a century's worth of football watching I've racked up now – I've never seen a side with ten men so dominant against eleven man opponents as City were last night.
With Silvestri making save after save and the woodwork taking a battering (the television pictures are, once again, inconclusive as to whether Craig Noone's free kick was one of three instances of City hitting the frame of the goal or whether it was another wonder save by the keeper), I should have been thinking that an equaliser was inevitable, but, just as Leeds' opening goal went in, my mate and both said "it's going to be one of those nights isn't it" to each other at the same time.
As the onslaught continued, I was reminded of another game with Leeds in October 2004 in which they somehow escaped with a 0-0 draw as City peppered the posts and crossbar and Andy Campbell took just about the feeblest penalty I've seen.
That match was played during the period when we enjoyed almost total domination over Leeds in terms of results, but, I'm sure there were lost games then that left their fans bemoaning their bad luck. So, it's probably fair to say that they were due some good fortune when they played us, but, with this match and that one from twelve years ago, I think that debt has been repaid and then some – it's us who are now due some luck when we meet again.
As to when that will be, the strong likelihood is that we will be kept waiting months rather than years. Having flirted with the relegation zone in recent weeks, two successive wins mean that Leeds will only need something like six or seven point from their last eleven games to stay up, while last night represented another of those Rotherham/MKDons/Charlton type occasions for us where we come up short in the sort of game managers would have down as three pointers on their wall chart fixture lists.
It was a bizarre night on the pitch for us then, but that adjective could be applied to other aspects of the evening as well. Firstly, strangely enough, our defeat didn't make too much difference to our Play Off prospects (in terms of the table at least) because while Burnley were tightening their grip on top spot with a 3-2 win at Fulham, none of the other teams in the top ten in action last night were able to win.
Middlesbrough were beaten at Rotherham and while Sheffield Wednesday will be pleased with their draw at Brighton, they've only managed one goal in five matches now. Of the others who would appear to be in direct competition with us, there were 2-0 losses for Derby and Birmingham at QPR and Blackburn respectively, while Preston cannot afford too many more defeats like their 1-0 setback against an out of form Forest side. Finally, I went to bed believing Ipswich had won at Bolton, only to discover that a penalty seven minutes into added time for the bottom club meant the game finished 2-2.
Perhaps the strangest thing of all though was the reaction of the home fans at Cardiff when the final whistle was blown. So often over the past season and three quarters, the end of the game has seen fans shuffling off out of the ground pretty quietly whether we have won, drawn or lost. If the outcome had been one of the latter two, then you'd know full well that the messageboards would be full of calls for the manager to be sacked, but not last night.
Instead, there were loud applause for a team which had so obviously not got what they deserved from the evening, while it seems that Russell Slade's messageboard critics share my opinion – I may have that small gripe about Lawrence being withdrawn, but there's no way our manager can be blamed for that defeat.
For all of the time we've been in the Championship since our relegation, I've felt there has not been the same bond between players and fans which has so often been the norm at Cardiff and, needless to say, there have been plenty of City managers who have enjoyed a better relationship with the support than Russell Slade has.
It's odd therefore that it's a defeat which may well have brought about the renewing of that bond. When you see recently arrived players like Immers chasing back twenty yards to win the ball back deep into added time, when you see the dejection and devastation of the team when Leeds' second goal went in and when you see the manager demonstrating how much he cares about his team, I defy any City fan not to identify with them.
If Leeds have a club song, then it's probably "Marching on together" – wouldn't it be ironic if it was a defeat by that team which finally got so many of those with Cardiff City's best interests at heart to start marching on together after so many years of bickering, ineptitude and apathy at the club!
*pictures courtesy of https://www.flickr.com/photos/joncandy/albums/with/72157665063847770