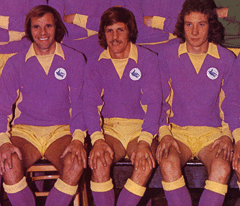 The views I set out in the next few paragraphs can be no one else's but my own of course, but, judging by the "feel" of matches I've attended this season, I believe that they have been shared by, probably, a majority of those who have been turning up at Cardiff City Stadium since August to watch us.
Right from the start, the talk coming out of the club has been that the target for 15/16 is a top six finish. To my knowledge, no one has talked about automatic promotion, but the manager, players, CEO and owner have made it clear that they see us competing in the end of season Play Offs as a realistic objective, with the obvious implication behind that to me being that if we don't make it into positions three to six on May 7, they have to see the season as a failure.
For my part, it's never felt like a season where we would go into our final match with Birmingham either assured of a top six finish or with it still up for grabs – we've been good enough for a top ten, possibly top eight, finish, but top six? No, not for me.
Back in September, we went into a home match with Hull City in second place on the back of an unbeaten first six games and, despite losing on the night, played well only to suffer at the hands of a truly atrocious referee and, it must be said, the sort of streetwise defending we showed in winning this league three years ago.
However, even then, the football we were playing was, largely, reminiscent of the miserable stuff which typified our 14/15 campaign – we still looked well short in terms of creativity from open play and the notion that I would go home from a game having felt I'd been entertained was still laughable.
That changed in November, when we turned into a more attack minded team which began a gradual transformation away from being almost completely reliant on set piece goals to one which has not scored from a corner or cross from an attacking free kick since Sean Morrison's header against Burnley nearly four months ago.
We'd been pretty inconsistent during what I called our worthy but dull phase in the autumn, but, if anything, we became more so during the winter as improvements at one end of the pitch were at the expense of what had been a pretty mean defensive record.
Nothing exemplified this inconsistency more than the team's inability to win consecutive matches since before that game with Hull – there were other reasons why I didn't regard us as a top six side, but any outfit looking to make up a points deficit on it's rivals was simply never going to achieve their aim at the end of the season if they couldn't follow up one win with another!
So, while I was certainly grateful that season 15/16 had seen an upturn in results, while also being so much more watchable than the previous one, I'd spent the first six and a half months of the campaign believing that it certainly wasn't going to end in us contesting the Play Offs - now I'm not so sure!
The Brighton game a fortnight ago allowed the first inklings that I may have been being too negative in my prognosis on the team's likely finishing position to take hold. They didn't completely disappear either when, typically, we lost a few days later at Middlesbrough because the televised 4-1 win over the Seagulls had offered the hint that we had the potential to reach levels of play that I hadn't thought us capable of.
Last weekend's win over an in form Preston side didn't see us reach the heights we had against Brighton, but it still struck me as a significant victory because we battled through against the sort of opponent we were chucking away winning positions against before Christmas.
Now, after yesterday lunchtime's very satisfying and efficient 2-0 win over Bristol City at Ashton Gate, we finally have consecutive wins and the gap to sixth place, which had been between anything between three and six points for the last couple of months, has narrowed to just goal difference.
With two months and eleven games of the regular season to go, it cannot be denied now that we are genuine Play Off contenders – that's not to say we are going to secure that top six finish, but I reckon, all of a sudden, supporters of clubs like Derby, Sheffield Wednesday, Birmingham and Ipswich are casting a far more wary eye over us than they had been doing between October and February.
Although I daresay there will be cautious words from all of the current top four that nothing is guaranteed yet, it's going to take a collapse even greater that the one which overcame Derby last season for one of Burnley, Middlesbrough, Hull and Brighton not to be either celebrating automatic promotion or fretting about their Play Off chances come early May – in essence, the rest are just chasing two Play Off places.
That being the case, how many teams can be classed as genuine challengers for that pair of top six spots? Well, while I'm sure fans of clubs outside the current top ten will still cherish hopes that they can come with a late run to extend their season beyond early May, all of the evidence of the first three quarters of the campaign says that they don't have it in them to do so.
Having seen Preston recently and looking at their poor scoring record, I don't think they have the firepower to overhaul at least four of the teams immediately above them, but, the fact that we were five points short of sixth place only nine days ago tells you that the Lancashire team have every right to consider themselves contenders despite my misgivings.
I make it that it's any two from six then and, leaving us aside for now, I'd say the candidates fall into two categories.
On the one hand, we have a couple of "moneybags" teams and on the other, we have three outfits whose squads don't, on the face of it, strike you as ones that should be in contention to be playing Premier League football in five months time.
Taking the clubs trying to buy their way to promotion first. I find Derby County fascinating. I've mentioned the way they blew up last season and it shouldn't be forgotten that they were, very unluckily, beaten in the Play Off Final two years ago as well. Put that with all of the money they've spent since last summer and you have a club where expectation levels are stifling, as exemplified by the sacking of Paul Clement a few weeks back.
Frankly, the claims about promotion not being the target at Derby this season we heard when Clement was dismissed sounded ludicrous. Surely, the truth has to be that they can expect FFP sanctions next season if they are not promoted, so it will, in all likelihood, be even harder for them to manage to go up in 16/17 than they've found it in the last three seasons. With Will Hughes, seemingly, not far short of a first team return to bolster their midfield, Derby have the best squad out of the six contenders, but, leaving their disastrous fade out last season aside, they've had two spells during this campaign when they found winning very hard, so who's to say they won't have another one – they're a lot more fragile than they should be.
Sheffield Wednesday have been one of the best sides to come to Cardiff City Stadium this season in my opinion and have moved up a level from previous years, but their improvement has come on the back of the sort of spending which the rules will make it virtually impossible to repeat next year if they don't go up. Wednesday were big spenders before the permanent signing of Gary Hooper and the arrival on loan of Aiden McGeady in January and the irony is that their current four game winless run has it's roots in a lack of goals – they've scored once in that time and, although they're not at the Derby level when it comes to expectations, it could be significant that they are finding it hard since they started being widely talked of as top six certainties about a month ago.
Preston, Ipswich and Birmingham all fall into the second category I mentioned. I've already spoken about the first of them, while the advantage the second named have over the other two is that they have form when it comes to emerging from a clutch of challengers to clinch a top six finish.
I saw a lot of Ipswich on the television last season and was initially surprised to see them doing so well, but then I grew to have a grudging admiration for their work rate, functionality and spirit – having the division's top scorer in their ranks helped as well! I've seen less of this season's Ipswich, but, apart from their goals being shared around more as Darrel Murphy reverts to his normal scoring rate, I doubt it if they've changed that much.
In a way, I look at Birmingham like I did Ipswich early last season and wonder what they are doing so high in the table, but that's a mistake. They've been getting good results at this level for more than fifteen months now and have that togetherness that is so important in this league in abundance – I'd say you under estimate them at your peril.
Although Birmingham spent their biggest fee in five years when they signed Italian international Diego Fabbrini from Watford in January, what unites them, Ipswich and Preston is that they are all at the more modest end of the table when it comes to spending levels, therefore it has to reflect greatly on managers Gary Rowett, Mick McCarthy and Simon Grayson that they can have supporters dreaming of possible top flight football while their clubs labour under this, apparent, handicap.
This brings us on to Cardiff City and Russell Slade. I wouldn't be surprised at all if there is a perception  among some fans of other clubs in the Championship that we should still be lumped in with the Derby's and Sheffield Wednesday's rather than the Preston's, Ipswich's and Birmingham's of this world – especially given our current embargo.
However, all City supporters know such days are long gone and, getting towards a year and a half into the job, Russell Slade has spent less than Rowett and, possibly, McCarthy in that time. Therefore, if the three managers I've mentioned at other clubs are, rightly, praised for the the job they are doing, shouldn't it follow that our manager should be as well?
For me, this goes to the heart of an argument where I can see either side's point of view. Go anywhere else in the UK apart from a pocket of South East Wales and if people have an opinion on the job Russell Slade has done at Cardiff City, then I would guess it's a positive one. This is especially true if they know about the budget he has had to work to, but I'd guess even those who are not aware of this would be somewhat surprised at his, relative, lack of popularity among City fans.
The thing is though, I'm sure I'm not alone among City fans in still not being wholly convinced by Mr Slade. I still don't like the way the Academy has become almost an irrelevance under this manager and, although some disagreed with what I said about his substitutions against Preston, I stick to my opinion that he helped turn a game we were winning comfortably into something of a cliffhanger with his changes.
There is also an opinion I've seen which says that the transfer embargo has been a good thing for City because it has meant that our manager has had to deal in relatively cheap loans rather than the, fairly expensive, permanent signings we would have had without it. Given our manager's mixed dealings in the permanent transfer market up to now, I can understand the point being made – especially when you consider that the man himself has admitted that Lex Immers wouldn't be at the club now if we weren't under the embargo.
I've accused us of playing "underdog football" under Russell Slade at times because I thought, especially in his early months here, he managed the team like a man was struggling with the adjustment from lower leagues to Championship – it was as if he didn't truly believe that he was up to managing at this level.
I still see signs of such thinking with our manager, but it doesn't happen as much these days and I find myself wondering now if I have been under estimating him somewhat. At 60, I'm five years older than Russell Slade and, while I wouldn't say people of our sort of age generally think they know it all, I believe that there is a temptation to think that you've done all of your learning in life and it's possible to just rely on the skills, or lack of such, you've acquired in the past half century or more to see you through the rest of your life.
Applying hindsight, it's apparent now that I've been thinking for the past fifteen months or so that the Russell Slade we appointed in October 2014 was going to be a finished article of sorts. I don't mean that in the normal complimentary way, I mean that he was at an age where he had done all of the learning he was going to as a football manager and he'd still be, basically, the same manager we appointed even if he was with us five years later.
When a younger person goes into football management, there is an assumption that they will "learn on the job", but why shouldn't the same apply to someone of Russell Slade's age?
The notion that our manager could actually improve as he got more at home with doing his job at a new and higher level never occurred to me, but the evidence of recent weeks and months is that he has done. We are getting better results, while playing better football under a manager who is, generally, looking more confident that he is up to the job at this level – I still wouldn't be completely pleased about it, but the idea of Russell Slade still being our manager next season no longer fills me with dread.
Just before I finish, a quick word about yesterday's Academy game with Coventry at Leckwith.
City's Under 18s followed up a disappointing 2-0 defeat against Bristol City at Treforest in a match played while we entertaining Brighton in their previous home game with another loss, this time by 3-1.
Last weekend a 2-1 win at Colchester was marked by a couple of outstanding goals, the first of which, by James Waite, merited a story in the local press, but the youngsters fell well short of such standards yesterday. A tremendous long range strike by  Jay Albini gave the visitors a deserved lead midway through the first period, but City improved after that and scored a merited equaliser just before the break when a fine run and cross by Aiden Chappell-Smith laid a goal on a plate for Mark Harris.
The second half was a strange affair, City had most of the pressure and the feeling I got at times was that Coventry were on the point of collapsing, yet when I thought about it a bit more, it was the visitors who were racking up all of the close misses!
While City, probably rightly, had a couple of goals disallowed for offside, they only had three or four shots from distance of varying quality from Jamie Bird to show for all of that pressure. On the other hand, they were surviving mad scrambles, miss of the season candidates and shots just wide or high at the other end – their luck couldn't last and goals inside the last five minutes by Kyle Finn and Jak Hickman gave Coventry a deserved win in a game in which I made captain Lloyd Humphries our best player.
pictures courtesy of http://www.walesonline.co.uk/