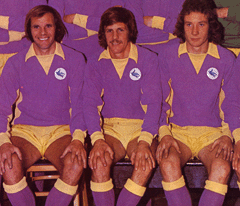 I was not confident beforehand that Cardiff City would find themselves ahead in the closing minutes of yesterday's home game with Burnley, but, if they were, then I knew that would certainly not mean that the three points were guaranteed.
I say that because, perhaps, more than any side in the Championship in the past few seasons, Burnley under Sean Dyche do not know when they are beaten – in their 13/14 promotion season especially, they mastered the knack of turning defeats into draws and draws into victories late on in matches.
Therefore, it shouldn't have come as a total surprise to those City fans who braved the elements to watch yesterday's match that a Burnley side unbeaten in their last eight games were able to consolidate their position as one of the five teams who have broken clear of the rest of the Championship by coming back from 2-0 down with five minutes left to gain a point.
So, it would be wrong to say that it was something of a fluke that Burnley found a way back into a match in which they were second best for long periods.
All of this means Sean Dyche was right to point out that there was more than just good fortune involved when it came to his team's fightback, but I'd love to know how he would have described the equalising goal if it had been scored against his team three minutes into added time to rob them of two points!
The truth is that no matter how much he talks about his team having earned their point, it still took an outrageous slice of good fortune for a ball that was going at least a yard wide to rebound off a helpless defender and roll apologetically over the goal line.
I suppose it all is just more evidence of something that anyone who has followed the game for any sustained period of time probably has to acknowledge as a truth – the old cliche about luck evening itself out over the course of a season is rubbish, the top sides have more than enough of it, while the also rans have to cope with more than their "fair share" of kicks in the teeth.
So it is, that Matt Connolly, a realistic contender for City's player of the season so far and one of their best performers yesterday, has now seen the ball hit him and trickle into his own net (in fact, on both occasions, the ball travelled so slowly that it didn't even have the strength to hit the back of the net!) deep into added time at the end of the game twice and his team have lost three points as a result.
Without Connolly's inadvertent and unfortunate intervention yesterday and the one at Rotherham in September, City would now be occupying the one Play Off place the nineteen clubs outside the top five appear to be fighting for this season. Yes, that's more than we deserve on the general level of our performance so far, but I daresay that, if they are being honest, supporters of the other clubs in the fight to finish sixth would say much the same thing about their team.
Given how the game finished, it's easy to forget what happened in the first eighty five minutes (and for most of the time after Burnley's first goal as well) and be negative about a team that even Its own manager admitted in his pre match press conference was high on functionality and low on flair.
As usual, the messageboards went in search of scapegoats (they do even when we win!) and, of course, our manager was featured prominently in any list of people to blame – I'll get to my opinion on Russell Slade's part in yesterday's proceedings presently, but, for now, I'd like to talk about the positive aspects of City's performance.
I mentioned earlier that we haven't looked like a potential top six team too often this season, but I'm encouraged that there were times in our previous home game (against Reading) when we did and that there were long spells yesterday when we did.
It's going to be tough to put the way the match ended behind us, but there were plenty of reasons for optimism yesterday.
I've constantly cited the lack of entertainment on offer during Russell Slade's time in charge as being a big reason for the decline in attendances and loss of atmosphere at home games – to repeat something I've often mentioned before, I've yet to come out of a home match that Russell Slade has been in charge of thinking "I really enjoyed that".
Well, that's still the case, but, that late own goal is the only reason I feel that way. Yesterday's was definitely the best performance I've seen from a Russell Slade side at Cardiff City Stadium – a disappointing outcome of course, but at least I went home feeling I had been entertained.
What any analysis of the game has to acknowledge is that it was played in absolutely awful conditions. For most of the time, there was torrential rain, but, worse than that, there was a wind, gusting to gale force, that made it very tough to play controlled football.
Speaking for myself, it was only when I got out from the Ninian Stand and began the walk to my car that I realised just how strong the wind had become as the match went on. I believe that, with the new ground not being as open to the elements as Ninian Park was, we have been lucky that strong winds have not been as much of a factor at City home matches in recent years, but it seemed to me that, more than in any other match I've attended at Cardiff City Stadium, it was yesterday.
Therefore, the option of the long pass from the back looking for Kenwyne Jones' head was not as popular as it usually is with City for the simple reason that the wind would send the ball away from its intended target.
No, this was a day for keeping the ball on the deck as much as possible and trying to work yourself into a promising position and it says much for the way City passed it in the first half in particular that they were able to do this pretty often.
Of course, when that promising position was out by the touchline then, invariably, this meant a cross where the ball was put into the air and so, given the conditions, it would be wrong to be too critical of the quality of some of the crossing when nothing came of these opportunities.
Even so, the returning Tom Heaton (when was the last time City played in a match where both goalkeepers were captains?) was a busy man as he was forced into a string of saves, with the best of them for me being his tip over of a Craig Noone effort which appeared to take a slight deflection.
Noone was lively on the right flank as City put in their most threatening half of football of the season, while Peter Whittingham on the left may not have been as dangerous, he, as you would expect, benefitted from a less direct approach from the side.
However, it was in the centre of midfield where Joe Ralls and Aron Gunnarsson confirmed the  impression given for most of the time they have been paired as a central two, that their relative youth gives them an attacking vibrancy and movement not seen in the other combinations we may select.
The two combined for the opening goal when, somewhat surprisingly, Whittingham stepped aside to allow Ralls to deliver a free kick which was guided in nicely by the Iceland's captain's head.
That's three assists now for Ralls in our last two home matches and those are figures which suggest he won't be coming off dead ball duties any time soon.
City's youngest player was also given corner taking duties from City's left, but Whittingham was still taking them from the right.and, shortly after one of his deliveries into the six yard box was nodded not too far over by Jones, Sean Morrison beat Heaton to another one to double City's lead.
It was a testimony to the quality that both of the left footers possess when it comes to dead ball delivery that were able to knock in high balls with such precision in the prevailing conditions.
By contrast, Burnley's problems in harnessing the wind advantage they had in the second half as a succession of crosses and passes from open and dead ball play, drifted a long way past their targets and out of play or through to David Marshall emphasised how well City had done to make as many opportunities as they did when they were playing with the wind.
The goal scored by by Rouwen Hennings with five minutes left with a shot that Russell Slade said Marshall felt he should have done better with, was a rare example of Burnley creating something in open play.
However, apart from a free kick which brought a good, sprawling save from Marshall, there was little from their dead ball deliveries to worry City until Heaton made his most significant contribution of the day by sending in a free kick from just inside the City half that fell into a dangerous area around the penalty spot – the ball was half cleared to Dean Marney who did well to put in a cross from which Michael Keane's header should have flashed harmlessly wide to leave City within seconds of what I would have rated as their best win of the season so far – it didn't though and so Russell Slade's army of critics have another stick to beat him with.
Now, I'm a fully paid up member of that army, but I didn't think our manager got a great deal wrong yesterday. The substitution of Jones by Federico Macheda seemed an odd one to me because, although Kenwyne had little left to give, he certainly would have been handy in trying to cope with the aerial assault that led to the equaliser (for me, Whittingham or Noone off and Manga on would have made more sense).
That apart, the substitution of Gunnarsson by O'Keefe made no sense whatsoever if it was tactical, so I presume it was because Gunnar didn't have ninety minutes in him after his recent injury and bringing on the man who is still some way clear of the rest as our top scorer after a promising, if not spectacular, debut by Tony Watt seemed a sensible decision.
Also, although it was a week late, Slade at least accepted the error of his ways in going with Whittingham in central midfield rather than Ralls at Derby – overall though, I thought our manager produced a team which played in a manner that offered hope that the top six finish he says is the target for the season is not quite as outlandish as it has seemed throughout most of the Autumn.
Finally, a bit of a whinge. One of the few good things about the smaller crowds we are getting is that you can move from your season ticket seat at the front of the Ninian Stand where you would get soaked to one right at the back where you can stay dry. That was the plan at least when the rain became so heavy yesterday, but we were still getting drenched when sat in our new seats because we were below the part where the original stand roof had been removed to accommodate Tan's Folly – shouldn't those with season tickets in this area have had a slight decrease in the amount they pay for this deterioration in conditions?

*picture courtesy of https://www.flickr.com/photos/joncandy/albums/with/72157659435809474