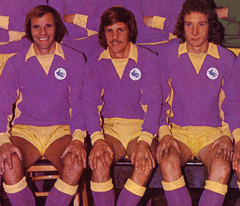 Besides the obvious, the word "folly" has another meaning – it is the term used to describe architectural works of a certain type. I've not looked up any dictionary definitions, but I would describe an architectural folly as a building or structure which serves no practical purpose and was, most likely, built on a rich man or woman's whim.
I daresay Cardiff's most famous folly is situated no more than a five minute drive from my home. Castell.Coch (the red castle) overlooks Tongwynlais and Taffs Well – it can't be missed by anyone driving out of Cardiff along the A470.
Castell Coch was designed by William Burges, who was employed on a money no object basis by the third Marquess of Bute to come up with a building in the Gothic revival style that was very popular in the mid nineteenth century.
Apparently, the original intention was for the castle to be a summer home for the Marquess and his family, but it was very rarely used in that fashion and so it, essentially became a, very attractive in my view, decoration on Cardiff's North Western landscape.
In these days of austerity, you aren't going to get too many modern follies being built, but a few miles south of Castell Coch is another structure, which also has a connection to the colour red, that I maintain is a modern day folly.
Cardiff City's Ninian Stand extension was built last year and was certainly not intended to serve no practical purpose, but, in the main, this is what has happened to it. Confirmation of this came this week when the club announced that the stand would not be used during the 2015/16 season and the few supporters who had bought season tickets for that part of the stadium would be offered seats elsewhere.
It was in 2012 I believe that the Ninian Stand extension became something more than the sort of vague notion of stadium extension often referred to by the likes of Sam Hammam and Peter Ridsdale when the new ground was still at the planning stage. However, the original idea had the rider that any rebuilding work would be conditional on the club surviving its first season in the Premier League if and when it got there.
This seemed a sensible qualification to me, but, somewhere along the line, all of that changed and during the summer of 2013, it was announced that building work would commence early in the new year as our first Premier League season was approaching it's climax – actually, that should read anti climax as relegation was confirmed.
So, City started the current season back in the Championship and lumbered with a stadium that's capacity was 6,000 more than when we were hosting the likes of Manchester United and Liverpool a few months earlier.
Even so, there have still been times when the red seated Ninian Stand extension defied its folly status and it will do again in the future, it's just that Cardiff City has not and will not be involved when it does.
If Real Madrid are in town, then the new part of the ground stops being a pointless add on and the feelgood factor currently surrounding Welsh international football (well done to Tommy O'Sullivan and Josh Yorwerth by the way for sharing the goals between them as Wales Under 21s kicked off their latest Euro qualifying campaign with a 3-1 win over Bulgaria on Tuesday) was confirmed yesterday when it was announced that June's game with Belgium was already a sell out.
With 30,000 in Cardiff City Stadium for the visit of Bosnia back in October and not far short of that present for the visit of Cyprus a few days later, a capacity crowd, especially after the win in Israel which made the dream of a first participation in the finals of a major tournament seem closer to being realised than ever, was always on the cards for the visit of the group favourites, but the speed at which the tickets went was very impressive.
All of this, as well as the capacity crowds seen at the Millennium Stadium when the national football team played there, proves that there is the potential to attract crowds of 33,000 to football matches in South East Wales.
Therefore, on one hand, Cardiff City's decision to plough ahead with raising the capacity of their ground to that level is justified and I can understand Vincent Tan thinking that there's no reason to believe that a club that can fill a 27,000 capacity stadium while winning the Championship shouldn't be able to do the same when there's room for another 6,000 for Premier League games.
However there is another side to the story – we have only had one league game in the last half a century when the attendance reached the current capacity of Cardiff City Stadium.
I strongly believe this should have been a consideration when the decision was taken to proceed with the ground extension at a time when there was, presumably, no formal evidence to justify it in terms of demand for tickets for City matches.
Vincent Tan couldn't be expected to have much knowledge of crowd levels at the club over the last half a century, but you would like to think there were those at the club who did and you would have hoped they would have been arguing for a continuation of the original plan to see what things looked like if and when a second season in the Premier League had been secured – I can't help thinking that those who say Vincent Tan has been badly advised at Cardiff may have a point.
Unfortunately, the relative boom period the national team is enjoying only serves to accentuate the problems the side representing the nation's capital are facing. While Wales tickets sell out in less than a week, two months of "early bird" season ticket sales at reduced prices ended on Tuesday with a, reportedly, very poor take up.
All the indications are that attendances are going to be well down next season. In contrast to last year when the early bird sales took place while there was still the chance of another year in the top flight, this time around, promotion was never a realistic option, whereas a second consecutive relegation was a possibility, albeit a remote one, for at least a portion of the two months of reduced prices.
It's been pretty obvious that a lot of this year's season ticket holders have just not been turning up to games – it's as if they gambled on us staying up when they bought their tickets and have only been making the occasional visits to matches because we didn't.
Therefore, the poor season ticket sales must solely be down to the "glory hunters" deserting the club? Well, I'm not so sure about that – Lindsay Davies*, a City supporter for fifty nine years, contacted the Trust a couple of days ago to say he would not be renewing his season ticket. Among Lindsay's comments were;-
"And now they're 'closing' that lovely (if red-seated) new Stand – God, it's
all so shabby and low-grade"
and
"Incidentally, I've just turned 67 – fifty-nine years of barely reciprocated
love and support!
But, all part of Life – until now.
Now, I can hardly bear even to read about them."
I know of some other long term fans who feel much like Lindsay does and I can't help thinking that there are many others who also know other "veterans" who have had enough. It would appear that even what are known as diehards are deserting as well, people who love Cardiff City, who stayed with the club through the bad times and I daresay didn't even contemplate not attending games until fairly recently, are joining the glory hunters in saying "no more".
The Ninian stand extension will be a folly in all meanings of the word next season – a pointless structure that lacks the charm of some of the local competition and a reminder of the spend, spend, spend thinking which has blighted so much of the last fifteen years at Cardiff City.
There are those who argue that the current vogue for cost cutting at the club is a sign that it is on the road to recovery and, while it is difficult to see a way that debt levels could disappear entirely if the current policies went on indefinitely, I can certainly understand any decision our owner has taken on reducing his level of investment. However, if there really are a lot more out there with the same attitude as Lindsay Davies, it's going to take an awful lot more than a round of cost cutting, no matter how severe it may be, to get us out of the downward spiral we are in.
*Lindsay has given his permission to use his comments.