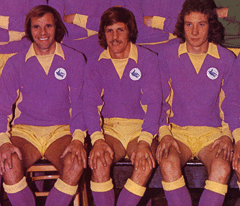 It says a lot about the type of campaign it's been for Cardiff City that last night's 2-0 home win over Preston North End was their biggest of the season so far – at the thirty first time of asking, it was the first occasion where we have managed to win a match by more than a single goal margin.
2-0 is the sort of scoreline which suggests that one team was fairly comfortably better than the other, but it is also not a wide enough winning margin to emphatically state that this is the case and I can remember one City game from the past in particular, where the losing team must have left Ninian Park scratching their heads as to how they ended up on the wrong end of such a scoreline.
In April 1982 Cardiff City and Watford were heading out of the old Division Two in different directions – our opponents were on their way to promotion under the late Graham Taylor and already many of the side which would soon finish runners up in the First Division and reach an FA Cup Final were in their ranks. By contrast, we were skint and new manager Len Ashurst was raiding the bargain  basement for players such as Mick Henderson, Tim Gilbert and Andy Polycarpou as he unsuccessfully tried to put a squad together capable of beating the drop.
Gates had dropped as low as 3,239 that season, but there was a little over double that present for the visit of such attractive opponents in what was the biggest crowd at the ground since the Christmas holiday period and they saw City play well above their normal level to win by that 2-0 scoreline. In saying that though, it was very much a smash and grab win with nearly all of the play heading in the direction of the City goal, but a combination of dogged defending, Ron Healey's good goalkeeping, some wayward Watford finishing and breakaway goals by Dave Bennett and Tarki Micallef left a bemused Taylor pondering on how his team could force twenty corners to City's one and end up losing the game.
So, 2-0 can sometimes be a scoreline that doesn't tell an accurate story of how a match went, but I would say that last night was a case where it was – there were no twenty corners from Preston, they had three to our nine and we also bettered them in terms of goal attempts and efforts on target.
In fact it was one of those matches where you could look at the times when the goals were scored and be able to accurately predict how things worked out. There is a kind of template for matches that are decided by a couple of quite early goals whereby the side that goes behind gets a half time dressing down which prompts them to give it a real go at the start of the second half before the feeling that it isn't going to be their day settles in around the hour mark. After that, the real question becomes whether the team with the lead, who are content to let their opponents come on to them, can make the victory margin bigger by scoring on the break.
This was more or less exactly how last night's match went and, although there's always that thought that one goal for the opposition would completely change the whole complexion of things (especially when Preston had come back from 2-0 down at the break to draw at Aston Villa in their last away match – they were also unbeaten on their travels for two months before last night), in truth there was little that Preston did to disturb the authority of a dominant defence in which Morrison and Bamba were commading centrebacks and Jazz Richards a quietly effective left back. Lee Peltier was his normal self before going off at half time, but Matt Connolly fitted in seamlessly at right back and they were backed up with by a reassuring performance from Allan McGregor which went some way to allaying doubts that had arisen after some of the goals he had conceded in the previous two matches as he made a good, important, stop just before half time from Ben Pearson.
Yes, as Preston manager Simon Grayson acknowledged when he said that City didn't have to work too hard for their victory and that his side had got what they deserved. it was as comfortable a watch as I've had all season really. As they nearly always are, City were beaten in the possession stakes, this time by a 60/40 ratio, but Joe Ralls, Aron Gunnarsson and Peter Whittingham were an effective midfield trio with the last two showing their differing abilities to good effect and the first named having one of his best games of the season as he offered something in between what his two colleagues gave us.
I'm usually confident when Whitts steps up to take a penalty, but, for some reason, I convinced myself that Welshman Chris Maxwell was going to save the one he took last night. I needn't have worried – the Preston keeper guessed right, but the ball was placed so well that he never really threatened to save a spot kick that was both well struck and beautifully placed. However, the Whittingham highlight of the night  for me was the way he guided a short pass down the line to send Kadeem Harris surging into space in the second half. I'm still not quite sure how he managed it, but it seemed to me that he played the ball with the "wrong" side of his ankle – I'm not doing a good job of describing it, suffice it to say, you had to see it close up to appreciate it!
So, City were good at the back and good enough in midfield, but I thought this was a game which was, effectively, won by our front three. I think it may have been in my piece on the Villa match that I said that an attacking trio of Junior Hoilett, Kadeem Harris and Kenneth Zohore compared favourably to most threesomes our Championship rivals could field when it came to sheer pace. well. last night, for the first time in years and years I reckon, Cardiff City had three players up front who were all too quick for those charged with marking them when it came to a foot race.
Hoilett was the first of the three to show he had the pace and the trickery to cause Preston real problems as only a frantic covering tackle stopped him from getting his shot away after he had tricked his way past a couple of defenders, but when he cut past three players in the seventeenth minute before going to ground under a challenge from Daniel Johnson, City had the penalty which enabled them to open the scoring.
As for the penalty award itself, it looked quite soft to me from my distance of about one hundred yards away and it did again when I saw this video. However, the lack of protests from the Preston players at the decision suggests that referee Graham Scott, who certainly allowed some what I shall call rugged Preston challenges to go unpunished, got it right.
Hoilett was City's best player in the game's first quarter and, if he was not as influential after that, his performance was still a definite step up from some of his recent ones in home matches. He could, and should really, have had a second and, maybe, a third goal for the club to his name as his header from a good position flew wide and then his close range snapshot after Morrison had nodded on a Whittingham corner rebounded off the crossbar. Hoilett was also, perhaps, better placed to score when Connolly broke forward during City's one genuinely menacing attack in the second half, but the defender opted to pass to Zohore whose effort was well dealt with by Maxwell.
The cross for Hoilett's headed chance came from Harris who enjoyed a pretty productive spell when he switched wings with Hoilett. There was one thrilling run past a couple of defenders which ended with a cross that was put behind for a corner, but if I had a criticism of Kadeem at the moment, it would be that too often his cross misses it's target. In mitigation, I would say that there are usually not that many, if any, of those targets for him to aim for if we are attacking in open play (we may have pace up front, but we still need more of that from the players who are trying to join in with attacks from deeper positions).
It should also be remembered that, although he's twenty three now, Harris is something of a novice at this level and in terms of the total number of senior appearances he has made – there is still time for his game to evolve naturally and playing for a manager who appears to have the little appreciated gift of improving players already at any club he joins will help matters as well.
Given the age of some of the recent winners of the award (Tom Heaton at twenty five!), Kadeem has to be a contender for both the Young Player of the season and Most Improved Player nomination at the awards ceremony to be held in the spring, but he's got serious competition for both from Kenneth Zohore (another player Neil Warnock has improved) who celebrated his twenty third birthday yesterday with a truly memorable goal.
To be honest, I'd spent the first twenty five minutes or so of the game getting increasingly annoyed at him for a performance which I thought was his most ineffective since his "second coming" which began with that introduction from the bench at half time against Wolves in our last home floodlit match. He was always arriving that little bit too late to pressure Preston defenders, was barely getting off the ground to challenge for headers and the ball was not sticking with him – in short he was looking like the player who Championship clubs had found pretty easy to deal with for his first nine months or so at Cardiff.
However, even when there was only one good game in four or five from him, there were always those little snippets (I know I always bang on about this, but he frightened the life out of Champions Burnley last season when he came on as a late sub) that had some City fans, including myself, thinking "hang on, we might just have a player here".
There's no point me describing his goal in detail for anyone who hasn't seen it yet because they can see it for themselves by clicking on the link above, but what I want to do is say that in the ten seconds or so he took to score, we saw all of the qualities which made me less prepared to write him off than some others were.
I know some of the contributors on here are not impressed by Zohore's aerial ability and I can understand why – occasionally, he will flick on a long ball with his head in a manner which makes you ask why on earth can't he do that more often, but, although I'm sure work will be put in to help improve him in this aspect of the game, I have my doubts if he'll ever be as good in the air as someone with his height and build should be.
However, I'd prefer to concentrate on what he's good at and accept that he's never going to be another Toshack or Thorne when it comes to his heading ability. A couple of months ago, I compared Zohore to Jay Bothroyd on here – fact is, the comparison was somewhat fanciful because I thought, and still do, that Jay was an exceptional player both in terms of his ability and the type of player he was for his build, I've not seen a forward with what you'd call a traditional target man build with Jay's natural ability in a Cardiff shirt before.
What I meant by the comparison was that Zohore may look like a traditional target man, but, like Bothroyd, you didn't/don't get the best out of him by aiming high balls at him to jump for against a centre half. So, Bothroyd was, pretty obviously, a better player than Zohore is at the moment, but I really don't think that Jay, even at his peak, would have been able to score that goal last night.
I say that because I don't think there would have been that little burst of acceleration which took Kenneth clear of those three defenders and I wonder if there would have been quite enough pace to stay clear of them as well – I'd also say that Zohore is the more powerful of the two men.
I was still not that confident that we were going to double our lead as Zohore closed in on Maxwell, because I've never been fully convinced by his finishing, but when he got his shot away, it could have been Bothroyd who was hitting it, because the lovely, dinked finish over the keeper was pure Jay.
After the game Zohore mentioned a similar goal he scored for the Under 23 team quite recently – it was nowhere near as good as last night's, but it was another one where he had a thirty or forty yard run with the ball which culminated in a similar composed finish to score. This was one of four goals he scored in a couple of Monday night appearances he made for the Under 23s in the autumn and, although they attracted little attention at the time, I wonder now with hindsight whether he took an awful lot of confidence from those goals scored in a couple of matches watched by the proverbial one man and his dog?
Of course, we are not going to see goals like that from Kenneth Zohore every week and there is definitely still the chance that he will become another Danish striker who heads back to mainland Europe from Cardiff at a cost far lower than we paid for him, However, he's now playing for a manager who has a lot of faith in him and he is a player who, when the force is with him, is too quick, strong and big for many central defenders in this division to handle.
It shouldn't be forgotten either that Fiorentina saw something in him when they bought him from Copenhagen as an eighteen year old and that he had set records as the youngest debutante in his domestic league and is also it's second youngest goalscorer – add that to playing Champions League football at the Nou Camp at sixteen and trials with Chelsea and Inter Milan and it's clear that he has a pedigree which is probably better than any other player on City's books at present.
I'll finish about last night's match with three moans. First, there was no announcement of the attendance figure last night and I don't think there's been one that has featured in the media yet either – if the club are not releasing it because they don't want to be embarrassed by how small the figure is, I could understand it. With a smaller than normal contingent of visiting fans to go with the large swathes of empty seats in the home sections, it had the look of our smallest attendance so far this season by some distance.
While I can understand why a non season ticket faced with a choice for financial reasons of Preston on a wet Tuesday night or Norwich on Saturday would opt for the latter, I don't get why so few season ticket holders decided they couldn't be bothered going along last night. It would appear that the temptation of Liverpool v Chelsea was too much for some "diehards" to resist  – I know the fans of virtually every club in the country get accused of being fickle at some time or another, but, with home games being far more watchable now than they were a few months ago, there can't be too many more fickle sets of fans than Cardiff's.
The other two moans concern the football we played last night – very unusually for us, we had the capacity to be really dangerous on the counter attack, but too many good opportunities to put a forward in on goal were wasted because sometimes quite simple passes were not executed well enough. As for the third whinge, this is an old bugbear of mine – why is it that, unlike so many other clubs, City's players head off to the cornerflags to play keepball in added time even when they have a two goal lead? Our goal difference is slowly improving, but it's still quite a lot worse than many around us in the table and yet we never go chasing that third goal when it's past the ninety minute mark and we're two goals clear.
Finally, I had hoped to go into some detail about our dealings on the last day of the transfer deadline, but I've gone on more than long enough already, so I'll try and keep this brief. I'd mentioned before on here that I expected one or two more players to come in during the last days of January, but I did qualify that by saying that we would probably have to sell before we could buy.
In the event, four players went out on loan yesterday – Adam LeFondre to Bolton, Emyr Huws to Ipswich, Stuart O'Keefe to MK Dons and Matt Kennedy to Plymouth. This was on the back of recent loan moves of goalkeepers Ben Wilson and Luke O'Reilly to Rochdale and Redditch respectively and Semi Ajayi to Rotherham (he played the full ninety minutes for them at Forest last night). It seems that the savings in wages and possible loan fees paid by their new clubs either did not amount to enough to sanction a move for another incoming player or the decision was taken that there was no one within our price range who was considered to be an improvement on what we have already.
If I had to choose one of those alternatives, I think I'd opt for the first one because I would have thought that we must have left ourselves very little room to manouvre when it came to staying within the FFP limits at the end of the last transfer window in September and then we signed those four out of contract players in October when Neil Warnock was appointed. We also paid a reported nominal fee for Greg Halford and there may well have been a loan fee involved in the Allan McGregor transfer, so we've spent a fair bit since September and the only players going out of the club in that time have been youngsters, loan players or players out of contract.
In his post match press conference, Neil Warnock was very critical of the FA for allowing the window to close on a night when so many teams had a game. He gave the distinct impression that the club wanted to do deals for players coming in, so my opinion could well be wrong and the money was there for some modest spending.
However, nothing happened in the January window to dispel the fairly widespread feeling that Neil Warnock received no assurances as to what sort of budget he will be given this summer when he met Vincent Tan recently. So, there has to be, at the very least, a chance that the manager who I feel would be able to turn us into top six candidates with the right sort of backing, would decide that building a club up gradually on a modest budget may not be something that he can get too enthusiastic as he edges towards the eighth decade of his life.
When you consider how much our owner has invested in the club already, I find it hard to blame Vincent Tan if he decides not to give Warnock the sort of backing he wants , but, with no confirmation yet of the major debt to equity conversion that we were told nearly  a year ago would be included in the club's accounts for y/e 31/5/16, losing the most popular manager we've had since Malky Mackay's early years at the club through what I'm sure would be perceived as  a lack of ambition on his part, would only make Mr Tan's relationship with the club's fanbase more fraught that it is already.
I have sympathy with both of the men involved here, because it seems pretty obvious that Neil Warnock thought we were a certain type of club when he came here and, if it turns out we aren't, then I'd say our manager would see us as being on a par with a club like Rotherham who he turned down when they offered him the manager's job full time in the summer. On the other hand, I find it hard to see what Mr Tan's intentions would be for the club if he intends to go through with the debt to equity conversion in the way he outlined last year and still continue with the very modest budget (by modern Championship standards and compared to what it was when he first come here) that we've in the last two and a half years or so.