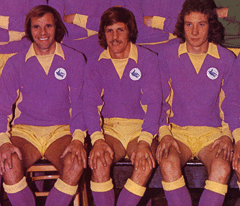 Cardiff City kept their supporters waiting right up until the eleventh hour to confirm it, but it seems that a deal to bring in the striker we so desperately needed was done hours earlier when West Brom's former England international, Rickie Lambert agreed to sign for us on a two year deal for an undisclosed fee.
I think it's fair to say that Lambert's arrival has raised spirits among most City fans because in the past few days a gloom, probably brought on by our joyless and punchless displays so far this season and a sense of resignation that we were unwilling and/or unable to pay the sort of fees so many other teams in our league were shelling out as the transfer window started to creak towards closing, had settled over the club.
As is always the case, most attention centred on the Premier League as the reality dawned that the latest television deal had created a situation whereby what I would call pretty mediocre players were being bought for eight figure sums. It seems to me that £20 million these days gets you a player which would have cost us around a quarter of that if we had bought him three years ago as we prepared for our season in the Premier League.
What concerns me is that this mad inflation has seen it's way into the Championship and we are now in a position whereby sides who are not party to the sort of parachute payments that we are, like Bristol City, Wolves and Derby, are thinking nothing of making multi million pound bids (£14,000,000 in the case of the last named apparently!) for players.
This seems like madness and, although there's a part of me that looks at the sort of spending which has been going on in the latter part of this summer at other clubs with envy, the truth is that I'm happy that we are not playing a game which, on the face of it, has to mean serious problems in the future for some of the clubs that have been splashing the cash in recent weeks. After all, it has to be that some of these sides are not going to make it into the Premier League in the foreseeable future.
However, if you examine things a little more closely, a slightly different picture emerges and a bit more research reveals that Cardiff City are shown in a very poor light compared to many other clubs in our league.
The biggest Championship spenders this summer have been the relegated pair Newcastle and Villa, but the parachute payments they now get put them at a level which is above virtually all of the sides they'll be playing every week over the next eight months. However, certainly in the case of the first named, they have seen their coffers further boosted by the sales of players for the sort of sums that have become the norm in the Premier League.
If other sides in the Championship cannot compete when it comes to parachute payments, then many of them have benefited from shrewd work in the transfer market and an ability to develop their own high quality players through their own Academy system.
To show you what I mean, you only have to look at what's happened at two clubs this summer that I wouldn't have thought many would have regarded as serious promotion contenders at the start of last month. Bristol City have signed young international players from Sweden and Iceland who I wouldn't have thought came cheap at all, signed players like Lee Tomlin and Gary O'Neil permanently, paid a six figure sum for the promising Callum O'Dowda  and brought in Tammy Abraham on loan from Chelsea who is currently scoring goals for fun for them.
All of these signings have been paid for by the possible £15 million they are getting for Jonathan Kodjia from Villa and I daresay that they've still got a few quid profit on top – let's not forget either that Kodjia was someone who we looked at last summer and decided he wasn't worth the £2 million he would have cost us.
Then we come to Barnsley who would generally be regarded as a more modest outfit than the wurzels. They have made a good start to life in the Championship and are profiting from clever use of the loan market and permanent signings which have tended to come from the lower divisions and yet, when you look at the income that has flowed into that club in the last couple of months, you have to think they have the means to be able to be a lot more bold in the transfer market if they wanted to be.
However, when you are able to spot a centreback in League Two who you can sign for £250,000 and then sell him a year later for twenty times that amount like Barnsley did when they bought Alfie Mawson from Wycombe and then sold him to Swansea, do you really need to be spending millions left, right and centre? This is especially so when you have an Academy that can unearth a player like John  Stones who makes you £7 million because you had the good sense to negotiate a sell on clause when you sold him three years ago.
You look at those two clubs and contrast it to the situation we've got ourselves in and it only reinforces the view that we have brought on so many of our problems ourselves.
Oliver Burke at Forest, Demarai Gray at Birmingham, Aaron Tshibola at Reading and Lewis Cook at Leeds are all examples of Academy products at clubs who are hardly in the moneybags category for this league being sold for sums that sustain those teams and, in some cases, fund their total transfer spend during a transfer window.
We just do not produce players like this any more and, with rumours of Academy cutbacks being implemented within the past week, you have to wonder when we are likely to see another Aaron Ramsey or Joe Ledley coming through our ranks.
Bristol City had a price in mind for Kodjia and stuck to it throughout the summer and so have ended up with a deal which says that, based on one season in the Championship, he is three times the player, at least, that the current Scotland goalkeeper, who was regarded as the best in the Premier League in 13/14 by many, is.
Yes, I know it's a different market when it comes to strikers and goalkeepers, but are you telling me that, with almost two years left on his contract and at an age which is often regarded as a goalkeeper's peak, David Marshall is really only worth £3.5 million (possibly rising to £5 million) in this of all summers?
The difference is that there is nearly always a desperation to sell at Cardiff (on the rare occasions when there isn't, we tend to be throwing cash around as if there's no tomorrow!). It may be eight years ago now, but the Ramsey transfer is so revealing – we produce a player who is better than those listed above and we sell him for peanuts without a sell on clause and even accept a cut in the agreed fee because the buying club are willing to pay us up front!
Cardiff City has been a club fighting, and mostly losing, a financial war since 2004 and when we reached a situation where we could have won it when we had all of that television money coming in after getting promoted, we proceeded to show that none of the lessons of the Hammam era had been learned.
There are those who blame Malky Mackay entirely for the Andreas Cornelius transfer which has come to symbolise why he "failed" at Cardiff City and the club were shown to be not good enough for the Premier League.
It was this deal, more than any other, that ushered in the Transfer Committee at Cardiff which would oversee all future player moves - owner Vincent Tan and Chairman Mehmet Dalman have been constants in this Committee since it's inception in January 2014, with the club's CEO (Simon Lim initially and now Ken Choo) and the manager at the time completing the foursome.
It's very instructive to look at the list of players we've signed since the inception of the Transfer Committee and the end of last season (transfer values where available are taken from Wikipedia);-
Jan 2014
Magnus Wolff Eikrem – £2,000,000
Mats Møller Dæhli - not known
Jo Inge Berget – £2,000,000
Kenwyne Jones – Player-exchange
Fábio – not known
Juan Cala – Free, but I saw it reported as around £1 million at the time*.
Summer 2014
Guido Burgstaller – £800,000
Adam le Fondre -£2,170,000
Kagisho Dikgacoi – Free
Javi Guerra – Free
Federico Macheda – Free
Charlie Horton- Free
Tom Adeyemi -£882,000
Danny Johnson – Undisclosed
Sean Morrison- £2,620,000
Anthony Pilkington – £875,000
Danny Gabbidon -Free
Bruno Ecuele Manga -£4,400,000
January 2015
Scott Malone – £90,000
Alex Revell -£175,000
Lee Peltier – Nominal fee
Stuart O'Keefe – £750,000
Eoin Doyle – £750,000
Matthew Kennedy – Undisclosed
Summer 2015
Semi Ajayi -Free
Jordan Blaise -Free
Gabriel Tama? – Free
Idriss Saadi – Undisclosed
Marco Weymans – Free
You will see that I've not included loan deals here – I don't think I'm exaggerating when I say that the money we spent bringing the likes of Zaha, Ravel Morrison, Ameobi and Lawrence to the club runs into millions, but, in the interests of fairness, I should add that Tony Watt and Lex Immers could be said to be good loan signings last season.
When you look at that list, it doesn't reflect the Transfer Committee in a good light does it? Who among all of those players have made a profit for us in terms of their transfer fee when they left the club or would do if they were sold today?
Well, I suppose Scott Malone was valued higher than £70k when we swapped him for Jazz Richards and there's no doubting that we made money on Fabio, but, when you factor in wages as well, I doubt it if that is the case.
There are also some current players who it could be argued that we could get the transfer fee we paid back and more, but I'm not fully convinced that this is true.
That Cornelius transfer is, rightly, held against Malky Mackay when the talk switches to his transfer dealings, but we tended to get all or nearly all of our money back when other very big buys by him like Gary Medel and Steven Caulker left the club.
The truth is that, Fabio excepted, the only times we make a profit on transfer fees in recent years is when a player signed by Dave Jones (e.g. Marshall) or Malky Mackay (e.g. Jordon Mutch, Joe Mason and Simon Moore) is sold.
So, while there were problems beforehand, I would strongly argue that things have got a lot worse under the Transfer Committee's watch. They have, more than anything else, only strengthened the argument for those who say that there needs to be more people with football experience involved in the implementation of transfer policy.
I should say now, that, if you think I'm giving the club's money men a hard time here, it's fairly mild compared to what they would have got if we had not signed Lambert yesterday. I'll also mention that, looking at that list, there is some evidence that the Committee might be learning from it's past mistakes – I suppose time will tell on that score when we are able to make a proper judgment on the quality of the recruitment work done over the summer.
As it is, at the end of last season I would have rated the different departments of the team as follows;-
Goalkeeper – automatic promotion standard  (best keeper in the league and a capable understudy)
Full backs/wing backs – halfway up the league standard
Centrebacks – top six standard
Midfield – top ten standard
Wingers – top half standard
Strikers – bottom six standard
Based on what I've seen so far this season, I'd go
Goalkeeper – impossible to judge, but I fear it could be bottom three standard because we've made a right pigs ear of this position in the last fortnight or so
Full backs/wing backs – bottom third standard
Centrebacks – Bruno Manga is struggling a bit and Ben Turner's gone, but Lee Peltier's doing well in a new role for him and Semi Ajayi has improved, so I'll stick with top six standard
Midfield – we've only lost players who weren't going to feature, but we're bottom half standard at the moment
Wingers – not used yet, so hard to tell
Strikers – still bottom six standard (if not lower)
Yes, it's been a pretty miserable experience watching us so far this season, so it would be easy to heap even more blame on the Transfer Committee, but it should be said that when we start playing again, the probability is that we will have three new signings in our line up as well as someone else who has barely kicked a ball for us since he signed a few weeks ago.
When we play at Norwich, the odds are that Ben Amos will be in goal instead of Ben Wilson, that Joe Bennett will be playing on the left and that Rickie Lambert will be leading the attack – I'm hoping that Emyr Huws will finally be ready to start playing  a bigger part as well.
Now, it must be said that, with the exception of Huws, a look at the messageboards of clubs this foursome last played for does not make for encouraging reading – just as with Jazz Richards, there's barely a good thing being said about Amos, Bennett and Lambert. I must admit to having no great faith in Amos either, but he does have a decent pedigree I suppose.
One of our regular correspondents on here has given us his far from complimentary opinion of Bennett as well in the Feedback section and so I can't help thinking that so much relies on how Lambert fares for us.
City have previous when it comes to signing Liverpool born former England strikers and, having mentioned him in my last post on here, this has the feel of a Peter Ridsdale type transfer to me.
West Brom fans are glad to be shot of Lambert and as someone who will turn thirty five during this season, there always has to be the chance that he is into a steep rather than gentle career decline. However, he's someone who I cannot remember ever having spent any significant time out with injury during his long career, so you'd like to think he has a few more years of good football, at Championship level anyway, left in him yet.
If he is still anything like the man who made playing in this division look so easy when he was with Southampton, then we will have got ourselves someone who could make a huge difference to the team – we still have to improve the connection between midfield and striker(s), but, hopefully, having Huws in there and Immers back in his best position will help in that direction.
Suddenly, I'm not quite as despondent about what will happen to us up to January. Maybe our Transfer Committee have pulled a rabbit out of the hat this time – at least we've not signed Kyle Lafferty who is one of those players who always has me saying "I'm so glad he doesn't play for us" when I see him in action!
*I now recall that, although there was no transfer fee as such for Cala, he had agreed to sign for Getafe beforehand and we paid them a reported £1 million when they agreed to release him from that commitment.