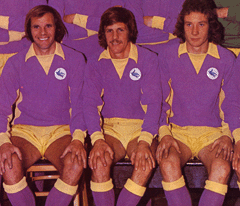 Aaron Ramsey was playing for City, so I think it must have been in 2007 when I watched an Academy team game with Watford which, possibly because the grass pitches were waterlogged, was played on the 3G pitch up at Treforest. Watford were clearly ill at ease on the artificial surface and found themselves three down in ten minutes, but sorted themselves out from then on and the rest of the game was a competitive affair which City ended up winning 3-1.
Watching the match from the sidelines, it struck me that Watford had convinced themselves there were demons in the pitch which were just not there – while it wasn't quite the same as playing on grass, it was easily the best artificial surface I'd seen football played on (I'm old enough to remember Loftus Road, Deepdale and Boundary Park from the 80's!) up to then – Russia had entertained England on a similar pitch around that time as well and the general consensus was that it had played well.
Therefore, I tended to take the stories about a possible change of venue for last night's Euro 2016 qualification match between Andorra and Wales because of concerns about the newly installed 3G pitch with a pinch of salt – after all, it was the same type of pitch that had been deemed acceptable getting on for ten years ago and, surely, the technology used to create such pitches has developed and improved in the intervening period?
Well, it only took a minute or two's viewing to make me realise that I was wrong.- the pitch at the Andorra National Stadium was a disgrace and I'm baffled as to how UEFA deemed it acceptable. In layman's terms (i.e. my level of expertise on the subject!), 3G pitches consist of artificial grass, supplemented by a layer of sand and an infill of rubber crumb. Now, it seems to me that the balance between those three elements was just about right on the pitches referred to earlier, whereas there was much too much of the rubber crumb on the pitch at the Andorra National Stadium.
Parts of the pitch looked more black than green and there was far more rubber flying through the air when the surface was fairly routinely disturbed than there had been from those earlier pitches. Chris Coleman was right when he said that it was not a surface to run with the ball on and I also had sympathy with his view that you may as well "forget it" if you were a passing side.
The one incident which summed it all up for me came about a minute after Wales had finally edged 2-1 in front when a back pass was rolled to Wayne Hennessey  - it should have been a routine situation for a keeper who is usually a very good kicker of the ball, but, this time, the ball took the sort of hop pitches like this are supposed to rule out and bounced three or four inches in the air which led to Hennessey's clearance scuttling along the floor straight to an Andorra player about forty yards out with not many of our defenders between him and the goal. Thankfully, the home side were not good enough to take advantage of this opportunity, but it did show what a lottery the pitch made of things.
So, I support the view that the pitch was a leveler which affected us a lot more than it did our more limited opponents. However, this doesn't stop me believing that Coleman and his players should not be excused from criticism for what was still a poor performance and somewhat lucky victory.
As far as the manager goes, it wasn't so much the 3-5-2 formation he used that I found fault with, more the personnel within it. Dean Saunders said what I had already been thinking when he questioned before the game whether the wing backs selected were going to get far enough up the pitch and provide enough of a goal threat in terms of their crossing and willingness to shoot – in City terms last night's opponents merited a 3-5-2 with Noone and Pilkington in the wing back roles. not Brayford and Fabio.
In fairness to Chris Gunter, getting up the pitch was never an issue with him, but there were times when he got into promising positions and you were wishing for more quality on his cross. On the other flank, Neil Taylor (more suited to the wing back role than Gunter you would have thought) struggled after conceding the early penalty and did not look as assured as normal.
The wing backs Coleman selected are both, essentially, full backs which meant that we went on to the pitch against the side ranked 199 in the world, a side who had never taken a point in a European Championship qualification match before, a side that had not scored a competitive goal in four years and a side who have only won one competitive match in their history with five defenders!
What also galled me was that as the game wore on and remained deadlocked at 1-1 as Wales struggled to create any meaningful chances, we still stuck rigidly with three centrebacks despite them frequently only having one man to mark between them. We failed to note the example provided by our first goal when Ben Davis (comfortably the best of our back three in my opinion) stepped forward into midfield to provide the cross which led to our equaliser. Andorra did break dangerously once or twice in the second half, but, with Joe Allen (one of the better Welsh players on the night) always willing to cover such breaks, we still looked over manned at the back for a team like Andorra – there may well be a time and a place for the system and personnel Chris Coleman used, but last night didn't feel like it to me.
The players shouldn't be immune from criticism either. The goal we conceded wasn't down to the pitch – it was down to James Chester carelessly giving the ball away (not for the only time), then us not dealing with a routine long throw in (Andorra tried a few of those in the first half and I don't remember one where a Welsh player got the next touch) and then Taylor reacting in a  panicky way on the far post. Yes, it could be argued that we'll see a lot worse than what Taylor did go unpunished in the Premier League this weekend, but the wing back risked being penalised and a set of officials that gave us absolutely nothing in the first half (just like the pitch, referee Vincic was not up to the standard required at this level) reacted accordingly.
Wales looked uneasy at the back for much of the time and, in front of the defenders, we weren't great in midfield – Allen battled manfully, King was anonymous apart from when he missed a great headed chance in the second half and Ramsey had his worst game in a Welsh shirt for a while as he became another player whose effectiveness was blunted by the pitch.
Ramsey did play a lovely long pass to Gunter in the opening seconds (unfortunately, long passes soon gave way to hoofs upfield as Wales took their manager's advice and forgot about the passing game) and there were some lovely moments of skill from him (including some dribbling which showed that it was not completely impossible to run with the ball just before he picked up the injury which set the seal on a pretty miserable night for the former captain), but. like so many of his colleagues, he found it hard to show that he was up against opponents used to playing about six levels lower than he does.
Even matchwinner Bale didn't really conquer the awful pitch because he was nowhere near as effective as he normally is in terms of his first touch and his ability to break away from opponents, while his pace was not the factor it usually is. However, what he never stopped doing was trying and his quality was able to shine through when he was able to take the pitch put of the equation. Examples of this came with his goals – his header for the equaliser was a beauty as he glanced the ball into the corner from about fifteen yards out and, although Wales were a little lucky to benefit from Vincic's new found ability as the game wore on to spot examples of Andorran players breaking the rules when the ref ruled that Bale's eighty first minute free kick be retaken – he made no mistake second time around with a shot which would have beaten much better keepers than Pol.
As Wales were labouring to victory, our next two opponents met in Zenica and, while the outcome showed Cyprus will be no pushovers next month, their 2-1 win over Bosnia was undoubtedly a great result for us. That said, I'm sure all involved know that we cannot keep on relying entirely on Gareth Bale for inspiration – besides our Champions League Winner, there were eight Welsh players with Premier League clubs in last night's starting line up and more of them need to play as if that is their natural level.
Just to finish, our Under 21's followed up Friday's 2-2 draw in Finland with a 1-1 draw (Tommy O'Sullivan started and Theo Wharton came on as a sub as Lee Evans' late goal rescued a point) in Lithuania to end in fourth position in their qualifying group – thankfully, Wales' senior team were just about able to avoid the sort of banana skin the youngsters fell on when losing 1-0 to San Marino at the start of their campaign.