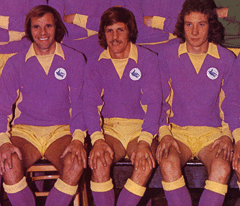 In my opinion, one of the reasons Paul Trollope's time as Cardiff City Head Coach was so unsuccessful was that he set us up as a counter attacking team and yet we played as if we were wholly unsuited for such an approach.
Time and again, the lack of pace in the team was remarked upon and the fact that we also moved the ball so labouriously only made this defect more apparent. It wasn't as if we completely lacked pace, but players such as Jazz Richards and Declan John seemed to lack the belief to perform the attacking side of the wing back role in the manner in which some of us thought they could.
Consequently, whoever was playing as our main striker always cut a forlorn and isolated figure who would never see anyone within twenty yards of him when we tried to attack.
Therefore, it was easy to believe that we just didn't have the players on the staff to counter attack effectively, but last night our Under 23 team proved this was not the case as a starting eleven made up entirely of players who were at the club when Trollope was in charge, played as well on the break as I've seen a City side do in ages in beating QPR 4-0.
I should qualify that sentiment somewhat by saying that, just as in the last home game when Crystal Palace were beaten 3-0,  it was a City side full of players with first team experience as Emyr Huws, Kenneth Zohore, Lex Immers and Declan John all started against a visiting team which looked like it would struggle to cope physically with opponents who, in many cases, towered above them.
Indeed, QPR's number six Romeo Akinola must have been the smallest player I've ever seen at this level – he wasn't as short as someone like Willie Carlin, but the midfield battler who played for us in the seventies had a physical solidity to him that Akinola lacked.
As it turned out, appearances were a little deceptive because our physically unimposing opponents contained three players who had played competitive first team football for QPR and another who had featured in Bolton's first team this season, while Akinola proved to be a pretty accomplished footballer until injury forced him to be replaced at half time.
However, even if City were never able to walk over their opponents completely, it was clear from the opening exchanges that QPR might be in for a tough evening as John fired a shot from twenty yards at keeper Joe Lumley in the opening minute and, when possession was carelessly lost by the visitors shortly afterwards, you would have expected Immers to have done better with his attempt from around thirty five yards to find what was an empty net with the keeper out of position .
As the minutes went by, City still looked the more likely scorers, but QPR had steadied themselves and as the first quarter of the match ended, they could, justifiably, feel that they were beginning to give as good as they got. Indeed, their centre forward Axel Prohouley forced Luke O'Reilly into the best save of the game so far when he cut inside and drew a diving stop from the City keeper with a shot from just inside the penalty area.
So, as they prepared to take the resultant corner, the visitors could be forgiven for thinking that, not only were they competing, they were possibly starting to get on top. However, within a few seconds they were a goal behind as City launched a devastating counter attack which started with the corner being cleared to Tommy O'Sullivan who had been left as the one player forward for us.
From here, O'Sullivan combined with Immers and suddenly Huws was in on goal with just the keeper to beat as City players streamed forward – the midfield man then, unselfishly, rolled the ball sideways to Zohore to take Lumley out of the game and the striker tapped in to complete a move which must have taken little more than ten seconds for the ball to get from our penalty area into the QPR net.
Shortly afterwards, City again broke threateningly from an opposition corner and probably should have doubled their lead, but, after that, QPR were always more wary of our ability to break quickly as they took more precautions when they had an attacking free kick or corner – nevertheless, they would concede twice more from City breaks in the second half.
With Lumley making a fine save from an O'Sullivan header and Immers hitting the post with another headed effort, the score remained 1-0 at half time with both sides making a change during the interval as Josh Bowler (a very lively winger who impressed with his ability to run with the ball) came on for the visitors for Akinola and Australian Under 23 international Peter Skapetis replaced David Tutonda in the City team.
Skapetis is a trialist who it seems has been released by Stoke City after an injury ravaged couple of years in the Potteries. As this piece shows, Skapetis was playing against one of his former clubs last night after leaving West London for Stoke two and a half years ago for a fair sized fee – now, as he tried to resurrect his career after his injury woes, he found himself operating on the left wing, with John dropping back to left back.
The second half started quietly, but burst into life with a couple of City goals within a few minutes of each other. The first came when the home team again broke quickly with Zohore being put through in the inside left channel – a heavy touch looked to have lost the Danish striker his chance, but he recovered well to record another brace of goals to go with the pair he got against Palace as he dinked the ball neatly over the diving Lumley.
As is usually the case with him, Zohore combined moments when he looks like a complete novice with others when you think he could become a very effective striker at Championship level in a year or two, but, by the time he was withdrawn for Marco Weymans, he had at least done enough to remind Neil Warnock that he was still around.
A shot well blocked by a defender at the expense of a corner, offered Zohore the chance of a hat trick before he was taken off, but, by then, City were three up courtesy of another counter attack. This one was different from the other two which led to goals because it was a long aerial pass which created the problem for QPR, rather than the shorter, ground based, variety that had proved so effective earlier.
Semi Ajayi has shown before that he possesses the ability to hit accurate long range passes from the back and he did it again when he found the increasingly impressive Ashley Baker with a fifty yard crossfield ball. The right back fed O'Sullivan who rather mishit his shot/pass, but the ball was still able to find it's way to Skapetis who got a reward for a performance which hardly cried out "give me a contract", but did have it's moments of quality, by scoring easily from eight yards out.
Just as against Palace, City found themselves three goals up with less than an hour played and the similarities didn't end there either as there was, again, a sense of a performance being wound down in the last third of the game.
However, unlike three weeks ago, there was another goal for City as their saw out the rest of the game when Huws (who unfurled a few Whittinghameqsue long passes in a display which had you wondering why first team chances have been so few and far between for him at Cardiff) swung over a corner which the unmarked Ajayi nodded in from the angle of the six yard box to give his side something to show for the height advantage they had enjoyed throughout from set pieces.
City got a little careless after that with Tom James and Weymans picking up needless late bookings for fouls and O'Reilly (who impresses me more and more as a shot stopper) did brilliantly to preserve his clean sheet when Ryan Manning tried to surprise him with a Whitts type free kick following the James challenge.
So, another comfortable home win for a strong looking Development team side and, with Neil Warnock talking about how he likes to "help" players not currently featuring for the first team, it seems that there may be something of a putting people in the shop window element to these more experienced Under 23 sides we are seeing lately to go with the need to give them some game time.