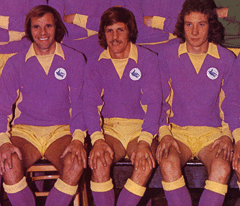 I've mentioned before on here that, in my experience, the presence of multiple first team squad members in what is, effectively, a club's reserve side is far from a guarantee of a win and a good performance. In fact, I might go as for to say that the opposite is more likely to happen, as men who. perhaps, don't want to over exert themselves as they make their way back from injury or who believe they are too good for this level, struggle to overcome the challenge posed by younger, more enthusiastic, opponents.
Either way, the senior players don't want to be performing in front of a crowd that often doesn't reach three figures in a game that they probably feel means nothing in the grand scheme of things – the impression often given is that they would much rather be somewhere else.
A case in  point occurred last week when Cardiff City Development team traveled to East Anglia to take on Ipswich Town at Portman Road where they encountered a side with a smattering of first team squad members. With City fielding their usual mixtures of young professionals backed up by some Academy team members, the game represented a real test which they passed in impressive fashion by winning 1-0.
More than that though, even the home media reports had to concede that City were worth a lot more than the one Eli Phipps goal they did get. It's hard to form too many firm opinions based on the few minutes highlights of the game I've seen, but the impression I gained from watching them was that we were on top throughout with Tommy O'Sullivan and Marco Weymans in particular looking good – with coach Kevin Nicholson talking on his Twitter page about a win to be proud of and of his team being "brilliant", the distinct impression gained is of a season's best performance from the Under 23s.
Well, the "reward" for ten of the team that had done so well last week was to be left out of the side for last night's match at Cardiff City Stadium against Crystal Palace as the boot was put firmly on the other foot!
A few days after the match at Ipswich, Neil Warnock refereed what we were told was a pretty competitive behind closed doors game featuring first team squad members and young wannabees as the need for some match practice for players not currently in the senior side was met.
However, it would appear that it was deemed that they needed more match time because only captain Tom James survived from the starting line up last week. James was at right back in a team that featured Brian Murphy in goal with Bruno Manga and Semi Ajayi at centreback andDeclan John on the left. Patrolling the area in front of the back four was Emyr Huws, while Matt Kennedy and Lex Immers operated further forward. Kadeem Harris and Kenneth Zohore were used on the wings in what was a 4-5-1/4-3-3 formation, with Frédéric Gounongbé operating down the middle.
It wasn't just all change out on the pitch either – Nicholson may have been there, but I didn't see him if he was, as first team coach James Rowberry was the man in the technical area with another more associated with the first team, Ronnie Jepson, also playing his part.
Given what I said earlier about sides at this level featuring senior players under performing, it was to everyone involved's credit that this never looked like happening as City overcame a young Palace side that sometimes showed they had a potential to have been very awkward opponents, comfortably enough by 3-0 – a victory margin which I'd say reflected the difference between the two sides pretty accurately.
The signs early on weren't good mind as City were barely able to string two passes together in the opening six or seven minutes, but once Harris had been worked into the space that allowed him to fire in a shot that visiting keeper Kleton Perntreou pushed away, they warmed to their task and were soon in front when Gounongbe glanced in Huws' corner with a near post header which found the net via the far upright.
With Zohore and then Gounongbe again coming close shortly afterwards and Harris and John combining well down the left, it looked for a while that City could be on for a really big win as Palace struggled to cope, but a combination of some lost intensity from the home team and better play from the visitors made for a more even contest as the match went into it's second quarter.
In fact, Palace should have been level when Randall Williams capitalised on some sloppy City play which saw us lose possession on the halfway line – the forward showed great pace to burst clear of the defence, but then, rather than shoot, opted to try to find his colleague Corie Andrews and Manga was able to put the ball out for a corner which was headed not far over by one of the Palace centrebacks.
With City playing a couple of target men and a pair of big defenders, it looked for a while as if any second goal for them would come from a set piece. Gounongbe and Manga got their heads to corners and maybe should have done better, but, when the lead was doubled, it came from a fluent move which saw John nicely put into the clear behind the visiting defence. When the resultant cross failed to find a blue shirt, it looked like the chance had been missed, but the ball reached James who was about twenty five yards out.
What happened next was described as "a fantastic low ball" by the club website, but I must admit it looked more like a mishit shot to me – either way, James' effort found it's way to Zohore stood about eight yards out beyond the far post and he stabbed the ball in with Perntreou helpless.
Just, as they did after the first goal, City raised their game after scoring and Ajayi may well have added another one but for a slight deflection off a defender which sent his well struck effort from twelve yards narrowly wide.
A couple of goals up at the break, City didn't take too long to effectively end the game as a contest when it restarted. This time, there was no doubt what James' intention was as he swung over a good cross which saw Zohore benefit from Perntreou's reluctance to leave his line as he nodded home unmarked from about six yards out.
Perhaps understandably, City allowed their standards to drop a little after that as Palace enjoyed their best spell of the game, but this only gave the previously under employed Murphy a chance to impress as he produced a great save to deny the dangerous Williams.
City had introduced David Tutonda and Theo Wharton for Immers and Harris soon after the third goal and, with Gounongbe showing some signs of a groin problem, still went ahead with a third change as John made way for Tommy O'Sullivan only for sod's law to kick in within a minute as the scorer of the first goal was unable to carry on.
Gounongbe will probably not make the bench for the Newcastle game if Rickie Lambert is declared fit, but he must be a doubt now if our first choice striker is still unavailable. However, City's response to going down to ten men with about twenty minutes to go was an impressive one and there was only ever going to be one team who was going to score during that period.
That fourth goal refused to come, but it could have done when Manga headed just wide from a corner, when O'Sullivan stabbed over from five yards as the ball arrived at him too quickly or when Kennedy and Huws combined well only for some desperate last ditch defending to deny the latter a tap in.
Did anyone play their way into the first team on the basis of their performance last night? I doubt it, but the night went well - all fourteen players used were seen in a positive light at some time or another.
I wouldn't pick a man of the match after what was a good all round performance, but I will say that, although he's not getting enough game time, Semi Ajayi continues to look like a player who has come on this season, with his teammates doing a far better job of getting him into the game than the seniors did on Saturday, Kadeem Harris remains a real threat at this level, Matt Kennedy provided a reminder that he has a raw talent which not many at the club can better and I still say that Kenneth Zohore should be persevered with rather than consigned to the scrapheap like many City fans appear to want to do. Yes, he looks a complete novice at times as he makes so many wrong decisions, but he has pace, power and a decent touch for a big man – I think a loan move back to mainland Europe in  January would help in his long term development.
*picture courtesy of https://twitter.com/CardiffCityDVP?ref_src=twsrc%5Egoogle%7Ctwcamp%5Eserp%7Ctwgr%5Eauthor