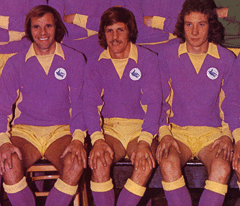 Last Friday this story appeared on the Wales Online website and as it contained widespread quotes from Neil Warnock made at that morning's press conference held prior to the Brighton match, there is no need to doubt the veracity of the piece.
There's still no confirmation as to who the up to ten players who have been told that the club are prepared to release them are, but, as there is every chance that they'll all be youngsters who I've watched for five years or more as they moved up through the Academy, I find it sad that they do not have a future at Cardiff.
However. I must admit that I find it impossible to argue with our manager's logic. The lack of Academy graduates breaking into the first team in recent years is proof that the club's Development system is not and has not been working and, although I still maintain that the attitude of one of our previous managers in particular was a significant contributory factor to this situation developing, having players in their early twenties who have no chance of getting into the first team is no good whatsoever to either the club or the lads themselves.
Recent line ups for home Development team matches have seen more first team squad members involved as maximum advantage of the rule which says you can have three outfield players over the age of twenty three in the starting eleven has been taken. With that in mind, yesterday morning I speculated in the Feedback section on here that the line up for that afternoon's game with Blackburn in the Premier League Cup would be a mixture of such players and teenagers (i.e. the sort of selection that you used to get for the old style reserve team games from five or six years ago).
In the event, it turned out that I couldn't have been more wrong as not one player who you would see as a first team contender currently was involved – Mark Harris and Jarrad Welch, who are still young enough to play for the Under 18s this season, started, but the rest of the side consisted of players who would be classed as young pros, with many of them falling into the exact category the article says were the prime candidates for being released.
Just as in the previous home game against QPR, there was an interesting name among the City substitutes – Australian Under 21 international Peter Skapetis was a scorer against QPR and, this time, Ibrahim Meite, a twenty year old winger/striker at Harrow Borough who has been attracting a lot of attention from Football League clubs and had a trial with Premier League Champions Leicester City in October, came on at half time in place of Eli Phipps.
Unfortunately for Meite and a bigger than normal crowd at Leckwith, the game he joined was an awful one which made Saturday's dull stalemate against Brighton look like a game between Barcelona and Brazil!
I'll not go into too much detail describing a 0-0 draw that the club's dedicated Twitter feed described as "a tight and tactical game" (but I'll just call crap!), in fact, here's what I had to say about it on a City messageboard yesterday evening;-
"Finished 0-0 and I'm afraid I've now watched two goalless draws in the bitter cold where very little happened in forty eight hours. At least on Saturday we were gaining a worthy point against a good side, but today's game had nothing going for it at all. The only effort worth recording from City was a shot from thirty yards by Tommy O'Sullivan that the Blackburn keeper did well to tip over the bar, while Blackburn's number six wasted a good chance when he headed a deflected cross straight at Luke O'Reilly. Apart from that there was a lot of balls bashed up in the air by both teams, but what good football there was tended to come a bit more from City who were able to work some promising crossing positions only to invariably get the final ball wrong.
Just reading about Ibrahim Meite – he came on at half time and started on the right wing before going into a more central position after Mark Harris went off. To be honest, he didn't do a great deal to take the eye – there was a half hearted penalty shout as he tried to get on the end of David Tutonda cross, but, to be fair, it wasn't the sort of game where a trialist would come in and impress – best players for us were probably the centrebacks James and Baker with the latter continuing what has been a good spell for him at this level."
Having now watched two minutes of "highlights" of the match on the club website, I'd say I was right in saying that O'Sullivan's shot was the only worthwhile goal attempt we had, but Blackburn did force quite a good save out of Luke O'Reilly late on with a header from a corner.
For what it's worth, the draw leaves us with two points from thee matches in a group which, besides Blackburn, features Burnley and Sunderland – I'm not sure if it is one or two to qualify, but, even if it is two, it seems to me that we need a minimum of six points from our last three matches to stand much chance of progressing.
Finally, it seems the changes at Under 23 level are not limited to the playing side – I've been told that Kevin Nicholson, who I believe had been at Cardiff since the Malky Mackay days, has left his job as Development team manager and the fact that he has not been in the dug out for the last three games I've seen (Michael Johnson looked to be in charge yesterday) strongly suggests that this is, indeed, the case.*
*the club have just confirmed that Nicholson no longer works for Cardiff City.