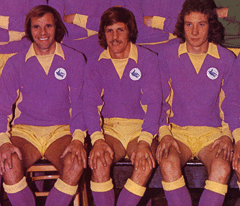 Remember those balmy (some may say barmy) days of late summer when City fans were being told about how we were going to unleash "the Cardiff Way" on an unsuspecting Championship?
You remember, we were going to play in the same way Wales had in the Euros and do it with a team featuring a lot more Welshmen – furthermore, the plan was to have a pretty regular stream of ready for the first team youngsters, preferably locally produced, waiting to be given a chance in the senior team which they knew was far more likely to come than it has been in recent years.
All of this was to be done while playing an attractive brand of attacking, passing football with the end product being a City team that their supporters could relate to far more than has been the case since the rebrand decision.
Well, it took about three games of competitive first team football to see that the season was likely to turn into a struggle if the version of the Cardiff Way being practiced was to continue and, by the time a further month had passed, it seemed that the only place the "progressive" football with a Welsh emphasis we were playing was going to get us was League One.
In the end, those in charge at the club, rightly, decided that a change of management personnel was needed and, with the new man saying that he wanted  defenders who defended, rather than trying to play like Franz Beckenbauer, an emphasis on set pieces and getting the ball forward quickly, it looked as if the Cardiff way had been consigned to the dustbin as what sometimes seemed like a token Welsh presence in the team dwindled to nothing.
Now, I'll emphasise again that although our new manager is playing what I've often perceived as typical Warnock football at Cardiff, I'm surprised to discover that I'm enjoying it more than I ever thought I would. I still say that, when it's done badly, the brand of football our manager has us playing has no saving graces to it at all that I can think of, but it cannot be denied that the bond between team and supporters is far, far stronger now than when we were playing the "Cardiff Way" – as envisaged by Paul Trollope.
Results help of course, but there have been enjoyable games under Warnock when we have drawn or lost (Sheffield Wednesday, Barnsley and Brentford spring to mind). Warnock's time here so far is proof of something that has always been true – you can talk all you like about theories, systems and philosophies, it's what happens on the pitch, not on a blackboard or an IPad, that counts.
Nevertheless, although it didn't enter my head at all during those dramatic final minutes at Ashton Gate, when the dust settled it did grate with me a little that there wasn't a single Welshman in our eighteen for the game.
I suppose that is one of the main reasons why I enjoyed last night's Development team match with Ipswich at Cardiff City Stadium so much. City winning by 3-1 helps of course, but it was the manner in which the team played that was so heartening, as well as the fact that playing prominent parts in proceedings were eight young Welshmen, all of whom looked thoroughly at home out there.
I've mentioned before on here that, possibly, the first team squad we started trying to play the "Cardiff Way" with was not best suited to a method of playing where you pass and move to create space in front of you, but last night, there was a demonstration that, below that level, there are players who are not only comfortable with playing that way, they excel at it.
Of course, the most important question is whether they can look so much at ease with the ball if and when they make the step up into the first team – time will tell, but all I can say for now is that last night I watched a City side playing in a manner which epitomised what I hoped the Cardiff Way was to be all about when it was first being mooted.
To illustrate what I mean, I need only describe the quite extraordinary goal that we scored early in the second half. Leading 1-0, City kicked off the second period and a couple of minutes later they had scored – the finish was a straightforward one and there was nothing in the five or ten seconds which preceded it which would merit it's inclusion in any goal of the month/season competitions, but I believe my use of the word "extraordinary" is justified because as the teams took up their positions for the restart, I kept on asking myself if an Ipswich player had touched the ball in the second half yet?
Now I daresay that our opponents were able to get a foot on the ball somewhere along the way, but City were able to play passes, some simple, some not so simple, for what seemed ages as they pushed and probed for an opening while encouraging a press from their opponents and, when it did present itself, they were good enough to exploit it.
It was no surprise that, when it was played, the pass which opened Ipswich up came from Semi Ajayi. Last week I heard Nathan Blake say that there are plenty of central defenders who can "ping" a good long ball, but, based on last night and other matches I've seen him play this season, Ajayi is better at it than most. He's not the finished article, as was shown when his failure to deal with what looked like a pretty straightforward situation allowed Albert Wilton to score Ipswich's goal, but some of the passes he hits show exactly why Arsenal took him off Charlton when he was a teenager.
Ajayi's fifty yard pass sent right back Greg Halford into acres of space and, if there was a slight suspicion that the cross which followed from the bye line was mishit somewhat, it still wrong footed many of the covering defenders as it rolled into the path of James Waite making the sort of late run into the box that I've seen him score goals for the Under 18s from.
Waite's finish was a simple one, but the way he celebrated it gave the clue that his first goal at this level represented something of a career high so far. However, after a performance that I regarded as probably the best of several promising ones by the youngsters on show, I'd be surprised if it remains that way for long – with his lovely quick feet, composure and eye for a pass, the diminutive midfielder is an impressive player.
Waite was one of three central midfield players, who were shorter and slighter than most of those on view, who ensured that, apart from an opening fifteen minutes or so where most of the play was towards their goal with Ben Wilson being called on to make a good save, City were always on top.
Jamie Veale, captaining the team in what I think was his first match at this level this season after recovering from a cruciate ligament injury picked up in the spring, is an old hand at this level compared to Waite and sixteen year old Sion Spence and it showed during the forty five minutes he played – he brought the same sort of composure as Waite did and an appreciation of the sitting midfield role, with it's responsibilities within the team, that always impresses me in such young players.
Spence, Veale's replacement at half time, kept things ticking along nicely and seems to me to be the one of the three most capable of acquiring the physique which is a help, but, hopefully, not essential in the modern day Championship.
Going back to Veale for a sec, his two eye catching moments while he was on were probably a free kick into the side netting and a pass slid between the centrebacks to set Rhys Healey, back from his loan spell at Newport, in on goal.
Healey should have scored really, but credit has to go to Ipswich's Welsh Under 21 international keeper Michael Crowe, another who was making a return after months out injured, for a smart save,
In fact, most of the game's big moments in the first half came from what turned into a something of a shoot out between the striker and the imposing Ipswich keeper. A few minutes after the first installment, Healey met a Matt Kennedy cross from a few yards out, but Crowe blocked it, only for the City man to hit the rebound high into the net with the keeper perhaps thinking he may have done a little better with the original header.
However, when another cross from the left, this time by Declan John, dropped to Healey's feet a few yards out, it looked a certain goal until Crowe managed to tip the resultant volley over the top.
There were other fine saves from Crowe in the second half, notably from a John shot from twenty yards, when Ipswich did well to stay in the game despite seeing so little of the ball (maybe it's because I'm so used to watching City teams coming comfortably second as far as possession stats go, but I'd say we must have had 70/75 per cent of the ball last night) – they always carried a threat going forward and had a few almost, but not quite moments, but, in truth they owed the fact that they did not lose by more than two to their keeper.
If City were pretty comfortable at the back, dominant in central midfield and dangerous up front (Ibrahim Meite replaced Healey for the last quarter of the match and, although there were times when, understandably, he didn't look to be quite in tune with his new team mates, he showed a few signs as to why Neil Warnock decided to give him a contract), it was on the left where they caused Ipswich most problems.
Declan John nay not be able to make that first team squad place his own yet, but he remains a very effective attacking full back at this level who will surely be able to make a senior career for himself in the game, even if it might not be at Cardiff.
John was good last night, but I'd say Matt Kennedy did better. Kennedy usually finds it fairly easy at this level, but there is sometimes a self indulgent streak to his game which reduces his effectiveness. Here though, there were the usual flicks and tricks, but also a fair share of crosses whipped in early which helped keep opposing defenders guessing as to what was coming from him.
The Scot came in for some rough treatment at times from frustrated defenders and his free kick from one of the fouls committed on him bounced back off the upright. If that effort fell into the cross which everyone missed category, his dead ball effort, from a more central position twenty five yards out, a few minutes later was certainly a shot and it beat Crowe all ends up to, effectively, end the game as a contest.
Often at this level, circumstances can lead to sides getting very inconsistent results. For example, last week, City picked a more inexperienced team for their first match of the year at league leaders Charlton and came a cropper to the tune of 3-0, while an Under 18 team mostly consisting of players eligible for the Under 16s were thrashed 6-0 by the same opposition in their first post Christmas match.
So, perhaps, enthusiasm about what happened last night should be tempered somewhat because it seems that some of the regulars in Ipswich's Development team side were missing as they are probably going to be in the first team squad for their FA Cup replay at Lincoln tonight.
However, I saw definite signs that there could be better days ahead for City in terms of youth development in last night's game because, with many of the "old guard" at this level absent (David Tutonda signed for Barnet, Tom James on loan at Yeovil, Tommy O'Sullivan on trial with, and scoring for, Colchester's Development side and Theo Wharton on trial at Coventry), they looked a well disciplined and organised outfit that played a lot of stuff that was easy on the eye – hopefully it was a sign of things to come.