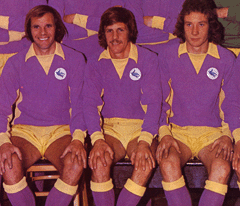 The glass half full or glass half empty analogy has tended to be overdone in recent years, but I make no apology for using it again here because, after yesterday's 2-1 win over Millwall, I found myself torn between focussing on the positives or the negatives that it revealed.
After all, it's often said that winning while playing poorly is a surefire sign of a team that will prove to be successful and City certainly did that yesterday. In saying that, it shouldn't be ignored that the recalled Tom Heaton (was David Marshall being rested because of the elbow injury that has been bothering him this season or was he dropped – if it was the latter, then that seems to be a pretty harsh decision by Dave Jones to me because Marshall seemed to be blameless for the four goals conceded at Leicester and Ipswich) had very little to do besides pick the ball out of the net, so was our performance really as bad as some have made it out to be?
It's also encouraging that we again managed to win a match with a late goal after conceding first. After the Leicester defeat I mentioned that one of the great constants of the Dave Jones era was being dismantled because we have started losing matches in which we score first, but it's only fair to also record that we are becoming much better at turning around losing situations than we have been for the vast majority of Dave Jones' time with us – also, in 2010 Leicester (in the FA Cup), Doncaster, Coventry, Swansea, QPR, Sheffield Wednesday and now Millwall have all been beaten by goals scored in the last ten minutes of games, so the one about us never scoring late winners can be put to bed as well.
It also needs to be said that wins such as yesterday's help ensure that we will still be up there in a challenging position when all of our injured players return, but mention of those absentees help to explain whyI feel that, this time at least, I think my views edge more towards the glass half empty camp – after all, just because the club are saying that Bellamy, Olofinjana, Drinkwater etc. will be back after the international break, it doesn't mean that this will definitely happen does it.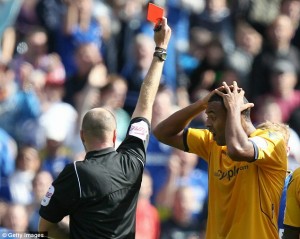 I'm sorry, but, although I try to be understanding about how so many of our most influential players are missing whenever we play and I fully accept that the injury picked up by Michael Chopra is just one of those things, I'm finding it ever harder to stay patient about all of these injuries. At least the Craig Bellamy situation has been cleared up to some extent during the past week, but I mentioned after the Ipswich match that City seemed unaware that Danny Drinkwater had suffered from a similar injury to the one he has now while out on loan to Huddersfield last season and, as for Seyi Olofinjana, does anyone know exactly what is wrong with him –  I seem to remember some vague stuff about him having got a kick during the Hull match, but there has been nothing since then.
A month ago we were being told that this was the strongest squad we have had in years because we now had the players who could step in and maintain standards when injuries and suspensions bite and in the past two or three weeks we have been told that we still have a good team for this league despite all the high profile absentees. However, I'm afraid that the last three matches have not shown this – performances and results have had a mid table, at best, look to them and wins over sides who have had to play with ten men for the majority of the game while being on the wrong end of all the major decisions (I'm not a Lee Mason fan, but, to be fair to him, I thought he got most of those major decisions right yesterday)  should not be allowed to disguise that.
Players such as Chris Burke and Steve McPhail have shown they can be good performers for us at this level, but,at a time when we really need them, they are playing poorly (I'm not convinced that McPhail is fully fit mind). Alongside them, Peter Whittingham is doing okay but no more than that. Although many have said that his prolific scoring last season was a one off and we shouldn't expect anything like the same return from him this time around, Whittingham could  really do with a goal now – I'm not going to criticise him for his penalty because it fell into the category of being a superb save rather than a missed spot kick for me, but if Whitts was confident and scoring, I can't help thinking that we would have gone in 2-1 up at half time and we might well have seen a different type of game after the interval.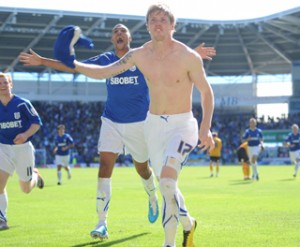 Further forward, Andy Keogh has come in for criticism from supporters who expected more from him, but I think it's fair to say that he has had very little decent service in his four starts from a spluttering midfield (sadly, Jason Koumas still seems some way off the standards he set for himself in 05/06). Hopefully Keogh's goal will restore some of the confidence that is, understandably, eroded from any striker's make up when he goes more than a year without scoring and, although he was no more than average overall yesterday, I thought there were promising signs in his link up play with Jay Bothroyd in the first half – good to see Bothroyd back to his old self in the opening half as well and, if he was a lot quieter after the break, at least he put in that very nice cross for the winning goal.
However, despite the lack of creativity and fluency in midfield and a real cutting edge for most of the second half against opponents who were never moved around in the way a team a man short should be, it was in defence, and in particular, the left side of our defence where we really struggled yesterday. After his public condemnation of Adam Matthews' performance last week, Dave Jones was surprisingly forthright about the play of some  of his senior players this week – Lee Naylor was "awful" (we can only hope it was a one off) and he used the term "Gor Blimey" to describe Gabor Gyepes' display! Alongside them Mark Hudson and Kevin McNaughton had a relatively comfortable afternoon of it on the other side of the pitch with the former just pipping Bothroyd as my choice for City man of the match.
However, with Gyepes looking vulnerable in the last two matches after a good start to his season, we look like we might have problems in the area where we have the fewest options. I suppose Darcy Blake is one, but, currently, it looks like he is needed more in midfield. There is Chris Riggott of course………. when he is ready – if there were an award for the Championship team with the best group of players who have vague injury niggles and general fitness issues, we'd walk (or hobble) it!