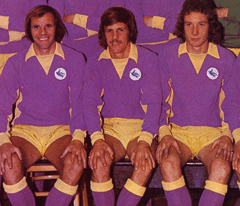 For the first time in the club's history, the description of a player as being "Cardiff City and England" can be used with honesty and accuracy. In the past England Internationals such as Gerry Francis, Michael Ricketts and Robbie Fowler have turned out for City, but they were all at a stage in their career when any thoughts about adding to their collection of international caps had long since disappeared. The club also have had at least one player (Gerry Hitchens) who would go on to win England caps after playing for us, but Jay Bothroyd last night became the first to represent England while playing for Cardiff City – and, what is more, his selection was solely down to what he has done in a Cardiff shirt as well.
Jay got his chance twenty minutes before the end of England's 2-1 defeat by France at Wembley last night when he replaced another striker making his debut in Newcastle's Andy Carroll. Being honest, Jay didn't do anything to merit selection again in the future when other much more high profile strikers are available but, then again, did anyone really expect him to?
I thought Carroll was one of England's better players in a first seventy minutes which were embarrassingly one sided as Les Blues made the home side look like a bunch of plucky non leaguers playing a Premiership team in a cup tie, but the time when Bothroyd was on the pitch saw England's best spell to the extent that they could easily have ended up with a draw which would have been an absolute travesty given the gap in class between the sides.
Not all of that England improvement was down to Jay of course, but he let no one down in his time on the pitch and won the corner from which England scored – he was also only inches away from, firstly, sliding in Steven Gerrard with a through ball and, secondly, from getting to the ball as it flew across the French goal inside their six yard box. Jay also had a header saved by the French keeper on one of the few occasions when something like a decent service was provided to the England target men from their wide players and worked hard to close down the French keeper and defenders when they were in possession. All in all, a contribution deserving of more than the condescending dismissals of it that I have read in the press so far – congratulations Jay and well done.