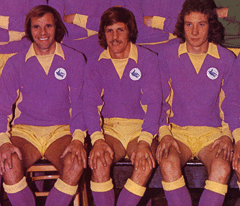 If last week's Academy double header against Crystal Palace could be said to represent the Beautiful Game with it's average of 7.5 goals a game, skillful and quick counter attacking play and lovely late summer weather, then this lunchtime's Under 18 match with Ipswich offered the other side of the coin.
The incessant rain did take a bit of break for a quarter of an hour or so in the second half, but this this was Autumn with a vengeance rather than the Indian summer which can make September one of the most attractive months of the year.
The football was competitive and unforgiving as well, rather than the somewhat free and easy stuff of last week. This match was never going to end up with a score of 3-5 or 6-1, but the circumstances behind it made for a compelling watch as, just as they did last week, the Under 18s ended up with nothing despite playing well.
With Ipswich also hitting the woodwork twice and having a goal disallowed, they probably deserved their 2-1 win, but, as the much more physically powerful side, the conditions definitely suited them more.
Whereas Ipswich could resort to a power based game if need be, City were denied that option because, their two centrebacks apart, they were smaller and slighter than their opponents and so they generally tried a more thoughtful approach.
For much of the time, City's attacks foundered as a pass was misplaced or an Ipswich defender got a tackle or a block in, but when the likes of James Waite, Sam Bowen and Sion Spence were able to weave pretty patterns that had the Ipswich defence panicking, you couldn't help wondering what might have been if the match had been played in last week's dry and bright conditions.
That City were able to make such a good game of it against opponents that had, I understand, won all of their matches so far this season reflects great credit on them because this was nowhere near their strongest side.
I don't think highly rated left back Rhys Abbruzzesse had featured for the Under 18s this season and he couldn't have done today because he's in the Wales Under 19 squad that will be facing Iceland at Newport tomorrow and on Tuesday. However, Scott Coughlin, Cameron Coxe, Jarred Welch and Ibby Sosani are all in that Welsh squad as well and they have been regulars in the team this season, while Mark Harris, who has been playing centre forward, was another who would have been representing his country were it not for injury.
In fact, I would say that only Isaac Kelly and Waite would have been certain starters from today's team if City had their full quota to pick from, because others such as Jack Bodenham and Keiron Proctor haven't always started,while the impressive Spence has tended to alternate between games for the Under 18s and Under 16s.
So, it wasn't really too much of a surprise that for the first quarter of the match, it looked like the visitors would win pretty comfortably. As I arrived a few minutes after kick off, the first thing I saw was Ipswich carving their way through the City defence pretty easily to present their centre forward with a chance which he rolled against the post.
There were other close shaves for City as they struggled to get a foothold in the game and the visitors got the goal they deserved when a free kick was headed in from about ten yards out. It was a quality dead ball delivery, but it was still a soft goal to concede – although it should be said that Ipswich's height advantage always meant that this was a likely avenue they could exploit.
It could easily been 2-0 soon afterwards as well, as Ipswich's number seven cut in and shot against the far post from the corner of the penalty area.
Up to now, CIty's best attacking moments were coming from the clever movement of right sided midfielder Cai Watkins (a new name to me) and he should maybe have done better than scuff his shot straight at the keeper when given a decent opportunity from fifteen yards.
The balance was beginning to slowly change though and if Ipswich had controlled the first part of the opening period, then I'd say City shaded the second quarter of the game as Proctor showed signs of coming to terms with his lone striker role (he usually plays wide on either flank).
City's cause was not helped during this better spell by the officials, as a referee who made little allowance for the conditions struck me as a little too whistle happy, while the linesman on our side of the pitch had an unfortunate habit of raising his flag for an offside virtually every time the ball went within thirty yards of the Ipswich goal – I may not have been in the perfect position to judge, but some of his calls must have been very close indeed, while others just looked plain wrong.
City carried on their improved form into the opening minutes of the second half and their best move of the game so far saw play worked well from left to right from where Watkins swung in a great cross that an unmarked Proctor headed just wide from ten yards with the keeper rooted to the spot.
Proctor was foiled by the keeper soon afterwards as Spence sent left back Alfie Madden into space and the resultant cross found it's way into the striker's path.
Next to threaten was Spence who turned the ball into an empty net after he challenged for the ball with the keeper only to have the goal harshly, but hardly surprisingly, ruled out.
That was the signal for another change in the game's flow as Ipswich regained some of their former control and City keeper George Ratcliffe was grateful to see a free kick fly just wide, while minutes later it was the visitor's turn to have a goal disallowed as Ratcliffe parried a shot up into the air only for the resultant header to be ruled out by an offside flag from my favourite linesman!
City kept on plugging away, but it was ironic that when they did equalise, it came at a time when they were hardly suggesting a goal was coming.
It was another player I'd not heard of, right back Jac Evans who provided the assist as he got to the byeline and pulled back a cross that was fired in from around the penalty spot by Proctor for the goal his hard working display in an unfamiliar position deserved.
It seemed unlikely that this would signal the end of the scoring, but, truth be told, City rarely suggested it would be them who'd scored next after that. In fact, they were only level for about five minutes as Ipswich won the game with a lovely flighted free kick from twenty five yards. At the time, I was blaming the ref for another harshly awarded free kick, but, on further reflection, I think he probably got this one right.
Ipswich might have added another one when one of their subs shot just wide, but they'd already done enough in another game at youth level which was a more enjoyable watch than anything I've seen from the first team this season.
The whole side deserve praise for the way they didn't let their relative lack of experience at this level affect them, but I must say that Sion Spence increasingly impresses me as a thinking footballer with an appreciation of space and what's going on around him way beyond his years – I mentioned earlier that the outcome might have been different today in dry conditions, but I also wonder if Spence could have influenced the game more if he had been deployed in the middle rather than out on the left?
*picture courtesy of http://www.cardiffcityfc.co.uk/