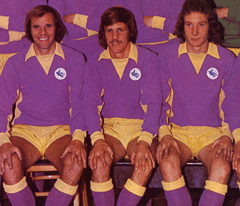 left that Football Echo report on City's First Division game at Blackburn on 19 November 1960 at the Trust Office before the Brentford match – thanks very much.
The game was played nearly three years before my first City game and the report was written by Peter Corrigan (the first City reports I can remember from the Football Echo were written by Peter Jackson), but the format is exactly the same as I can remember with a short verdict piece (called "Summing Up" here) to go with a detailed match report.
There's also a separate paragraph called "Patriotic" which is worth repeating given the current circumstances;-
"Cardiff City must be one of the most patriotic sides in the League for so far this season they have worn red, white and blue shirts. For matches under floodlights, City have been preferring their white strips rather than their usual kit of blue. But this afternoon at Blackburn, who play in blue and white halves shirts, they had no choice but to play in the unfamiliar colour of red,"
As for the game, it finished 2-2 with City going 2-0 up through Derek Tapscott and own goal by Andy McEvoy (Corrigan was at loss to explain what the defender was trying to do!) right at the start of the second half only for the home side to be level within ten minutes through Eddie Thomas and Chris Crowe.
Teams (in the old 2-3-5 formation)
Blackburn
Leyland; Taylor, Pickering; McEvoy, Woods, Clayton; Isherwood, Thomas, Dobing, Crowe, McLeod,
Cardiff
Vearnecombe; Harrington, Stitfall; Gammon, Malloy, Baker; Walsh, Edgely, Tapscott, Watkins, Hogg
Att. 15.132
Best players for City apparently were Brian Edgely (a name that means little to me) and Derek Hogg.