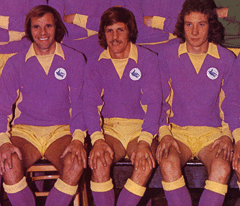 Just one solitary goal would have transformed the perception of how Wales did in last night's match against Ukraine in Kiev. As it was, they conceded one from the home side's only on target effort of the game and that was enough to condemn them to defeat. Now, with just the one win, at home to minnows Andorra, in their last six outings, Chris Coleman's team need an unlikely victory in Sweden in their final outing before Euro 2016 to avoid going into the tournament without a win in eight months.
It's funny how things stick in your mind, but I've never forgotten what Jimmy Scoular said after City had lost 2-0 at the Baseball Ground to eventual Division Two Champions Derby County in February 1969.
1968/69 was the first season where City had a chance of leaving the division they were in by moving upwards since I had started supporting them (up until then we were only ever going to leave what is now called the Championship by moving downwards) and I can remember taking great heart at the time from Mr Scoular's view that we would have won the game on points if it had been a boxing match.
I was thirteen at the time and believed that if we could dominate the best team in the league to that extent, then we must have a great chance of going up – it took a few years, but, eventually I came to realise that winning a football match "on points" was worth bugger all, especially when there were actual points gained by scoring more goals than your opponent at stake!
Any league you care to think of contains it's fair share of sides which make a habit of looking good in defeat – they usually end up half way up the table or lower. Yes, yesterday's match was only a practice for the main event, but a team whose goalscoring record wasn't that great when the "big hitters", who have been missing from recent games, were present could do with a few goals in Stockholm even if they aren't enough to secure a win.
When a team has the majority of the possession, more than three times as many goal attempts (with four times as many of them being on target) as well as four times as many corners as their opponents. then they shouldn't really lose a game.
As to why Wales did lose, I'd say it was, almost entirely, down to their failure to turn their dominance in so many phases of the match into something tangible. It was never going to be easy to manage to do this, given that Ukraine defended like a team that had conceded just four goals in their qualifying group and the absentees from the Welsh squad, but, apart from one moment in the first half, it was only in the dying stages of the game that you got the feeling a Wales goal might be coming.
This was despite Joe Allen continuing to show the good form which played a large part in his country salvaging a draw from the Northern Ireland match four days earlier and Emyr Huws turning in a very encouraging display which, surely, must have gone a long way towards securing his place in the twenty three man squad for the summer.
The efforts of these two players helped Wales have the better of things in central midfield and with Jonny Williams once again showing that, currently, he appears to be one of those players who is, arguably, more effective in the international arena than he is in the club one, there was the promise of a threat further up the pitch as well.
Williams' dribbling ability also provided Wales with plenty of deal ball opportunities as he was kicked from pillar to post by a variety of the members of the home team who will, surely, have to take a great deal more care with their tackling when the real stuff starts in about ten weeks time than they did last night.
Yet, somehow, there was little or nothing to bother the Ukraine side for the first eighty minutes of the match. To some degree, the blame for this could be aimed at Allen as the man responsible for nearly all of the attacking free kicks and corners Wales had, but, for me, it had more to do with the fact that, just as on Thursday in Cardiff, their forward players were second best, sometimes by some distance, to the defenders they came up against.
Assuming that Gareth Bale and Hal Robson-Kanu are going to be there in the summer, it seems to me that Wales will take another two forwards/strikers to France. With a regular place in the starting line up of the side which looks well on the way to winning the Championship this season and a prolific goalscoring record since the turn of the year, Sam Vokes looks assured of one of those places – especially when  you consider that he gives us something different in terms of aerial ability and physique compared to the other specialist strikers we have.
As to who the other one will be, it seems to me that before making that decision, you have to clear up how Tom Lawrence is likely to categorised – he's been used as a lone striker, a number ten and a winger by Wales, so he might, possibly, be thought of as a midfield player when it comes to selection.
If he's seen primarily as a winger, then that puts him into competition with players like George and Jonny Williams, as well as David Cotterill – I'd say he'd struggle to get in with such competition, especially if it became a matter of just two to make the squad from those four.
It appears more likely that Lawrence will be considered for selection as a forward and so it seems to me that he could end up in a battle with Simon Church for the last striking place.
There was a time when the twenty seven year old Church was thought of in much the same way as the twenty two year old Lawrence is now by those who back the claims of the man on loan to City from Leicester.
Church was a leading member of the Wales Under 21 side which gave England such a scare in their Play Off tie for a place in the European Finals in  2008 when he scored three of our four goals and back in those days he had an almost telepathic understanding with the emerging Aaron Ramsey, who was regularly able to pick out the striker whose movement drew him plenty of praise from pundits.
Church scored eight times in fifteen appearances for Wales Under 21s, but with just three from thirty five, his record at senior level is nowhere near as impressive and it seems to encapsulate a career path that has been heading downwards for a few years now.
Released by Reading, released by Charlton and then, unable to nail down a starting place at MK Dons, loaned out to Aberdeen, Church has finally began to to show glimpses of his old goalscoring form while playing regularly for a club challenging at the top of the Scottish Premiership and a confidently taken penalty to cap a pretty impressive fifteen minutes coming off the bench against Northern Ireland must have helped his cause at a time when his chances of making it to France looked to be receding.
Both Church and Lawrence were in the starting line up yesterday, but, as mentioned earlier, they both found it hard going against a confident and well organised group of defenders. The former barely got a look in before making way for Vokes around the hour mark and, while the latter did some good things, he was unable to take what may well have been Wales' best chance of the night when he found himself unmarked about fifteen yards from goal early on in the game.
Lawrence's shot when it came wasn't a bad one as it forced keeper Pyatov into a good save, but his hesitation before letting fly appeared to betray a lack of confidence from someone who has only scored twice all season and has been waiting nearly five months for a goal.
Russell Slade was right when he said recently that Lawrence has been unlucky not to score yet for City and it's hardly as if he's been missing chances galore for us, but, with no more Wales games until after the squad for the Euros has been announced, could it be that he'll need some goals in a Cardiff shirt if he is to make it to to France?
He's hardly prolific currently, but what Church has over Lawrence is that he is scoring at club, and international, level. However, I maintain that, by some distance, the best display I've seen from a Wales striker during the series of matches played without their first choice forwards and most creative midfield player was Lawrence's against the Netherlands back in November when Wales scored goals and created chances on their way to a slightly unfortunate 3-2 loss.
Maybe I'm wrong, but I get the feeling that performance by Lawrence put him ahead of a few other contenders and helped him build up a lot a credit among the decision makers in the Welsh camp – I can't help thinking that the will is there to pick him, but he's needs to come up with goals to ease some doubts about him which have emerged in the last few weeks.
Before leaving the subject of Wales' striking options, I should mention Walsall's Tom Bradshaw who made a pretty good impression after coming on for his first senior cap for the last fifteen minutes against Ukraine. Bradshaw showed one or two neat touches, but probably needs a tremendous end to his club season to stand any real chance of forcing his way in.
The other thing that will truly concern Chris Coleman is that, just as against Northern Ireland, the Welsh defence was left flat footed by a set piece in which something unusual was attempted and the ball ended up in the back of our net.
On Thursday it was  short corner routine which caught us out and this time it was from a free kick in a central error about thirty yards from goal. Instead of shooting, Ukraine captain Rotan lobbed a pass to Yarmolenko whose well struck shot from a similar range to the one Larwence had missed from earlier, found the net.
It was one of those goals where the attacking side could, quite rightly, be happy with the invention and technique shown by those involved. Yarmolenko's finish was exemplary as the ball was going away from him and the free kick needed to be delivered precisely and deftly, but, watching it again, the Welsh defending left much to be desired.
Wales had a wall of five in place to deal with a shot and the other five outfield players should have been far more alive to what might happen than they were. With a goalkeeper and five others having the responsibility of defending against any direct attempt on goal, the remaining five should have been fully on their guard for the something else which may happen — Rotan's run up was suggestive of something other than a shot resulting as well.
Yarmalenko was able to steal a march on those charged with marking him, but, even then, the scorer's shot, impressive though it was, should have been saved by Wayne Hennessey. The goalkeeper, so impressive during qualification, has been letting in a lot of goals lately while turning out for a team which is being beaten most weeks as it slides down the Premier League table towards the bottom three and so it would be understandable if his confidence has taken a bit of a knock – is it too much to think Hennessey would have stopped the goal and Lawrence scored from his chance if they had been faced with the identical situations in September?
Finally, Wales Under 21s drew their game in Bulgaria 0-0 on Friday and now face Romania this afternoon (kick off 4 o clock). With Denmark winning in Luxembourg, Wales lost top spot on Friday and with the Danes playing bottom of the table Armenia this afternoon, there has to be a good chance that the gap will grow beyond the current single point this afternoon.
However, with Denmark (who have yet to concede a goal in their five matches) still to come to Wales, automatic qualification with a first place finish is still a realistic hope. Failing that, a good second place finish would see us into a Play Off with the three other best runners up for the remaining two places in the Finals – if anyone is interested, the latest tables and an explanation of the Play Off system is given in this link.
*picture courtesy of http://www.walesonline.co.uk/