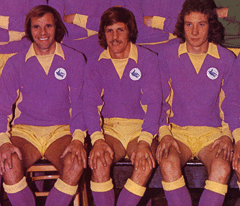 After a brief outbreak of end of seasonitis three weeks ago in the home game against Birmingham in front of a 20,000 plus crowd, Cardiff City's response in the last match before the international break against Ipswich was an impressive one. However, I'm afraid that, as good as they were against Ipswich, they were equally as disappointing in yesterday's loss, by the same 3-1 scoreline, against Wolverhampton Wanderers.
There are a few sides in all four divisions who are candidates for end of seasonitis at the moment and the number will grow with each passing game as the painful acknowledgement comes that promotion hopes have died or the joyful one that relegation is no longer an issue sinks in.
At many of these clubs, there will be talk about the desire to finish the season strongly, of the need for some players to prove to their manager that they are worth a new contract and of an opportunity being there now for players who have been outside the group that has contested most of the season to show what they can do.
All of these things would be desirable and I do believe that a good finish to a season, even one that ends in "mid table mediocrity", creates a momentum that can be carried into the new campaign when it starts a few months later.
However, as touched on before on here, I'm also a believer that it is basic human nature to relax a little and allow standards to slip somewhat when the perception sets in that a target, which has preoccupied an individual or group for months, has been achieved.
I've always believed that if you asked those at a team going for a trophy or promotion at the end of a season whether they would prefer to face a side in danger at the foot of the table, or one that is generally thought to be safe in the middle of the league, the answer you'd get would be the latter – a Wolves team in a run of good from, but still not safe from the drop would, surely, have viewed yesterday's encounter as a very winnable one.
One of the options involved for a manager trying to contain an outbreak of end of seasonitis is to deny that the target seen to have been either beyond his players or achieved is out of reach yet. Despite saying for weeks that fifty points should be enough to guarantee safety, Neil Warnock spoke in his pre game press conference of his team maybe needing one or two more points to be absolutely sure that they wouldn't get sucked back into the relegation issue, even though the Ipswich win took our points tally to fifty one, with a goal difference that is better than most of the teams below us.
I suppose it's a line that a lot of managers in a similar position would adopt. After all, no side can be deemed to be safe beyond a shadow of doubt until it is mathematically impossible for them to be relegated, but, with Rotherham now down after their home loss to Fulham yesterday, Wigan only able to get to fifty five points if they were to win all seven of their remaining matches (they've only won eight out of thirty nine all season), Blackburn without a win in five and Bristol City unable to maintain their improvement after defeat at Brentford, the odds, and logic, strongly suggest that we have already done enough to stay up.
With Wigan facing trips to Brighton and Reading in their final two away matches, before entertaining Leeds on the last day of the season, it's very hard to see them being able to get to fifty one points or more – I think they are gone.
So, in essence, you are looking at Blackburn and/or Bristol City having to win four out of their last seven matches to give themselves a chance of overhauling us. That's unlikely (the two sides meet at Ewood Park on Easter Monday), but not impossible and yet, even if it were to happen and they were to both finish up above us, it would still need all of the other six teams currently below us to get beyond us – again, it could happen, but, essentially, all of the factors which have made the 16/17 Championship what it is at the moment, would have to be reversed in the campaign's final month for that to happen.
To just entertain this worst of worst case scenarios for a little while, having been a general acceptance that we are safe for the last fortnight, it would be very difficult for us to get out of something which would be perceived to be having a momentum of it's own – I think it would be very tough for the club as a whole to be able to rediscover the intensity which led to our good January and February.
However, while recognising that I'm not infallible in these matters (even if everyone else has forgotten my "we're in the Play Off's already, now it's about whether we go up automatically or not" prophecy at about this time in the 2008/09 season, I cannot!), the nightmare finish to this season is not going to happen – we'll be playing Championship football next season.
So, although our manager's desire to create the impression that there is still something to play for is understandable, it seems that not all of our players agreed with him yesterday – the feeling I gained was one of sloppiness at both ends of the field.
To be fair to our attacking players, it's now only three games in which we have failed to score out of our last twenty two (two of those were against second placed Brighton) – Kenneth Zohore's ninth goal in his past nine games ensured our record of usually being able to find the net at least once in a game these days was maintained and, after looking so goal shy under Paul Trollope, it should be said that goalscoring has not been a problem for us in recent months.
Unfortunately, despite our climb up the league since Warnock's appointment and a collection of defenders that, in my opinion, compare favourably with most in this league on an individual basis, our goals against record (or to be more accurate, our ability to keep clean sheets), remains the problem it has been all season.
After keeping the opposition out three times in our seven matches in January (six if you only count league fixtures), it's now just two clean sheets in ten since then. Worst of all, we've only managed to keep the ball out of our net on a pretty pathetic seven times from forty one matches in all competitions this season – for all of the, often justified, criticism Russell Slade attracts, we were able to stop our opponents scoring in almost a third (fifteen out of forty nine in all competitions) of our matches last season.
Despite our manager's talk of us still needing to do a little more to be absolutely sure of staying up, his real opinion on the matter is probably shown by his stated desire to try a few different things out in the games we've got left this season.
Yesterday saw a second outing for the system we used in the home game against Aston Villa on 2 January, whereby Sol Bamba played in a defensive midfield position in front of centrebacks Sean Morrison and Bruno Manga. It worked well on that occasion as we picked up an important 1-0 win in which Villa had a lot of possession in front of our defence, but only very rarely were they able to get behind it, as Bamba did a good screening job, while also marking Jack Grealish out of the game.
With Manga fit enough to play his first game since picking up his injury at the African Cup of Nations almost three months ago, the experiment was repeated yesterday with much worse results.
Even during our early season struggles and the miserable football City fans had to suffer for much of the previous two seasons, Cardiff sides have generally tended to be pretty secure when it came to defending aerial balls into our area – our defenders generally get their heads to the ball or do enough to make sure any attacker who does so is unable to control their touch in the way they intended to.
Yesterday however, our aerial defending was poor for Wolves' second goal and absolutely dreadful for the first one, despite us having three specialist centre halves on the pitch – Wolves players were able to get their heads to the ball three times in a matter of seconds, with no one being within yards of Andreas Weimann for the second of them.
Our defensive clean sheets record this season is one you'd expect from a club in the bottom three and it was relegation standard defending for Danny Batth's first goal. Despite what I said about our good aerial defending since our relegation three years ago, it's been a season long feeling of mine, and a few other City fans I believe, that this is a facet of the game that captain Sean Morrison had had problems with this season and he was among those who were culpable yesterday, but when you lose three consecutive aerial challenges in your own penalty area and the ball ends up in your net, you cannot just pin all of the blame on a single individual.
The sale of Semi Ajayi to Rotherham this week and the likely departure of Manga in the summer, means that Warnock may well think there is a need to add to his group of central defenders for next season. However, even if the Gabon international defies expectations and agrees a new deal with City, and notwithstanding Bamba's consistent good form since his arrival, the truth is that, as a unit, our centrebacks have been been pretty poor this season – that awful clean sheets record is all the proof you need of that.
With our manager also mentioning that there is some distance between the club and Kadeem Harris' representatives in their talks on a new deal for the winger whose contract is on the point of running out and no confirmation yet that Junior Hoilett's deal will be extended beyond this season, you would have thought that here were two players who had cause to want to impress those watching yesterday. Yet, both of them came nowhere near their performance levels against Ipswich, with Hoilett in particular turning in one of those occasional lacklustre displays that can make him look so ordinary.
Hopefully the team will be shaken out of their lethargy for Tuesday's visit to Barnsley – it's now just one win in six at a time when the club would have been hoping for results that would have got season ticket sales going well, but end of seasonitis can be a hard thing to shake off if it's allowed to take a hold of a team.
Unfortunately, not all of Under 18 team's problems can be put down to end of seasonitis. I watched them go down to their sixth consecutive defeat yesterday lunchtime at Leckwith when Barnsley became the latest in a long line of teams to have got the better of our youngsters since the turn of the year when the decision was made to shake up the youth set up at the club and the Under 18s and Under 16s for the first half of the campaign were, effectively, moved up a level.
In their last game of the old year, there was a 5-0 defeat for a team made up mainly of eighteen and nineteen year olds at Chelsea in the FA Youth Cup, but since then City have been competing in the league with a side containing players in the fifteen to seventeen age range and, hardly surprisingly, results have suffered. They have played twelve times and have managed wins over Colchester (1-0) and QPR (3-1) as well as a 1-1 draw with Millwall – all of the other matches have been lost and, if you include the Chelsea match, their last thirteen encounters have seen them conceding an average of 3.3 goals per game.
Yesterday wasn't a bad day defensively for the team and you could make a case for saying they were unlucky to lose. In fact, they could be said to have controlled the second half, but their "control" was like the one Wales were reported by some to have had in Dublin nine days ago – there rarely, if ever, looked like being anything in the way of an end product from it.
The truth was that the only times Barnsley looked like they might concede were from their own errors. For example, in the opening minutes their keeper narrowly avoided scoring an own goal as he palmed what should have been a routine cross narrowly wide of the upright. The good save he made after the break to deny Sion Spence from City's best chance of the game came about when one of the visiting defenders passed it straight to a City player on the edge of the penalty area. Likewise, when one of the Barnsley central defenders carelessly lost possession twenty yards out, the foul he had to give away resulted in a free kick which was headed on to the crossbar by Jack Bodenham I think it was.
Despite those forty three goals conceded in their past thirteen games, it's probably true to say that the Under 18's biggest problem is a lack of firepower. Those three matches I mentioned where they avoided defeat apart, City have not scored a goal in a game since they beat Bristol City 3-2 on December 10, so, when Barnsley efficiently turned winning the ball in the middle of the park into working someone over to score a simple goal around the half hour mark, it was hard to avoid a feeling that the game was as good as over.
The visitors had seen a couple of shots fly narrowly wide before they scored and they produced a moment of quality out of keeping with the general standard of the game midway through the second period, when, instead of looking towards the group of about ten players packed very tightly together around the penalty spot from a corner, the taker aimed for someone stood about twenty five yards from goal who hit a volley which smacked back off a post.
It was a clever tactic which deserved a goal and Barnsley may also have scored when George Ratcliffe did well to turn aside a free kick late on, but, these pretty isolated incidents apart, City were comfortable at the back as the game was settled by that single goal.
City had more of the ball and, just as this group of youngsters do every time I see them, they seem to be a match, if not more than a match, for their opponents technically and it's this which offers the hope that there could be a positive outcome for these youngsters despite what must be a pretty demoralising set of results over the past few months.
It needs to be said that it's unlikely that it's a case of City taking on opponents who are two or three years older than them every week at this time of the season mind, because what tends to happen is that a decision is made as to who of the older players are going to be kept or released has been made by now, so, in their different ways, virtually every side is building for the following season come April, but there can very few, if any, who are doing it as drastically as City have done.
As an indicator of the sort of thing I mean, I was told yesterday that some members of the current Under 23 squad were told after Thursday's game with Sheffield United that they were going to be released. I'm not going to betray a confidence by revealing the two names I was told, but it wasn't long ago at all that they were playing Under 18 team football and their identity came as a surprise to me – it's all seems to be an indication of a philosophy that wants to get younger players into the Under 18 and 23 teams earlier than has been the case at the club in the past.
Yesterday, the main reason City lost was simply that their opponents were physically stronger than them. The fact that three out of Barnsley's back four were booked shows that our attackers had the ability to cause the visitors problems, but most of the time they were just being outmuscled.
The hope has to be that next season, the physical difference between them and the teams they face will not be so great and, consequently, they will be able to build up that bit of confidence that they currently lack.
This is the group of players that Ken Choo and Russell Slade expressed such enthusiasm about when they met Trust members about fifteen months ago and, certainly, their record when they were playing against teams closer to their own age was as impressive as any I can remember since we were granted Academy status – I believe they were only beaten twice before Christmas.
So, I'd say that it's an indication of the faith those who make these sort of decisions at the club have in this group that they thought they could come through what was always going to be an awkward spell in their careers and still go on to fulfill their potential. Obviously, there has to be a risk involved, because any youngster's resolve is going to be sorely tested when they go through a series of results such as the ones they are currently having to endure, but this is a long term project and so the players shouldn't be judged now – it will be a year or two yet before it can be said whether what has to be seen as a gamble taken by the Academy coaching staff can be said to have paid off or not.
*picture courtesy of http://www.walesonline.co.uk/