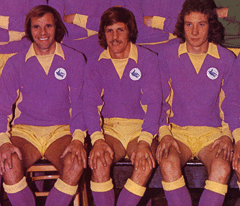 Long after I'm dead and gone, I suspect 2016 will primarily be remembered for two things.  First the number of people who could justifiably be called stars who passed away in the twelve months (Leonard Cohen and Robert Vaughn were added to that long list this week) and, second, the truly startling political events on both sides of the Atlantic that saw electoral contests which, depending, on your viewpoint, either represented the ordinary man and woman in the street turning against a detested political establishment or confirmation that you can never underestimate the ability of human beings to make truly moronic decisions.
I still struggle to come to terms with the notion of President Donald Trump and, as expected the guests on Have I Got News for You had a field day at his expense last night. However, it was their use of footage of Mr Trump helping to conduct the draw for some round of the Football League Cup on an ancient Saint and Greavsie show from around 1991 that I want to focus on here because it helps provide a link, albeit one of the most tenuous imaginable, between the new "leader of the Free World" and this morning's Academy team match for Cardiff City's Under 18s when they faced Colchester United at Treforest!
Those old enough to remember the Saturday lunchtime programme presented by Liverpool and Spurs forwards from the sixties will recall that the show had something of a catchphrase as the laconic Jimmy Greaves would opine that "football's a funny old game" when asked about the hot topic in the game from that week.
Well, Greavsie would have definitely fallen back on the catchphrase if he had been asked to explain how it is that City's Under 18s could see off the youth team of Premier League Watford so comfortably one week and then face such an almighty struggle against League Twos Colchester's Under 18s the next before ending up with a fortunate 2-1 win.
It's true, football is a game where it pays to expect the unexpected, but there were also a few more mundane reasons why City had to work so hard to overcome a team which you might expect them to beat easily. For example, I would guess that Cameron Coxe, Mark Harris and Jarred Welch will all be involved to some extent at least for the Under 23 Development team in their match at Millwall on Monday' because the first two named were missing today, while the latter was substituted at about the midway point in the second half. These are very influential members of the Under 18 team and they were replaced by two players who I believe may have been making their debuts at this level.
Stepping into Coxe's full back role was Martyn Margetson's son Ben, while Isaak Davies, who I saw score an excellent hat trick for City's Under 16s in a big win over Crystal Palace this season, stepped into the lone striker role Harris has been filling so well lately.
So, it wasn't as strong a City team as last week, but that doesn't wholly explain why the game was such a more keenly fought affair than last week's 3-0 win over Watford was.
The fact of the matter is that, on the evidence of the two games, Colchester are a much more impressive outfit than Watford – I saw all of today's game apart from it's third quarter, which I missed because I was paying more attention to the Under 16s match, and, to be honest, I think Colchester can be justified in feeling robbed.
The visitor's started well and keeper Coughlan was soon called into action as City struggled to impose themselves. Colchester were looking the more powerful team and I was very impressed with left winger Clampin who was able to combine pace, strength and trickery to lead a series of dangerous looking attacks, the most eye catching of which came when he surged clear of Margetson on a fifty yard run which ended with a shot across the face of Coughlan's goal.
City's cause was not helped by centreback Lewis Baldwin limping off to be replaced by Alfie Madden midway through the first half, but, as it turned out, Madden's introduction was the catalyst for a change in the flow of the game to the extent that his team could probably claim to have edged the game's second quarter.
Welch had been a huge factor in City's dominance last week, but it was another midfield player who was at the heart of the improvement in their game this time as most of what they did well had the clever Sion Spence involved somewhere along the line.
Welch was still influential as, for example, when he set Davies free for a shot which brought a fine save from Colchester keeper Phillips and then, from the resultant corner, Welch's cross was flicked just wide by the striker. A neat back heel from Spence gave Welch the chance to get away a hot that Phillips turned aside and Ibby So Sani was just wide with a header as a goalless first half ended with City in the ascendancy and, by the time I returned to watch the match's final quarter, they were a goal in front.
Unfortunately, the only things I can tell you about it is that it came almost straight from the restart and that it was scored by Davies. I saw our second goal as an incisive Spence pass set James Waite clear to strike a low shot which the otherwise impressive Phillips might have felt he should have kept out.
From then on, City were forced to play mainly on the counter attack as Colchester mounted a strong finish to rival their forceful start to the match. They got a goal back when a good cross was headed home on the near post by Kensdale – Coughlan was able to get a strong hand on the ball and may feel that he could have prevented the goal.
A shot by one of their subs which went inches wide was the closest the visitors came to a deserved equaliser, but there were plenty of other anxious moments for City, yet it could have been made so much more comfortable for them if So Sani's somewhat casual penalty, given after Spence had been fouled, had gone in rather than come back off the crossbar.
City missed chances on the break, but they were grateful enough for a win that, like last week, owed something to the added defensive solidity that having Connor Young operating in front of the back four gives them, but it's Sion Spence who gets my vote as man of the match.
As for the Under 16s, they were facing their counterparts from Swindon and kept their impressive record this season going with a comfortable 4-1 win.