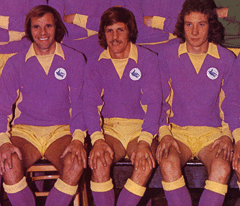 Cardiff City's Under 23 team started their season playing home matches at the club's training centre in the Vale of Glamorgan, but since mid September the games have been shared at the Leckwith athletics facility and Cardiff City Stadium.
Last night's game with with Coventry at the latter venue continued a strange trend which has seen results and performance vary greatly depending on where the team were playing. I've seen all three matches at Leckwith, with City's displays getting progressively worse as they've drawn two without scoring and lost the other one 1-0 – believe me, if you had sent a naughty young son or daughter to watch one of these matches on a Monday afternoon and then told them they'd go to another one unless they started behaving themselves, you'd soon have a perfectly behaved little cherub or angel on your hands!
When the game is at Cardiff City Stadium though, it's a different matter completely. After a draw against Sunderland in a match where the Under 23s were always the better team, there have been 3-0 and 4-0 wins over Palace and QPR respectively and now they have a 3-1 victory over a lively Coventry side who could feel that the margin of defeat was harsh on them.
In those earlier conclusive wins over the two London sides, City put out very experienced sides by Development team standards, with a sprinkling of first team squad members involved, but this latest match saw something in line with the sort of selections that have been the norm in recent seasons.
You would have thought that only Declan John out of last night's ten outfield starters would have a chance, albeit a very slight one, of playing Championship football for us in the short to medium term. Therefore, to beat a Coventry side whose record at this level is a lot better than you would expect from a club where the first team look like they could well be relegated to the Fourth tier this season, was more of an achievement than it may at first appear.
When City rubber stamped their early authority with a goal after eight minutes as Semi Ajayi fired home from close range after Marco Weymans' precise cross. I felt the game was going to be a very one sided, but, instead, Coventry had grounds to feel that they could, and should, have been in the lead after thirty minutes play.
City did get sloppy during this time, but that wasn't the only reason for the away side taking control and visiting captain Devon Kelly-Evans should have equalised after Murphy, who had already made one or two decent saves, could only palm a shot out to him standing just six yards from goal, but the resultant effort flew wide when it looked easier to score.
Kelly-Evans was more impressive with a run past two or three opponents and then a shot that went just wide and the visitors then had  what looked like a good shout for a penalty turned down after Jordan Blaise barged into George Thomas, only for a referee who was an odd mixture of let them get on with it laissez-faire and officious clamping down on harmless looking tackles, to award a free kick on the edge of the penalty area for another offence.
City needed to raise their game if they wanted to hold on to their lead and, to their credit, they did. Centre forward Mark Harris probably should have done better with a header from about six yards out and then a fine pass from Ajayi found Macauley Southam on the left, who crossed low for Harris to sidestep keeper Addai, only to see the ball roll out harmlessly for a goal kick as he ran out of room.
Captain Tommy O'Sullivan's performance had tended to mirror his teams with a strong start being followed by some careless stuff, but he then provided a moment of the sort of quality that had many thinking they were watching a probable first teamer of the future when he first played at this level about five years ago. O'Sullivan's lovely ball found the influentiual Southam whose crisp shot gave the pass the finish it deserved.
City, who probably owed their lead to the fact that they were that bit more assured in front of goal than their opponents, were watched from the technical area by two more members of what seems to be a huge cast of coaches/assistants lately.
I think it was Jarrad Harvey who was the "main man" this time, but alongside him was Craig Bellamy, the newly appointed Player Development Manager. Bellars was lower profile than his colleague, but occasionally gave instructions to the players when he felt it was required. However, based on this evidence, if he ever does become our manager, those who like their bosses to be shouting, jumping about like a jack in the box and waving their arms about constantly on the touchline, are not going to be impressed!
Maybe the Bellamy influence was felt most in the choice and use of substitutes because, in what was the most interesting aspect of the night to me, we saw the sort of players the club must have had in mind with the "revamp" of the Development team talked about last week, given plenty of game time.
The replacement of Matt Kennedy, who was quiet by his usual standards at this level, by Under 18 team regular James Waite at half time did not appear to be a the result of an injury for the winger and the way Harvey spent time talking to him on the touch line for a minute or two just before half time gave the impression that it was a planned move.
Whatever the cause of Waite's early introduction, he immediately looked confident and was soon getting away a well struck shot from twenty yards that caused Addai few problems.
On the hour mark, it was the turn of sixteen year old Sion Spence to get his first taste of football at this level. Spence, who started the season in the Under 16 team, has done well since becoming a regular in the Under 18s and his introduction in  place of Weymans, hopefully, represents the best example so far of the "fast tracking" into the level below the first team that will become a fairly regular occurrence under Bellamy's watch.
Again, the substitution was almost certainly a planned one, but when Under 18s captain Cameron Coxe came on for Blaise for the last fifteen minutes or so it was because of an injury.
Coxe, a full back/wing back who I'd never seen play centre back before, slotted seamlessly into the middle of the defence and did a good job, while the two lads in midfield did not look out of place at either. There was the odd misplaced pass, but the way Spence and Waite combined to set Declan John free for a late shot that was turned around the post by Allai was a delight, with the former showing his trademark appreciation of what's going on around him to slide a precise pass out to the latter, whose cheeky backheel put the full back in on goal.
With Coventry unable to fashion as many threatening positions as they had managed in the first half, the game was fizzling out somewhat, but then a run down the left past a few City defenders by a Coventry player produced a low cross which left Thomas with a tap in from a few yards out.
Having got the goal they deserved and set up what could have been a very interesting last quarter of an hour or so, Coventry, or rather their keeper, then proceeded to shoot themselves in the foot – while I didn't mean that literally of course, Allai was pretty lucky not to have damaged his foot in another way.
When O'Sullivan took aim from about twenty five yards out, he produced another well struck shot, just like Waite's had been, and although the save was more difficult this time for the Coventry keeper, he should have done a lot better than knock the ball out to the advancing Harris who had a simple task to restore City's two goal lead from the edge of the six yard box.
Allai knew he was at fault and, like plenty of goalies before him when they have conceded a goal kicked one of the posts in frustration, but, this time, it was done with such force that the clang on contact echoed around the stadium – he really could have done some serious damage to himself, but the ironic thing was that his kicking, which had been pretty erratic, seemed to improve significantly after this!
As this table shows, City end the year four points behind Charlton (who usually win this league) in second place and travel to face the league leaders in their first match after the mid season break.
On the face of it, we look well placed to become one of the two sides to take their place in the end of season Play Offs. It's not a new situation for us either because we have been regular contenders near the top of the league since the current format was introduced in 2012 I think it was.
However, the almost complete lack of youngsters breaking into the first team in that time rather backs up the notion that results at the levels below the first team are not that important, it's about developing players who are good enough to make an impact with the seniors. Hopefully, they'll then either have a long, successful career at Cardiff or earn them the sort of transfer fee that enables clubs to undergo the sort of rebuilding job that so many of our rivals did last summer.
Therefore. if the presence of the likes of Coxe, Spence and Waite in the Under 23 team helps brings about a decline in results that sees us miss out on a top two finish, it will still be for the best if it means that our Academy will eventually again be doing what it hasn't been for far too long.
*picture courtesy of  http://www.cardiffcityfc.co.uk/