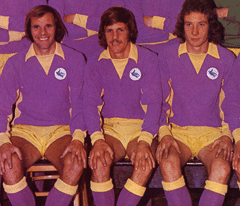 I think it is pretty well known now that Cardiff City's record when conceding the first goal under Dave Jones is not good. In the four and a bit seasons that our manager has been in charge we have managed to win a league match in which we conceded the first goal just five times. However, our failure to turn 1-0 deficits into wins hasn't come about since we appointed Dave Jones, it's been a constant feature of the six seasons and more that we have spent in the Championship – while our record after conceding first in the two seasons we had at this level under Lennie Lawrence was better than it is during the Dave Jones years, it was still nothing to write home about.
Our first season back at this level (2003/04) saw us manage to turn games around after conceding first three times with Coventry City  being one of the victims as we won 3-1 at Highfield Road in a televised match, but the following season we managed it just the once and Coventry were again the team to suffer.
The 2004/05 campaign is probably best remembered now as the season where it all started to go wrong under Sam Hammam, but hindsight shows that the clues as to our real financial position were around during the previous season when, with City occupying a Play Off spot just before Christmas, our owner opted only for what was, by the standards of the previous three and a half years, very modest spending during January as he declared the season a "wasted" one. Another clue as to how things really were came with the "Whalleygate" affair whereby midfielder Gareth Whalley was omitted from the side for the last few matches of the season because one more start from him would have meant that the cub would have had to pay a bonus based on him reaching a pre set number of starts for the season.
With City having made a very decent fist of it in their first season back in the Championship and with most still believing that the club's coffers were full to overflowing, there were high expectations amongst supporters over the summer of 2004. For the second time that year though, this was not reflected in their transfer dealings as Welsh International defender Robert Page and keeper Tony Warner (who was unpopular with some City fans for tossing a plastic pop bottle in the direction of home supporters during the notorious match with Millwall on the opening day of the 1999/2000 season) arriving on free transfers as the only new recruits.
A poor set of pre season results had Lennie Lawrence already under some pressure when the season proper kicked off with a 2-2 draw at Crewe and with two home games to come in the next six days, there was the very real prospect that victories over Coventry and Plymouth (in a Friday night televised game) would see City topping the league.
Coventry were the first team to visit Ninian Park that season and came in a confident frame of mind following a good 2-0 home win over Sunderland on the opening day of the campaign. However, they could easily have gone behind very early on though as Earnie rattled an upright and City generally dominated as the visitors struggled to stay on terms only for a defensive misunderstanding between Danny Gabbidon and keeper Martyn Margetson to present Coventry with a corner which the unmarked Graham Barrett glanced into the net at the near post.
There were strong shouts for a City penalty shortly afterwards when a Coventry defender appeared to handle, but half time came and went with the visitors a goal up. The early minutes of the second half saw City upping the tempo though and two goals within seven minutes had them in front just after the hour mark as, firstly, Earnshaw volleyed in from close range and then Lee Bullock powerfully headed home from Graham Kavanagh's free kick.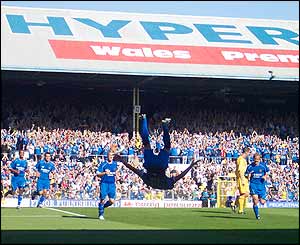 City were able to hang on to their deserved lead for the last half hour without any serous alarms and, for a while at least, it appeared as if they were well placed to improve on their encouraging first season back at this level. However, the defensive misunderstanding which had led to Coventry's goal was typical of what had been happening all through the pre season and it soon became obvious that those four points from their first two games was just papering over the cracks in the City squad.
If things weren't right defensively, at least City could rely on Earnie to come up with the goals, but not for much longer though because on the August Bank Holiday weekend he was sold to West Bromwich Albion for a a fee of £3 million which would increase by another £500k if the Baggies managed to avoid relegation from the Premiership that year – Earnie's goal against Coventry was ther last one he scored at Ninian Park as a City player.
Youngsters or new supporters who weren't following us back in 2004 may find this hard to believe given the way we sell at least one of our best players every summer now, but people were stunned by the news of Earnie's departure. After all hadn't Sam told us that there was no way that we would be selling our "crown jewels" (Earnshaw and Gabbidon) to the Premiership clubs whose scouts were regulars at games back then and hadn't he also told us that teams like West Brom were actually our feeder clubs?
However, although it still hadn't become apparent to your average punter, there was a cold wind of financial reality blowing through Cardiff City now and a month after Earnie left this was reflected by the loan note agreement which saw the club receiving an unsecured sum of £24 million after the Banks had told them that they were not prepared to consider any further requests for additional loans.
At the time, there was enough to worry about on the pitch without the need to look too deeply into the financial side of things. For example, Lee Bullock's match winner against Coventry was, amazingly, the last goal City would score at Ninian Park in 535 minutes of football as they went five home league matches without finding the net.
Although there was talk at the time that the money received for Earnie would go towards new signings, the reality was that a small percentage of it was spent on West Ham winger Jobi McAnuff and on loan deals for full back Darren Williams, who eventually signed for us on a free transfer and the very impressive midfielder Gary O'Neil from Portsmouth. O'Neil helped prompt an upturn in results, but his form for us was so good that Portsmouth recalled him and he went straight into their first team – with O'Neil gone, results took another downturn turn and the truth dawned that City would be in a season long relegation battle.
With no money to spend, it was always going to be hard to find someone to come up with the goals Earnie would have given us and, although the introduction of the emerging James Collins to play alongside the classy Gabbidon for the disappointing Robert Page ensured that City got over their early defensive problems, their lack of goals told against them. Thankfully, Peter Thorne managed to stay fit throughout the vast majority of the campaign, but with Alan Lee struggling to find the net and Andy Campbell's confidence shot to pieces, City were over reliant on the raw but effective teenager Cameron Jerome, while in midfield, John Robinson, who had been nowhere near the player he was in the previous season, effectively retired from the game to look after his sick mother and this had opened the first team door for the 17 year old local boy Joe Ledley.
City (with Japanese World Cup star Junichi Inamoto in as another midfield loan signing) chugged away through the winter months winning a few and losing a few. After one such loss at Sunderland, which had left them three points above the drop zone, on 26 February nobody paid too much attention to a story in the local press a few days later which said that the club's staff had not been paid at the end of the month because of a "clerical error" – all that supporters were interested in was the upcoming game at Ninian Park against Sheffield United…………
10 August 2004
Cardiff 2 Coventry City 1
City Margetson; Weston, Page, Gabbidon, Vidmar; Langley, Bullock (1), Kavanagh, Robinson; Earnshaw (1), (Campbell), Lee; Subs not used Warner, Croft, Parry Collins
Coventry Shearer; Carey, Davenport, Shaw, Staunton; Gudjonsson (Morrell), Sherwood (McSheffrey), Hughes, Doyle; Johnson (Suffo), Barrett (1); Subs not used Marriott, Whing
HT 0-1
Att. 14,031