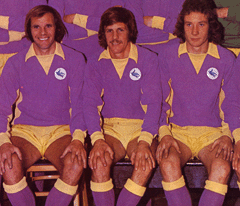 With just over a fortnight of the 1970/71 season left, it looked as if the battle for the two promotion places to the First Division (there were no Play Offs in those days) would go right to the wire – the situation at the top of the table read as follows (it was two points for a win back then)
| | | | | | | | |
| --- | --- | --- | --- | --- | --- | --- | --- |
| | P | W | D | L | F | A | Pts |
| Leicester City | 38 | 19 | 14 | 6 | 53 | 29 | 52 |
| CARDIFF CITY | 37 | 18 | 13 | 6 | 60 | 31 | 49 |
| Sheffield United | 38 | 18 | 13 | 7 | 61 | 37 | 49 |
| Hull City | 38 | 17 | 13 | 8 | 47 | 33 | 47 |
| Carlisle United | 38 | 17 | 12 | 9 | 56 | 40 | 46 |
| Middlesbrough | 38 | 17 | 10 | 11 | 57 | 40 | 44 |
| Luton Town | 37 | 16 | 11 | 10 | 53 | 37 | 43 |
Leicester had got themselves a handy lead and would go on to win the title, while Hull, Carlisle Middlesbrough (who drew each of their final eight matches) and Luton all came up short during the run in leaving it to a straight fight between City and Sheffield United for the second promotion spot.
Even though one of their remaining matches was at Bramall Lane, City's game in hand had them looking favourites to regain the position in the top flight that they had lost nine years earlier, especially when it was considered that they had lost just one of their last fifteen league matches.
The feeling that this was City's year was all the stronger when you looked at the games facing the two teams on 17 April as City entertained a Watford team safe from the drop but without a win in eight matches and a Birmingham team inspired by 16 year old Trevor Francis and on a run that had seen them lose just twice in eighteen games faced Sheffield United at Bramall Lane.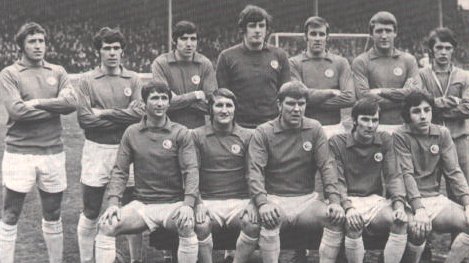 Whilst the fact that City's last three home matches had been ground out 1-0 wins against teams that were mid table or lower offered a clue as to the quality of the football they were playing, they were getting the job done and a couple of good draws at Swindon and Middlesbrough in the previous two games had everyone anticipating another couple of points towards promotion that afternoon.
Now, from a distance of thirty eight and a half years, the memory can play tricks with you, but my recollection is that City did not play badly at all against Watford, but, no matter how hard they tried, they simply could not put the ball in the back of the net.
The first half especially was one way traffic towards the visitors goal, but Watford's Welsh born keeper Mike Walker (who went on to manage Norwich and Everton) was having an inspired afternoon and, when he was beaten a couple of times, the woodwork came to his rescue.
There are certain matches when your team lays siege to the opposition goal and does everything else but score which you just know will end up with the opposing team breaking away to sneak a goal . That is precisely what happened about midway through the second half when Watford's left winger Charlie Woods scrambled in the matchwinner  from close range.
After this shock to the system, the normal pattern of the game resumed with City dominating again in terms of possession and territory, but, although there were still awkward moment that Watford had to survive, there was now a frenzied look to their attacks as supporters began to see the promotion dream die right in front of their eyes.
Sheffield United's 3-0 win over Birmingham only increased the suspicion that this had been a decisive day in the promotion battle as they edged two points clear in second place. However. when they could only draw 1-1 at Middlesbrough a week later, City's fine, and very rare, win at Norwich by 2-1 courtesy of first half goals by Brian Clark and Alan Warboys cut the deficit to a single point.
Therefore City travelled to Sheffield for their showdown with United knowing that a draw would put them in a position where wins in their last two matches would see them promoted no matter what their rivals did in their final game. Sadly, it did not work out that way as, for the first time since he had dropped out of the side in January the defence really missed the know how and anticipation of the veteran Brian Harris.
Just as against Preston last season, City suffered a hammering in a match that was vital to their promotion hopes as the home team romped to a thoroughly deserved 5-1 win with City's lone reply coming from a deflected effort by Harris' replacement Steve Derrett.
Suddenly Sheffield United were in a position where they knew that a win, or probably just a point, from their last match would clinch their promotion and, coincidently, they were at home to Watford. In the build up to the game, Charlie Woods was quoted in the papers saying that his team would do City a favour by beating our rivals and as a fifteen year old kid at the time, I clung on to the belief that he would be as good as his word, but the supporters of both clubs had already made up their minds as to what was going to happen.
So it was that while a crowd of 38,817 turned up at Bramall Lane fully expecting to cheer their team into the First Division, just 15,772 (the third lowest gate of the campaign and nearly eleven thousand down from the last match at Ninian Park) were there to see City do what was required by beating Orient 1-0 in a poor game decided by Brain Clark's first half header. However, although you got the usual brief surge of excitement when somebody starts a rumour that your rivals had been beaten, it soon subsided as it was confirmed that Sheffield United had won easily by 3-0.
City travelled to their remaining match at Luton knowing that there could have been thousands going along with them from South Wales hoping to see a great moment in the club's history. Under the circumstances, it was no surprise that a Malcolm McDonald hat trick consigned them to a 3-0 defeat which left them in third position three points short of runners up Sheffield United.
Many City supporters old enough to remember that season are of the opinion that it was the Watford defeat that really cost us promotion in 1970/71, but I don't agree with that because we had recovered from it to the extent that we went up to Sheffield knowing that we didn't have to win the match. However, what I would say is that the Watford defeat must have come as a real shock to the system of the City team and management and, perhaps, the belief that they could go up wasn't quite there after Charlie bloody Woods played his part in ensuring that it is now forty seven years and counting since we played top flight football!
17 April 1971
City 0 Watford 1
City Eadie; Carver, Murray, Phillips, Bell; Woodruff, Sutton, Gibson, King; Clark, Warboys
Watford Walker; Butler, Eddy, Franks, Williams; Welbourne, Walley, Garbett, Scullion; Woods (1), Wigg
HT 0-0
Att. 26536