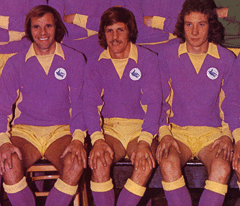 Cardiff City's Under 21 Development team made it two 2-0 wins in three days over the wurzels by comfortably winning yesterday afternoon's game between the two sides at Leckwith.
At the final whistle, I said to the person I watched the match with that we could have gone home after twenty minutes because virtually all of the meaningful action came in the game's first quarter – a harsh assessment possibly, but, essentially, true.
That said, I wouldn't be too critical of the City team for the fact that there was not a great deal to remember in the last seventy minutes of a game where, to be blunt, their opponents never suggested they had it in them to come back from conceding twice by the time the match was barely fifteen minutes old.
Although it was a young City team with, I believe, none of the squad being 22 or over, you only had to look at the two sides as they warmed up to see that they had a definite edge in terms of physique and power over what looked like a wurzels team full of Academy scholars and very young pros.
Although fielding a back four which only included one player with any first team experience, the quartet of Dylan Rees, Rollin Meneyese, Jordan Blaise and David Tutonda were probably taller collectively than some of the combinations fielded by the first team this season. Therefore, when City's foursome were able to show that they could also better their opponents for strength and match them, at least, for pace, it became clear that the visitors were unlikely to be able to fashion too many chances for themselves.
City's early domination in the middle of the park did not owe as much to a physical superiority, it was more that they were sharper and brighter than their opponents and the early evidence was that it was going to be a long and fruitless afternoon for the visitors.
The first goal arrived after twelve minutes when Kadeem Harris neatly hooked in captain Jamie Veale's free kick from about ten yards out. Within four minutes City had doubled their lead when goalkeeper Max O'Leary (one of only two players in the wurzels team with any first team experience) dropped a cross from the right and Tommy O'Sullivan, unsurprisingly, showed the sort of composure needed to take advantage of the error by side stepping an opponent and finding the empty net from the corner of the six yard box.
At this stage, it looked like City could be on for a five or six goal win, but, instead, O'Sullivan's effort signalled the end of the scoring. In this case, the lack of further goals could, in my view, be put down to City becoming increasingly sloppy as the minutes went by – however, in their defence, I would say that it must be quite hard for any side to maintain their standards when, essentially, the know the game is already won because their opponents do not have the capability to cause you serious bother.
To be fair to Bristol, they did defend pretty well for the rest of the first half, but there was never even a remote suggestion that they were going to score and City continued to work themselves some very good positions down the flanks, but, with a lack of height in attacking areas, the crosses that came in needed to be delivered with more imagination and precision for them to be effective.
The second half offered little of note as City laboured unsuccessfully to rediscover their former fluency. The wurzels still had little to offer up front, but as the game went into it's final quarter, they enjoyed their best spell as they began to put City under some pressure and when a fine cross to the far post was nodded across towards the middle of goal, centre back Aden Baldwin was only able to send his shot from about five yards out on the the top of the crossbar and over.
If that had gone in, then we might have seen a very different last fifteen minutes, but, as it was, Baldwin's effort remained the visitor's only serious goal attempt and the match petered out to end in a City win which I suppose is best described by the words solid, but uninspired.
For City's part, the closest they came to a goal after the break was when Robbie Patten's low shot from twenty yards was turned aside by O'Leary. Patten has been missing from Under 21 games in recent months with what I can only assume was an injury – certainly, his withdrawal after an hour or so was indicative of someone gradually working their way back to match fitness.
The same can be said of Rhys Healey who lasted a couple of minutes longer than Patten in his first competitive game since his loan spell at Dundee was ended early by injury. Healey, largely, had a frustrating time of it before his withdrawal and much the same can be said about Harris who was fairly anonymous after his early goal.
With Healey, Harris, O'Sullivan and Theo Wharton all in the starting line up it was like going back to Development team matches from two or three seasons ago when all four of them,  along with Deji Oshilaja and Declan John, often looked too good for Under 21 level football as teenagers.
I believe Russell Slade arrived at the ground early in the second half yesterday and I'm afraid he would have left probably having not seen anything to set him thinking that he has been wrong to virtually ignore what happens at Under 21 level in terms of possible first team selection for some of our younger pros.
It's a bit chicken and egg I suppose, are our young pros around the 19 to 21 age group just not good enough for first team consideration or are their performances being influenced by the almost certain knowledge that they stand little chance of selection, no matter how they play?
What needs to be remembered of course is that Russell Slade has only been here for about half of the time which has elapsed since those days when the six players I mentioned were important parts of what was a successful and entertaining Under 21 team, so it would be wrong to place all of the blame on him for the lack of Academy graduates making it into the first team in recent seasons.
For me, all of those six players had the potential to become regular first team players at Cardiff when they were doing so well with the Under 21s. Needless to say, there are plenty of reasons why teenagers who look so good don't manage to make the step up to the first team and, often, they have no one to blame but themselves for not doing so.
However, with the club now showing signs of getting things right at so many different levels on and off the pitch, it, surely, has to be a matter of some concern that, so far at least, the days when Cardiff City senior teams had a nucleus of locally produced talent in them seem as far away as ever.
Anyway, to end on a more optimistic note, congratulations to current Academy team  captain Rollin Meneyese for a very good showing in what I'm pretty sure was his first appearance for the Under 21s – as mentioned earlier, he's certainly got the physical attributes to make a success of the centreback role and I thought he maintained the improvement in his recent Under 18's performances at this higher level.