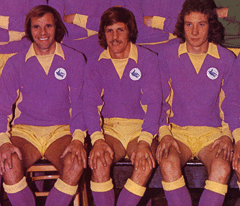 Coming up to two months into his job at Cardiff, it's interesting to compare where Neil Warnock's Rotherham side were at this stage with what is happening at his current club. Warnock started off at Rotherham with a 0-0 draw against Birmingham, then lost the next two, but by the time he had been there a month, they were winning at places like Sheffield Wednesday and the climb clear of the bottom three was well under way.
Six weeks into Warnock's tenure at Rotherham, they went to Portman Road and beat Ipswich 1-0. Now, I think most observers would look at the Cardiff squad and the one Warnock had at Rotherham and conclude that he has more talent available to him at his current club than he did at his previous one. Certainly, if transfer fees paid are any criteria in measuring playing ability, then Cardiff are a much better group of players than Rotherham's were.
So, why is it that getting City away from the bottom three is proving to be a tougher task for Warnock than it was at Rotherham?
I can think of a few answers to that question. First, despite all of that transfer spending, Warnock inherited a squad at Cardiff which lacked balance with a general lack of quality and variety up front in particular – we have too many of the same type of player when it comes to strikers and wingers and the same criticism can also be applied to our central midfielders.
Second, although Warnock has already taken some steps towards improving this situation, we still don't have enough pace and dynamism in the squad (particularly going forward) and, third, a group of players not generally used to fighting relegation battles have found it hard to cope with the situation they find themselves in – again, there is evidence to suggest that Warnock has gone some of the way towards rectifying this fault.
When all's said and done though, the league table tells you that Ipswich are not as good a side as they were last season and they have a manager who is coming under pressure from some supporters because, so far, he has not done as good a job at putting together a promotion challenging squad on a very limited budget, when compared to others, as he normally does.
Rotherham were able to win at Ipswich at a time when that club were still genuine challengers for a Play Off spot last season, Cardiff went there at a time when home fans must be looking downwards, rather than upwards, for an indication of how their campaign will end and yet they couldn't win.
Don't get me wrong, any away draw is not bad in the position we find ourselves in and, of course, our cause was not helped by the fact that we were reduced to ten men for the last quarter of the game – I'll have my say on the Sol Bamba furore later, but, in general terms, we're going to find getting clear of the drop zone much tougher if we persist in our recent habit of picking up stupid red cards when we play away (Lee Peltier's challenge on a player like Jack Grealish having already been booked was a daft one).
On the face of it, City were somewhat unlucky as the outstanding Aron Gunnarsson (a runaway leader in any poll for City player of the year so far now as far as I'm concerned) hit a post from twenty five yards and then the same player diverted a shot from Luke Varney that Ben Amos seemed to be able to save into the net to give the home team an equaliser.
Perhaps the most heartening thing to come from the match was the way that City seemed to finish the game the stronger as they pushed on for a winner despite their one man disadvantage.
Going back to the start of the game, Warnock hinted that he would be looking at different approaches from his team for the quartet of "easier" looking fixtures, which started yesterday, compared to what we had faced in the previous four and, on the face of it, he stayed true to his word.
When I first saw the team for yesterday's match, it seemed that we had reverted to the three centrebacks system favoured by Paul Trollope earlier in the season. Matt Connolly was still in the team, despite Lee Peltier returning after his ban, so it looked like he and Joe Bennett would be full back/wing backs with Connolly moving inside alongside Sean Morrison and Bamba.
What we got though was essentially a 4-4-2 where Bennett featured as a left midfielder, with Gunnarsson and Whittingham paired in the middle and Junior Hoilett pushed up to partner the fit again Rickie Lambert – Joe Ralls dropped to the bench, while the absence of Frederic Gounongbe from the squad suggested he was one of those worst afflicted by the stomach bug which hit the camp in the days leading up to the game.
I must say that, albeit from a distance of around 250 miles, that system has a defensive look to it which doesn't fill me with much confidence that it will be the way that we climb clear from the bottom three. I can see some logic in the use of Bennett further forward, but his selection ahead of someone like Anthony Pilkington or Craig Noone left us with even fewer possible/likely goalscorers on the pitch and a feeling that we were even more reliant on set pieces for any goals we scored.
Gunnarsson may be performing a lot better now than he was then, but anyone who watched us play on a regular basis during the mind numbing 2014/15 season will know that 4-4-2  with Gunnar and Whittingham in central midfield simply didn't work two years ago and, with the latter fast closing in on his mid thirties, it's hard to see how and why things will be any different in the medium to long term this time around.
I still maintain that if Whitts is going to be in your central midfield, you need two others alongside him. Neil Warnock could, quite reasonably, counter that by stating that we have got into our current position by, broadly speaking, playing three in central midfield, so let's go with just two in there which will enable us to get someone up front alongside Lambert.
The main reason why I cannot see this working over a series of games is that, while I accept possession of the football isn't the ball all and end all that perhaps I once thought it was, we are seeing so little of it lately that I can see there being repeats of the sort of stuff we saw in the second half of the Brighton match and the latter stages when we were playing Huddersfield. Our opponents completely dominated possession during these times and we cannot have the same happening when entertaining Wolves and Barnsley in games where we need to pick up an absolute minimum of three points and, sorry, previous experience tells me that 4-4-2 with Whitts as one of a central midfield two won't see us getting those points.
Anyway, three games in a week will represent a test for some of our more senior players which Neil Warnock has hinted may be beyond them these days, so there has to be a possibility that we'll see a different approach, both tactically and in terms of personnel, when a Wolves team with just one win in their last eleven matches arrive on Tuesday.
There will have to be at least one change of course to the team following the incident which has made so many headlines since yesterday's game – Sol Bamba's red card.
Everyone and their dog has been having their say about this "outrage", but, before I have mine, I should emphasise that what I say is based purely on these pictures only. I've read a claim from someone who was at the game that Bamba pushed our physio over with such force as he tried to treat him that he landed on his head and so, there is the possibility that the player may have acted in a far worse manner than the pictures show – for now though, I can only comment on what's in the pictures.
One other thing, I've seen Bamba described as a "hothead" and "volatile" since the sending off, but while it is true that he certainly plays in a wholehearted and physical manner, a look at his disciplinary record since he started playing in this country at Hibs in 2006/07 strongly suggests that while this may have been true at one time, it's not any more.
Four red cards (including two in 08/09 to go with twelve yellows picked up that season) in his first three years in Scotland indicate that Bamba was no stranger to suspensions when at Hibs, but in the seven and three quarters years since his straight red in an Edinburgh derby in early 2009, the centreback had not been dismissed once until yesterday.
Yes, Bamba has accumulated between five and nine yellow cards in each completed season since then, but, as far as I can tell, there have only been two one game suspensions for five accumulated bookings since 2008/09 – hardly the record of a volatile hothead I'd say.
Bamba's reaction to a challenge by Ipswich's Jonathan Douglas (maybe there's a bit of "history" between the two men?) was right out of character then, but, even if the foul of the Republic of Ireland international was a lot nastier in reality than it looks in that video. it's still hard to find any justification for Bamba behaving as he did – it was completely over the top even when you consider things like possible provocation.
Speaking after the match Neil Warnock sought to blame referee James Adcock for his decision to play an advantage after the foul claiming that the whole thing would have panned out differently if a free kick had been awarded. I'm not sure about that – the video shows Adcock talking to Douglas about the foul after play had been stopped to allow Bamba to be treated, so he not only acknowledged that a foul had been committed, but also that it was worth calling the player concerned aside to talk to him about.
So, if it was the ref's actions that were responsible for Bamba's reaction, then it seems to me that it can only be for him not showing Douglas a card for his challenge and it had nothing to do with whether an advantage was played or not.
Peter Whittingham doesn't tend to play such passes these days, but there was a time when a ball reaching an unmarked Whitts in the centre circle (like it did yesterday after Douglas' foul) might have seen a City forward running through on goal within two or three seconds. What would Neil Warnock's reaction have been if such a pass had been played yesterday, only for it to be brought back because the whistle had been blown as Whitts played the pass to give us a free kick for Douglas' foul?
I reckon our manager got it wrong this time, his comments were made with the benefit of hindsight and, like hundreds in his profession before him, he sounds like someone who wants to have his cake and eat it.
To be fair to Mr Warnock, he did say he couldn't condone what Bamba had done and conceded that the inevitable three game ban that will follow would be a right and proper punishment for his player's actions.
However, to read some and hear some of the comments made in the media right after the incident, it's hard not to start thinking that a three game ban is nowhere near enough punishment. Within minutes of Bamba being sent off, I was listening to comments about him having assaulted his manager, other staff, some team mates and the fourth official and the conversation was veering off into what sort of punishment he could expect for laying his hands on one of the officials – they had already decided Bamba was facing a long break from the game before 5 o clock on Radio 5!
I'll say again, that I'm going entirely here on what the pictures I've seen so far show and I must say that, if Bamba's reaction was completely over the top then the same applies to virtually everything that has appeared on all of the various forms of media about the incident since yesterday evening.
I've seen pictures which show Bamba pushing his team mate Anthony Pilkington away as he tries to calm him down and the player also shoves his manager when Warnock grabs hold of him while Bamba is assaulting the fourth official. Let me emphasise here though that the assault being suffered by the fourth official, as well as the ref, was of the verbal kind, not the physical kind and, as such, I see no reason why there should be any call for a three game ban to be made any longer upon the intervention  of the football authorities.
As far as I know, there are no plans for Preston pair Jermaine Beckford and ex City striker Eoin Doyle to be given a further punishment for the fight they had last weekend at Sheffield Wednesday and so why should it be any different for Sol Bamba?
There was an internal punishment from the club for both of the Preston players and, given what Bamba did to Messrs Pilkington and Warnock, it seems right that City react in the same way. However, there is a punishment for both player and his club in that they now face three games that were being seen as the opportunity to get Neil Warnock's record for his first dozen matches at Cardiff to stand comparison with his first twelve at Rotherham without someone who has been an inspiration for all, both in terms of his play and his leadership, since he arrived at the club.
According to our manager, Bamba was "distraught" in the dressing room after the game. I can't help thinking of those times when I've done or said something wrong. knew very quickly that it was wrong, but my own stupid pride prevented me from admitting this to others – I reckon that's how Bamba probably felt in the minutes after his "meltdown", he's has been and will be punished enough already and his actions (on the evidence I've seen up to now at least) do not deserve the feeding frenzy the media are trying to whip up.
*pictures courtesy of http://www.walesonline.co.uk/