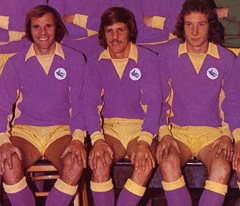 Dave Jones is often accused of "tactical naivety" by the critics in the stands when things go badly for City, but I wonder how many of those who are so quick to tell our manager when they believe he has got it wrong were thinking that what the team needed as they laboured throughout the first fifty five minutes of their season opener against Sheffield United yesterday was for last season's top scorer in the Championship to drop deep and play just in front of the back four? This supporter certainly wasn't, but that decision saved City from an embarrassing first match defeat against opponents who had to play the last hour of the match with ten men.
Before Matthew Lowton was correctly sent off by referee Peter Walton for a high and dangerous challenge on Kevin McNaughton, the visitors were deservedly leading following Ched Evans' simple goal as he punished hesitant defending by Gabor Gyepes in particular. However, despite City's numerical advantage, nothing much changed after the sending off for a further half an hour or so. One of the things people tend to say about our team is that they will always score goals, but having watched them labour through the game against Deportivo and the first hour yesterday, you could be forgiven for asking "how and when?".
About ten minutes into the second half yesterday Mark Hudson sent a header tamely wide of the Sheffield United goal and, by my reckoning, that was City's first attempt at goal all game. Yes, Michael Chopra did have the ball in the net early on, but the goal was, probably correctly, ruled out because of a push on a defender – apart from that though, there had been absolutely nothing in terms of a goal threat from the team as they suffered in particular from having a central midfield two who were far too similar .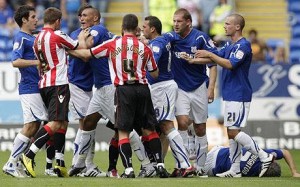 The decision to replace Gavin Rae with Ross McCormack surprised me because I thought it left us very light in the middle of the park but what I didn't account for was that Peter Whittingham would move inside and play almost as a holding midfielder just in front of the back four. From here, Whittingham was able to receive passes and then fire out some tremendous long balls which had the effect of giving City more penetration down the flanks while also tiring the ten men as they were forced to do some chasing having previously been very compact with their two banks of four behind lone striker Evans.
Whittingham's display in the last thirty five minutes or so had me in mind of an American Football quarterback as his long passes covered more than half of the length of the pitch to cause consternation in the visiting defence. These weren't the hail Mary type passes of a desperate man in the last seconds of the fourth quarter (as had been the case with so much of our passing before that) either, they were carefully measured, accurate bombs of the sort you would expect from Dan Marino, John Elway and Brett Favre. Unfortunately, Whittingham's quality was not matched by those further up the pitch as, Michael Chopra's fine work to create Jay Bothroyd's equaliser apart, we lacked the coolness and accuracy needed to get us the winning goal that our late domination probably deserved.
Whether Whittingham in the role of deep lying Cardiff City play maker has a future is open to doubt though for a few reasons. Firstly, there must still be questions as to whether he will be at Cardiff much longer (this blatant attempt to unsettle the player by Nottingham Forest's Chief Executive suggests Whittingham may be headed elsewhere) and second, Steve McPhail's return to fitness would enable us to use another gifted passer in that position while freeing Whittingham to cause problems further up the pitch. Finally, it's one thing looking good in that role against a team with ten men who are intent on keeping their shape rather than pressing the ball, but in other games it is very likely that someone in that role would have their defensive capabilities tested far more often than Whittingham's were yesterday.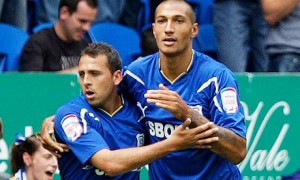 Another thing using Whittingham in that role did was to enable Danny Drinkwater to make more of an impact. As mentioned above, I thought Drinkwater and Rae offered a lack of variety in central midfield and, although neither of them were having a shocker, they didn't make an impact on the game while they were together. However, having Whittingham behind him seemed to free up Drinkwater a bit and I think it was very encouraging to see his energy levels in the closing stages – whatever else he does or doesn't do while at Cardiff, I don't think a lack of stamina will be an issue for the Manchester United loanee.
Although Drinkwater's display showed promise, the two best players for me were, just as against Deportivo, Darcy Blake and Kevin McNaughton. As far as I was concerned, the two full backs were the only ones playing to a good standard in that first hour or so and they both did well in the closing stages as they virtually played all of the game in the Sheffield United half as auxiliary attackers. Blake just shaded it as the better of the two for me as he looked a very confident and committed footballer in everything he did (surely he has to make his senior Welsh debut on Wednesday), but McNaughton, who confirmed the impression of the previous Saturday that he was back to his best, ran him very, very close and. although I still think we need a specialist left back, he looks perfectly capable of doing a good job there for the time being.
Our lack of options at left back, takes me on to the fact that we only had four substitutes yesterday. Although some have, possibly correctly, said that Dave Jones might have been trying to prove a point about our tiny squad and that we could have had a full compliment there if he had picked a few of our youngsters, it is blatantly obvious that we need more players. On that score, it was pleasing to hear Dave Jones say after the game that TG had reassured both him and the team that he remains fully committed to the club (he was there again yesterday along with Vincent Tan's son) and that he would be disappointed if at least two newcomers didn't arrive in the next couple of days – names doing the rounds on the messageboards and in the media currently include Jon Stead (in a player plus cash exchange which would see Ross McCormack leave for Ipswich), Marlon Harewood, Andy Keogh, Jason Roberts, Michael Tonge, Seyi Olofinjana and Lee Naylor.