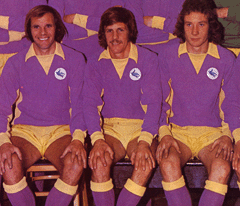 I suppose that the "Where were you when……….." question which most people of my generation remember is when it is asked of John F. Kennedy. Although I was still around two months short of my eighth birthday when he was assassinated, I can still remember that day in November 1963 when he died and the stunned reaction in the adult world to the news that the young President, for whom so many had such great hopes, had been taken from us. Because I was such a big fan of the man, the death of John Lennon was another event I would categorise up there with Kennedy's murder and more recently there has been the Twin Towers disaster as well, but the next one for me after those three would be the night Elvis Presley died – my answer to the question "Where were you when Elvis Presley died?" is watching Portsmouth play.
I was not a big Elvis fan in 1977 – being into punk rock, the "Los Vegas Cabaret" Elvis in that awful, white one piece creation he wore was everything I abhorred in music at the time (there were also all those truly awful films to consider as well!). However, even for someone who felt like that about him back then, it was impossible to ignore or deny that an iconic figure in the development of music as we know it today had died.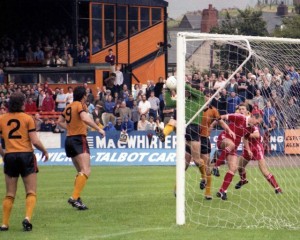 The first I heard of what had happened came when I switched my car radio after watching Newport County play Portsmouth in a First Round, Second Leg League Cup match at Somerton Park. I had two friends with me and we were in a good mood getting into the car, but the laughter soon disappeared and a sense of amazement took over when we heard the news of the death of the man known simply as "the King" at the age of only forty two.
The reason we had been in such a good mood was that we had just watched what, to a relative neutral like myself at least, was a very funny football match which included perhaps the worst goalkeeping performance I have watched "live" by Portsmouth's Steve Middleton.
Middleton was the sort of mediocre performer who was turning out for Pompey in those days of decline which saw the club in another financial nightmare. Only a few years earlier I had watched Pompey play at Ninian Park when they were the "moneybags" team of the Second Division. A Chairman by the name of John Deacon had bankrolled a spending spree by manager John Tindall which saw them being widely tipped for a return to the top flight, but the expensively assembled team could only manage some very ordinary results and the predictable problems associated with an under performing highly paid side and declining gates soon became evident when Deacon's money ran out.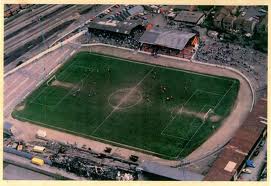 While City were heading back to the Second Division from the Third in May 1976, Portsmouth were heading in the opposite direction and they were to end the 1977/78 campaign at the bottom of the table as they began a three year stint in the basement during which they got increasingly used to sampling the "delights" of the folly that was Somerton Park! Therefore, a game between Newport and Portsmouth at that time was not quite the David and Goliath affair that many would expect it to be nowadays.
After a 3-1 win at Fratton Park three days earlier, Portsmouth came into the Second Leg as favourites but, once Middleton starting performing, that advantage soon disappeared. An early goal by Brian Clark (thinking about it, it was probably the last goal I saw him score) courtesy of a goalkeeping blunder had County right back in the tie as what I remember to be a pretty large Pompey contingent began to fear the worst. With Middleton being a former Southampton player, I daresay he wasn't the most popular Portsmouth footballer anyway, but his error ridden performance that night (maybe he was a big Elvis fan?) must have had their supporters begging for him to be injured or sent off as he spread confusion and panic in a Pompey rearguard (which wasn't too brilliant anyway).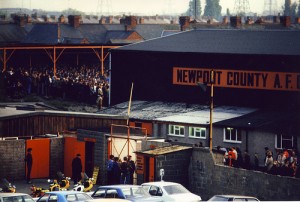 Portsmouth were able to find the net themselves in the first half courtesy of a goal by Maitland (the only professional footballer ever to have that first name?) Pollock, but Middleton presented County's towering centreback Ronnie Walker with a second goal and when that was soon followed by comical own goal by full back Billy Wilson, County were level in the tie and went in at half time probably as favourites to make it through to the Second Round.
Portsmouth manager Jimmy Dickinson (who was something of a legend at the club with his 764 appearances for them and 48 England caps) probably tore into a set of players who would have got nowhere near the Pompey team which he had featured in that won successive First Division Championships just after the Second World War and it had the desired effect as, despite Middleton's worst efforts, County were kept out for the rest of the match and a single goal by visiting  Peter Ellis settled the tie in their favour.
Ten days ago it was the thirty third anniversary of Elvis Presley's death and I have spent the vast majority of that time as a fan of his. The plethora of re released singles, old films of his, TV documentaries and books which followed his death reminded me of just what a talent he was and helped me become less of a musical snob as I realised that something didn't have to be by someone I considered to be "cool" to be good – Elvis Presley probably deserved to be called "the King" even though a part of me will always think pathetic Portsmouth goalkeepers when I recall him!
16 August 1977
Newport County 3 (Clark, Walker R, Wilson OG) Portsmouth 2 (Pollock, Ellis)
County Plumley; Derrett, Walker R,  Jones, Bell; Preece, Walker S (Villars), Relish, Byrne, Clark, Woods
Portsmouth Middleton;  Roberts, Ellis, Cahill, Wilson; Pollock, Foster, Green, Mellows; Kemp, Gilchrist
HT 3-1
Att. 3,200