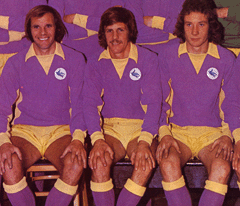 In the last few weeks I've praised the club on a couple of occasions for ensuring that the new kit for the upcoming season was going to be on sale from early July – a huge improvement on what has become the norm at Cardiff down the years. While doing so, I have to admit that there was a part of me of me waiting for the cock up which ensured that the club would not be able to live up to that promise, but, this time, they were as good as their word and, seemingly, around £100,000 was taken in sales at the club shop and online when the kit went on sale on Friday with plenty more sold yesterday as well – this story confirms that Friday was a record breaking day for the club.
I may be wrong, but the thought occurs to me that there have been more sales of this blue kit in the first couple of days it has been on sale than there were of the various red kits we wore over the two and a half years of Vincent Tan's discredited re-brand.
This is a good news story for the club to publicise at a time when it really needs one and it is also something which suggests that, perhaps, the disconnect between club and fans I've mentioned on here in the past is not as pronounced as I think it is. Although I'm sure someone will disagree, my main hope for the coming season is not promotion – it's that we see a return to the relationship between team and fans which saw us united as one at home games in particular.
Along with better than expected season ticket sales, kit sales on the scale we've seen since Friday at least give the hope that enthusiasm among fans is not as low as I thought it was and that the ground may not resemble a public library, as it has over the past eighteen months or so, for the coming campaign.
I'm still to be convinced that this is the case, but it does show that there is an opportunity for an improvement if City hit the ground running in August – especially if Russell Slade could make a couple of exciting signings before we play Fulham. Unfortunately, the signs are not great on that score after yet another quiet week – and let's not forget that we are now bang in the middle of the period that our manager said was the time when we could expect the transfer market to pick up.
Although it's still perhaps too early to say for sure, the notion that Russell Slade has moved on to his second shopping list after getting nowhere with his first has gained some credence over the past few days – certainly if some of the most recent names we've been linked with have any truth in them.
Before discussing possible arrivals though, I should say that there are growing rumours that Hull City will be bidding for Peter Whittingham (by the way, CEO Ken Choo said a departure was "imminent" when asked about players leaving in this piece from Friday) soon  - I wonder how strong the club's resolve will be to keep our longest serving player if there really is something to the Humberside club's interest?
Mentioning Hull brings me on to the news that their midfield player Stephen Quinn opted to sign for Reading on a Bosman deal this week. It was reported that we were also in for the player and I've every reason to believe that this was the case – I'm happy that Quinn will not be playing for us next season  and, judging by quite a few comments I've read recently, there are quite a few other City fans who feel the same way.
It turns out that I'm not the only one who remembers Quinn's antics at Sheffield United's referee influenced 3-0 win at Ninian Park in 2008/09. He is one of three Sheffield players that day who I hope to never see wearing a City shirt during their career – Kyle Naughton (now at Swansea) got Ross McCormack sent off with a blatant piece of play acting and Jamie Ward (who was at it again last season when his effort, which was going wide, was deflected in by Scott Malone for Derby's first goal in their 2-0 win in January)  saw fit to wind the home fans up, along with Quinn, after scoring that day.
When you think that "skull breaker" Chris Morgan also featured in that Sheffield United team, you can see why that particular Blades side is not one I recall with much affection. Also in the visitors team that day was Cardiff born Welsh international David Cotterill who scored from the early penalty that brought about Gabor Gyepes' dismissal and he is one of those players we've been linked with which suggests that our manager might now be looking at second choices when it comes to new signings.
To be fair, Birmingham City's Cotterill is coming off what is probably his best ever season after shining for club and country over the past eleven months and he has turned around a career path that had been gradually heading downwards over a half a decade or more – I believe he would make a decent addition to our squad if he could repeat his 14/15 form. Moreover, I can't remember anything in his behaviour in that match referred to earlier that makes me want to include him alongside Quinn, Naughton and Ward as someone I'd never want to see play for us, but, with him having also played for Bristol City and Swansea against us during his career, I'd say he'd have a bit of a job on his hands trying to win over some sections of our support.
In fact, in view of what the player said in this story, you would have to wonder if he would want to come here if the gossip linking him to us were to be true. Given this and the positive reaction the news of Quinn turning us down got from some supporters, it prompts me to ask whether City give any thought to the way their support may react to a certain player before going in for them?
My mind goes back to a notorious game from 1999 when the powers that be saw fit to pair us with Millwall on the opening day of the 99/00 season – predictably, there was trouble galore before, during and after a match which I'd say saw the last serious crowd violence in a league game at Ninian Park. Go forward five years and we sign Millwall's goalkeeper that day Tony Warner, whose short stay at Cardiff became a thoroughly miserable one for the player for many reasons. Not least among them though was the fact that some City fans had not forgotten that Warner was charged with throwing a plastic bottle into the crowd during the Millwall match .
I can remember Warner playing for us in a pre season friendly against Lazio about a month after he signed where he was getting terrible stick from some of the crowd – it seemed to me then that he would never win over those people no matter how he played for us.
On the other hand, Jason Bowen and Andy Legg faced a difficult task getting supporters onside because of their Swansea connection when they signed for us about six months before that Millwall match and yet both players (particularly Leggy) were able to do that within quite a short time.
In the case of Warner, the City manager when he signed (Lennie Lawrence) had no connection with the club at the time of the Millwall game and so he could hardly be blamed for not knowing about the possible repercussions of the signing and I'd say much the same could be applied to Russell Slade when it comes to Quinn and, if there is any truth in the rumours, Cotterill – indeed, with the lack of Welsh players featuring for us last season attracting some critical comment, he may think the signing of a Cardiffian would help his standing with the fanbase.
Therefore, I wonder if there is an onus on those who have been at the club long enough to know these things to at least hint to someone in "authority" that this possible signing or that possible signing may not be a very good idea? I ask that question without really knowing the answer to it, while also suspecting that they wouldn't be listened to even if they did. However, we have a situation here whereby a manager, who is certainly struggling to convince large sections of his club's support as to his worth, is seemingly chasing players whose arrival could,  perhaps, only make matters worse for him.
One final thing, it's being widely reported that Sammy Ameobi, who is currently out of contract at Newcastle, will sign a new deal with the Tyneside club in the next few days and then the winger will make a decision whether to join us or Wolves on a season long loan with the Midland club reckoned to be favourites to be his choice.