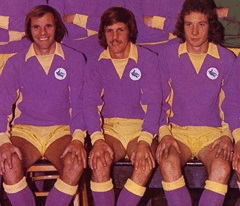 After a month or so where I could only offer transfer speculation in these reviews, things have moved on dramatically this week and I'm now in a position where I, no doubt, will be concerned if I have left something out when I've finished this piece.
There's still a few transfer rumours to comment on, but, although I do sometimes wonder if it's no longer true in the "post truth" (i.e. lies) world we live in today, facts beat speculation/opinions every day of the week as far as I'm concerned and so we have to start with the two signings announced at the same time last week.
Neil Etheridge and Nathaniel Mendez-Laing were among the names mentioned in the first of these reviews when I went through each position and commented on the likelihood of new players arriving in each area. When it came to goalkeepers, I said the following;-
"If I were asked what was the current transfer rumour most likely to become fact at City, I'd go for Lee Camp being with us for the new season and my second most likely one would be that Etheridge would be here – I'm not sure if it would be a case of one or the other of them either."
With Neil Warnock offering a heavy hint that there will be a second goalkeeping recruit announced in the coming weeks, I still feel Camp is a very likely signing, but, for now, we have Philippines International Etheridge, who leaves Walsall on a Bosman free transfer with, largely, positive reviews from that club's supporters and a reputation for being one of their better performers in League One in his position over the past couple of seasons.
Much the same applies to winger Mendez-Laing who departs Rochdale on a Bosman with their supporters being, almost wholly, complimentary about him following what, from a distance, would appear to be the best season of what has been a fairly chequered career up to now.
This video from August 2016 doesn't include anything from the season just ended, but helps show what type of player Mendez-Laing is. There have been some comments about him being, how shall I say this, a fairly solid citizen, but I'd say that he looks pretty quick in those pictures, while there's also plenty of evidence of an effective tackling technique.
With a career path which read Wolves, Peterborough and Rochdale (as well as various loan moves to lower division teams such as Cambridge United and Shrewsbury), it could be said Mendez-Laing was on the sort of gradual downward spiral that so many footballers go through as the realisation that they aren't going to reach the very top of their profession dawns, but, at twenty five, he seems to have started to fulfill some of the potential which saw him being capped for England at under sixteen and under seventeen levels.
Both Mendez-Laing and the twenty seven year old Etheridge would appear to be shrewd, and cheap, signings with their best years still in front of them, but both of them are the sort of recruit we have become used to in recent seasons and, as such, do not represent the more ambitious type signing that we have been told we can expect this summer.
On that front, there are mixed messages if you are to place any value on the sort of speculation that is inevitable at this time of year. In last week's piece, I was optimistic about rumours that Joe Ledley was coming here, but Neil Warnock ruled that move out in the week, saying "I've not heard from his people and I've not made any enquiries".
This surprised me, because there was plenty of pretty believable stuff around saying that Ledley was moving back to City and, although I'm probably adding two and two together and making five, it did strike me that maybe our interest in the player might have cooled after the meeting Warnock was supposed to be having with Vincent Tan where the club's financial plans for next season were finalised.
However, you then see reports that we are still supposed to be in the hunt for Southampton striker Sam Gallagher. Now, maybe, stories that the Saints are looking for £7 million if they agree to sell Gallagher represent one end of the sort of extremes you get to hear from potential buyers and sellers in these type of situations, but I'd say the £3 million that has often been quoted in some stories on the player recently seems a fair valuation in this day and age and I make that more than we've paid for a player for coming up to three years (Bruno Mange in August 2014 being the last of our "moneybags" period signings).
So, if finances were the reason behind our dropping of any interest in Ledley (I emphasise again that there is no formal evidence to back this up and I am merely speculating), then any willingness to spend millions on a striker would appear to contradict that.
Whatever the case, I would definitely say that any questions as to our level of ambition in the transfer market this summer have not been answered either way by the signings of Etheridge and Mendez-Laing.
If I had to guess, I would heavily favour the view that, like a lot of clubs at this level, we are, essentially, in a situation where any transfer spending has to be matched by outgoings. Maybe Neil Warnock does have some money to work with at the moment, but, tellingly in  my view, our manager this week added the name of Declan John to that of Craig Noone on the list of players the club are prepared to sell in the coming months, while also dropping heavy hints that Anthony Pilkington will be available as well.
On the contract front, Warnock confirmed Kadeem Harris had agreed a new deal with the club and said that, although he thought Peter Whittingham would be better off staying at Cardiff, he couldn't blame the player looking elsewhere if, as opposed to the one year deal on the table here, other sides were prepared to offer him a two year contract.
I expect to see Whitts leave and I'd be very surprised if Bruno Mange stays. If that happens, then there a scenario whereby a deal like the one we would need if we were to sign someone like Gallagher may be possible – especially if there are also others leaving on frees (e.g. LeFondre and Adeyemi) and under contract players like Noone, Pilkington, John and, probably, Huws are sold.
Anyway, let's talk about some actual football now as opposed to who might be coming to or going from Cardiff City in the next few weeks.
Last night saw Real Madrid retain the Champions League with a 4-1 win over Juventus which was a lot more conclusive than I expected it to be. Indeed, I had slightly favoured the Italians beforehand and, at half time, I was thinking I was going to be proved right because Real could consider themselves fortunate to be level at 1-1. However, there was only one team in it in the second half and no one could begrudge the Spaniards their win by the end – although I'm still not totally sure whether it was Real's brilliance or Juve's ineptitude that was most responsible for the turnaround in the second forty five minutes.
Either way, it was a far more watchable Final than many I've seen and it had some good goals, some very good goals and one truly great one (Juventus may have lost, but Mario Mandzukic's overhead kick equaliser was a stunner). With the whole thing passing off without problems (sadly, it was London, again, that was the target for the terrorists last night as six - now seven – were killed in the latest atrocity), it was a good evening for Cardiff and it's hopes of staging further top level matches.
The exorbitant ticket prices meant that I was never going to be there myself on the night when the Champions League Final came to my home city, but I was among a much better than expected crowd of 22,433 that watched the women's Final between Paris St. Germain and Lyon at Cardiff City Stadium on Thursday and here's what I had to say about it on the City messageboard I use;-
"I went and quite enjoyed it, even though in the end it tended to confirm a view I've held about women's football for years – there tends to be less goals scored in matches at the real top levels of the game than there are in the men's game.
For about seventy minutes, I thought it was a very watchable game with lots of good, technical play from both sides which suggested they had goals in them and at times it was only the quality of the goalkeeping which kept the scoresheet blank, but there was also some poor finishing and the quality of free kicks and corners wasn't very good.
From about the three quarter mark of the game though, the match deteriorated as PSG in particular started to look tired and, from that point on, it struck me that holding on for a penalty shoot out was the height of their ambitions – the match became very bitty and stop, start and I was not surprised in the slightest that extra time didn't produce a goal.
It was a shame that the shoot out was decided by a horrible miss from the spot by the PSG keeper who I thought had been one of the best players on the pitch during the game, but, overall, with a bigger than expected crowd providing a decent atmosphere (the Mexican wave that got most of them very excited seemed so dated to me though) I quite enjoyed the first women's match I'd watched live and would go again to something like a Wales match played in Cardiff."
Although City's first team have not played for a month, our youngsters carried on throughout May and there were tours abroad for some of the age groups to conclude their seasons.
A couple of weeks ago, there were a couple of under ten years old games against Villareal, with City winning one of them  and drawing the other and then last week there were under nine and under eleven matches against Feyenoord and Ajax.
I'll start with the latter two games first because I have no details for them apart from the results and what a feather in the cap it is for our Academy that we were able to beat the club who are held up by many as the best there is when it comes to developing young footballers at both age groups.
Unfortunately, the under nines had been beaten by their Feyenoord counterparts a couple of days earlier, but there was an excellent 4-1 win for the under elevens. This video shows the goals, but I'd recommend that you watch this recording of the whole match if you have the time – it only lasts fifty minutes and shows that the result was anything but a fluke, our lads were excellent and congratulations go out to all of those involved in these games for some outstanding results.
Moving on to international football, Wales have been competing for the first time in the prestigious Toulon tournament for under twenty age groups in the last few days. I was able to catch the second half of our first game against hosts France and, apart from the last ten minutes when they were heavily reliant on Tranmere keeper Luke Pilling, they impressed me as the better of the two sides in a game which finished 0-0.
City's Cameron Coxe and Rhys Abbruzzese were Wales' full backs, with both impressing – Coxe was the more eye catching going forward, but Abbruzzese did a good job in handling a tricky opponent. Mark Harris played the full ninety minutes as he started by leading the attack and then dropped back to accommodate the introduction of West Brom's Tyler Roberts and did not look out of place at all as Wales caused France plenty of problems with their attacking pace and skill.
Only Harris featured on Friday when Wales faced Bahrain. I only watched the last twenty minutes, but, based on what I saw, his performance matched that of his team – not as good as against France. Indeed, Bahrain looked the more likely side to break the deadlock for the first fifteen minutes I saw as Wales looked sluggish and careless in possession, but, with five minutes left, they showed that attacking pace again as Swansea's Daniel James was brought down for a penalty which he, nervelessly, slotted home.
With the offender, harshly, shown a red card, Bahrain lost their discipline after that and Wales may have added another goal as they saw the game out pretty comfortably. With Ivory Coast following up their 1-0 win over Bahrain in their first match with a 2-1 triumph over France, Wales know that a win over the African side tomorrow would see them qualify as group winners for the Semi Finals – the match kicks off at 4 and our previous two games have been available to watch live on You Tube.
Finally, congratulations to Huddersfield on sealing their promotion to the Premier League with their triumph in the Play Off Final on Monday. I listened to the game and must say it sounded a pretty turgid affair, but the Yorkshiremen were deserving winners based on the way they seemed more eager to take the game to a Reading team that barely threatened them. Rather like the women's game I watched, it became increasingly obvious that no one was going to score and so, just as in the Semi Final win over Sheffield Wednesday, Welsh international keeper Danny Ward was the hero as his save from Jordan Obita in the penalty shoot out was responsible for netting his club an estimated £170 million for winning football's richest game.
So, the make up of next season's Championship is now known. I usually try to avoid drawing too many conclusions about how strong or weak a league is going to be based on a list of the teams which will be competing in it, but I do understand why Neil Warnock says he feels a little less daunted about it compared to the season just ended. As long as the best manager we've had for a while is given the backing to bring in the type of players he wants, I'm more optimistic about a new season than I have been for at least three years.
*picture courtesy of https://twitter.com/cf11academy