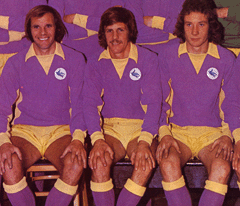 Cardiff City's attempt to go through their warm up programme unbeaten at senior, Under 21 and Academy levels came unstuck at the final hurdle yesterday when the Under 18's dodgy defending finally caught up with them at Newtown. Despite having conceded four goals in each of their three previous matches, the youngsters had been able to boast a record of won two and drawn one before their visit to mid Wales, but, despite taking their goalscoring tally to sixteen by netting twice, they conceded seven of their own!
If the Under 18's had been flying by the seat of their pants somewhat in their pre season matches, the Development team's unbeaten start has been based on them not having conceded a single goal before their midweek visit to Cheltenham. However, a strong looking side which included some who had featured for the seniors in their game against Watford the previous night, soon fell behind to the team who were relegated from the Football League last season and were lucky to go in just one down at the break. Despite a better second half showing, it was looking as if they would not be able to get back on terms when Javi Guerra's header from a corner in the 86th minute rescued a draw for what was far from an Under 21 team.
By contrast, the senior side have been going from strength to strength in their build up games and although of course they are no real indication of what will happen once the serious stuff starts, it is still encouraging to see them extend their winning run to four games during the week to follow up the early draws at Forest Green and Shrewsbury – especially when you consider that the last couple of those victories came against Premier League clubs.
On Tuesday evening City played their only home pre season match against Watford. The Hertfordshire club were promoted as Championship runners up in the summer and have been busy this summer recruiting new talent such as Ettiene Capoue (who turned us down a couple of years ago as we prepared for our very short acquaintance with the top flight) from Spurs and former West Ham midfielder and Swiss international Valon Behrami.
Both of these players were in the starting line up on Tuesday and I make it that three more of the new boys featured as well. The squad the visitors used was probably very close to the one which will see them start their league programme at Everton next weekend, but City were good value for their 2-1 win in a game which saw them play a more enjoyable brand of football than virtually anything they served up at Cardiff City Stadium last season.
It was Joe Mason who made the headlines with his two goals to take his total to four in a productive pre season for the striker who seems sure to be in the starting line up against Fulham next week. His first came with a neat near post flick on nineteen minutes after good work from two of City's most impressive performers on the night, Scott Malone and Joe Ralls, and then ten minutes from the end, he moved on to a fine through ball from Ralls to fire home from fifteen yards – both of his goals were examples of the sort of technique and composure which, for me, puts him on a par or above all of the myriad of strikers we've had in the past three seasons (a period when he has been virtually ignored by City) when it comes to the art of finishing (I stick to this opinion despite what was a pretty shocking miss by Joe's standards three days later at Bournemouth!).
In between times, City conceded a disappointing equaliser to Troy Deeney when a pretty straightforward high ball from the back enabled the striker to get beyond our centrebacks and beat Simon Moore, but, overall we defended well and, although, as we became used to last season, the opposition had plenty of the ball, City had a discipline and shape about them which made it hard for Watford to fashion many chances despite all of their possession.
Someone failing to put a pound in the meter at Bournemouth meant that the promised free coverage of the ninety minutes on City's website on Friday evening at what I still call Dean Court, in fact turned into about a third of that in reality, but, from what I did see, it looked like City had that same organisation and spirit that frustrated Watford. To win 3-2 at the ground of the winners of last season's Championship looks very good on paper, but it needs to be said that, unlike on Tuesday, our opponents were hardly at full strength as Bournemouth also had a game in Germany at Hoffenheim yesterday afternoon and manager Eddie Howe chose to split his squad for the two matches.
Therefore, City only faced a team including five regulars from Bournemouth's title winning team, along with new signing Sylvan Distin, but you only need to recall how they sauntered to a 3-0 win at Cardiff City Stadium in that League Cup game last season with a side nowhere near their first choice one, to see how strong their squad is – it was still a good win for us.
Bournemouth opened and finished the scoring with Tokelo Rantie capitalising on an error by fellow South African Kagisho Dikgacoi to net on twenty seven minutes, only for Joe Ralls, with a left footed pile driver from twenty yards,  and Alex Revell as he capitalised on the home side's failure to deal with Sean Morrison's header, to put us in front in the five minutes before the interval. Scott Malone's excellent pass then put Revell clear to make it 3-1 midway through the second period, with Marc Pugh reduceding the deficit almost immediately, but City held on for a win which enabled them to record their best set of pre season results in ages.
So, City head in to the regular season amid talk of a new unity in the squad and with a set of good results in matches at the end of the last campaign and in pre season games for 15/16 behind them – it's a bit ironic therefore that we may now finally be on the brink of seeing the sort of major squad changes which have been speculated upon all summer.
This will be the last of the weekly updates I have put on here throughout this summer. They are something I've done every year during the close season and it's inevitable that much of the time I speculate on supposed transfer deals or report on ones which have come to fruition. Usually, there is no problem finding something to write about, but I must say that this time around I have had a lot of sympathy with the local press as they've searched for something (anything!) to write about Cardiff City over the past few months – there has been so little to report in terms of player arrivals or departures.
I think I've mentioned before on here recently that, as the weeks without significant new arrivals have turned into months, my feeling has grown that Russell Slade has been told that any spending on the squad he does will have to be paid for by players leaving. So far, around £1.5 million has been raised through the sale of Kevin Theophile-Catharine to Saint Etienne and there have been the odd savings in wages here and there from players being released or loaned out, but it doesn't half look to me as if we are back in the sort of situation we saw under Peter Ridsdale where we relied heavily on the sale of one or two players for seven figure sums every summer to raise the money for any recruiting.
Up until this week, there had been nothing to suggest we would get a major sum from the sale of any one of our players. To me, this reflects two things – first, that, despite all of our spending of the last three summers, we don't have many who are good enough to attract such fees and second, our desperation to sell means that any clubs interested in what players we do have worth signing are likely to play a waiting game as they look for a better deal for themselves as the closure of the transfer window gets closer without us having made the required sales.
Now though, West Brom's enquiry about the availability of David Marshall opens up the possibility that we will receive the sort of fee that will give our manager some funds to do a little more wheeling and dealing. Certainly, the way it's being reported strongly suggests that the best City goalkeeper I've seen is on his way out of the club with the fee involved being between the £4.5 million reported by the Daily Mail (invariably the most on the money paper when it comes to City transfer dealings in recent years) and the £6 million the Echo are telling us that Chairman Mehmet Dalman is insisting upon from the Midlands club.
Russell Slade has also said that he expects Adam LeFondre to get his sought after move back to the north of England in the next week. Apparently, there are two clubs in for him, with Blackburn Rovers being the new favourites to land the striker – with the Ewood Park side currently under a transfer embargo though, you have to wonder if there will be any fee involved if and when LeFondre leaves or whether he will become the latest of our players to have his contract cancelled by us so he can become a free agent.
That seems to me to be the most likely way that Javi Guerra will finally end his unhappy spell in Cardiff – our manager was not as bullish about the Spaniard leaving in the near future as he was about LeFondre, but he certainly didn't rule it out either and I would think it's almost certain that Guerra won't be a City player come September. Russell Slade was not as forthcoming about the persistent rumours linking Kenwyne Jones to a season long loan deal with Sheffield Wednesday, but the striker, who finally reunited with the club last week after starring for Trinidad and Tobago in the CONACAF tournament that took place in the first few weeks of July, has not played any part in our pre season programme and was withdrawn from the squad for the Bournemouth match after it being widely reported that he would play some part.
Even if City were not to get a fee in the event of any of those three forwards I've mentioned departing, either permanently or temporarily, there would be sure to be a considerable saving in wages for the club even if they had to pay something as part of any deal arrived at to cancel contracts. So, again, you'd like to think that at least some of that money would be made available to Russell Slade – there are rumours around that City already have a goalkeeper lined up in the event of Marshall leaving and, seemingly, terms have been agreed with a central midfield player with the hope being that he will be available for Fulham (more proof than someone has to go out of the squad before someone can come in perhaps?), while we are also supposed to be chasing another striker.
There has been an arrival on the coaching front with former Birmingham, Derby, Sheffield Wednesday and Notts County defender Michael Johnson being brought in to assist Kevin Nicholson with the Under 21 team. The Jamaican international has managed Notts County at first team and youth level in the past and is, seemingly, highly regarded within the game – let's hope he can help in getting a few of our better young professionals to make the step up into the first team.
Finally, Danny Malloy's son Andy has been in touch in response to the tribute piece on his father which appeared on here earlier in the year – Andy's message, along with my reply to him, can be viewed in the "Feedback" section on the right hand side of this page.
* picture courtesy of http://www.walesonline.co.uk/