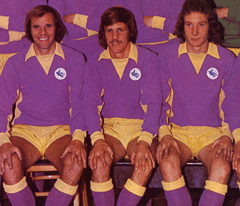 Be honest, had you heard of Amkar Perm before they were announced as our final opponents on our pre season visit to Austria? I certainly hadn't and was surprised to learn that they had finished tenth in the last Russian Premier League and had played Fulham in the Europa Cup back in 09/10.
I'd say the Russian Premier League is definitely one of the ten strongest in Europe and so a side that finishes halfway up it are certainly no mugs, but with us having been competing in the oft claimed "best league in the world" (albeit at the bottom of it) only a few months ago, the game had an even look to it before kick off. True, some of the bigger names in City's 13/14 squad were not on the trip as they looked to complete transfers from the club, but, although Ole's decision to use Maynard alongside Macheda up front raised a few eyebrows, the City team, with Marshall making his first appearance and Hudson alongside Turner at centreback, looked pretty similar to the anticipated line up for the Championship opener at Blackburn in just under a fortnight.
Therefore, it has to be a source of concern that we could have no complaints about the 3-0 defeat we suffered to a side which looked much closer to the standards of fitness and commitment needed for league action than City did. Yes, I know pre season games don't count for anything and it's all about how a team performs when the serious stuff starts, but, even so, having seen two of our games now, we've looked very much like a work in progress outfit.
Against Amkar, there was the same lightweight look to the side that saw them cave in too often when they went behind in matches last season. 1-0 (thanks to possession being surrendered carelessly by Whittingham) soon became 2-0, and, by half time, it was 3-0 with fingers being pointed at the defence for the latter two goals for, firstly, allowing crosses to come in and, secondly, for our centrebacks not getting their heads to the sort of ball you would have thought British defenders would relish.
Fair play to City, they came back to shade the second half, but for a team that we are told is going to be banging in the goals left, right and centre, with their newly assembled strikeforce, it it was somewhat alarming to see how few chances we had to score – I can remember sub LeFondre blazing a decent one over the bar, but, apart from that, we huffed and puffed without suggesting an end product.
So, it's just today's game at Yeovil and next Saturday's match with VFL Wolfsburg (for which it appears the only part of the ground to be used will be Tan's Folly) left in our pre season programme. Most bookies still have us as favourites to win the Championship this season, but I'm not really sure why – we have one of the stronger squads in the division in theory, but it still looks unbalanced to me and, at the moment, heads seem to drop too quickly when things go against us.
It should be remembered that a couple of players who might give our midfield more physical presence played no part in the three Austrian matches. Aron Gunnarsson missed out through injury and Kagisho Dikgacoi finally made his first Cardiff appearance in the Development team's 2-0 win at Haverfordwest last Tuesday, so maybe the line up against Amkar Perm wasn't as close to the one we'll see at Blackburn after all?
Just a further quick word about the Development side – they will be playing Chasetown at Cardiff City Stadium on Tuesday night.
On the transfer front, two prominent members of last year's team left for Premiership sides last week. Steve Caulker chose to sign for QPR (the lure of playing alongside Rio Ferdinand being a factor in  his decision seemingly) and Fraizer Campbell eventually opted for Crystal Palace – best wishes to both players at their new clubs and a thank you in particular to Fraizer for his parting shot that he hoped to play against a Cardiff side playing in blue in the Premier League soon.
So, that's around £9 million  coming into the club's coffers and, credit to them, they reiterated their determination not to make a loss on Gary Medel when Mehmet Dalman, in essence, told Inter Milan to stop messing about in their pursuit of the Chilean international.  There has been a steady drip, drip of stories coming from Italy about how close a deal is, but with Galatasaray and an unnamed German club, reportedly, willing to pay Cardiff's asking price, it seems to me that all Milan have going for them in their pursuit of Medel is that the player, apparently, has set his heart on signing for them.
I reckon City will probably have to accept a loss on Medel, but, having taken the stand they did yesterday, Inter will, surely, need to up their bid quite significantly before they get their man.
On the incoming transfer side, there's only one story really and it appears that Ole is putting all of his eggs in the one basket when it comes to looking for the centreback which, seemingly, would complete his team building for the new season. Having featured prominently in Southampton's successful 13/14 Premier League campaign, Jose Fonte would be a very good signing for City and, having had two bids for the defender rejected by the Saints, the rumour is that we have gone in with a third bid of £5 million for the player.
Now, as I say, any move which sees a Championship club sign a player who was a regular selection in the Premier League only  a few months earlier has to have a lot going for it. However, on the other side of the coin, Fonte will be 31 in December and he's in the last year of his contract at his current club, so I hope that, if the reported amount of our third bid is correct, we look elsewhere if we get another no from Southampton – good player though Fonte is, I would say we are already at the upper end of what represents value for money for someone of his age and contract situation.
* picture courtesy of http://www.walesonline.co.uk/ and Steve Garland/Cardiff City