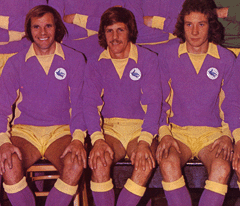 The past week has been pretty quiet on the transfer rumours front with the only meaningful links being with a couple of teenage strikers who, if they do sign for Cardiff will do so very much as "ones for the future" as opposed to players who will be expected to come in and make an impact at Premier League level. Gary Lavery, a sixteen year old with Northern Irish club Glenavon was initially thought to have signed a two year Academy contract when his name first appeared in connection with us, but the move has not been confirmed yet because, apparently, there is still some more paperwork to be done. All of the indications are though that this is a minor hold up and Gary will be joining up with his new colleagues soon – welcome Gary and I hope your stay at Cardiff will be a long and successful one.
There have also been stories in the media claiming that we have made a bid of £80,000 for Plymouth striker Tyler Harvey – the seventeen year old scored against Torquay on Boxing Day in his first start for Argyle and made ten appearances in all during 2012/13. This story outlines Plymouth's determination to keep Harvey and "sources close to Argyle" deny that a bid had been made. City's interest in Harvey is confirmed to the extent that Head of Recruitment Iain Moody has "taken a close interest in the progress of Harvey", but other media reports indicate that any bid would have to be more than double the £80,000 quoted for Plymouth to consider doing business – a figure of £200,000 has been mentioned.
Apart from that, it's the colour of our shorts that's being making headlines. I outlined my feelings about our proposed kit for 2013/14 in my last entry on here earlier this week, but things have moved on since then with the club agreeing to a ballot whereby "some" (around 12,000) season tickets were given the opportunity to decide what colour shorts we should wear for our first season in the Premier League. There were four options to choose from (all of these had us wearing red shirts and socks of course) and it was black that won the day – so we'll be wearing the same colours as last year (with the minor variations which allow every club to get upwards of £40 each from a large proportion of their support every year) and the whole episode has left this City fan wondering what the point of it all was.
Now, as mentioned in my last piece, there is a theory that the whole controversy was engineered by the club  to get people believing that they do actually listen and will allow the supporters to decide on issues relating to their team  (the words "when it suits them" should be inserted between the words "that" and "they" to get the true meaning of that statement!) . Certainly, when you consider that the new kit was announced on Wednesday and within less than twenty four hours, a ballot was being announced because of the savage reception the two tone red outfit got, it does make you wonder whether they expected the hostile reaction it received. I still edge towards cock up in any cock up v conspiracy argument, but, surely, the point is that, if it was a conspiracy, it was an ill conceived one.
I've said it before and, no doubt, I'll say it again some time in the future, but every time the club opens it's mouth on a kit related matter, I become more anti red. Now, I'm just one fan and I don't suppose anyone at Cardiff City Stadium is getting too worked up about what I feel as an individual, but, increasingly, it seems that I'm not alone in thinking like I do. If I had to name one event when my attitude towards the re-branding changed it would be the free red scarves night and over the past three months I've heard and read quite a few similar such comments – the early signs are that if this weeks events were another attempt to damage any return to blue feeling, they've had the opposite effect.
For example, this on line petition was started on 29 May (the day our two tone kit was announced) and, less than four days later, it has 3,416 signatures (as at 10.10 this morning). Now, if that figure could get to five thousand, then I'd say it would be entering territory where it would be seen a significant one. If you've not signed it yet, I would urge you to do so – you might not be particularly anti-red, but, if you would prefer us to play in blue, then I'd say you should be signing it.