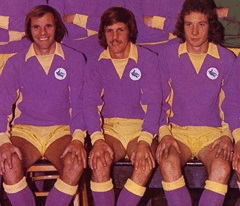 In terms of results at least, the club's pre season tour of Devon and Cornwall can be counted as a success at first team level, but the Under 23 Development team found it tougher going.
Starting with the seniors, they followed up the 1-0 win at Taff's Well last week, with a trio of victories. The first came at Tavistock on Monday, where Nathanel Mendez-Laing, Kenneth Zohore and Idriss Saadi (more on him later) all bagged a brace of goals in a first half which ended with us 6-1 ahead. A raft of changes and an alteration in formation followed and City were in danger of "losing" the second half until Joe Ralls' late goal put the icing on a 7-2 victory.
It was tougher for a much changed starting line up at Bodmin a couple of days later as Lee Tomlin made his first start for us, but it was another newcomer, Loic Damour, who made the biggest impact as he netted with a ferocious effort from twenty five yards to put us ahead. A dodgy penalty (to follow a similar spot kick award against us at Tavistock) enabled the home side to go in level at the break, but, after more mass changes at half time, City were able to give themselves a bit of breathing space early in the second period through a second from Damour and a close in header from Zohore who had taken over the main striking role from Danny Ward. The former Rotherham man had switched to the left to accommodate Zohore and, while Ward has had a frustrating time of it in front of goal so far and was the main sufferer at the hands of an inspired home keeper at Bodmin,  he showed up well with assists from the left wing for both of the second half goals.
The game finished 3-1 and set up the senior side nicely for their tour finale at Home Park against Plymouth. This was an altogether tighter affair as City, fielding a 4-3-3 formation with Gunnarsson, Ralls and Damour in a narrow looking midfield with the impressive Mendez-Laing and Ward on the flanks, found it hard to get men forward to support Zohore in a goalless first half.
The introduction of Matt Kennedy and, in particular, Tomlin at half time gave us more of an attacking edge and it didn't take long after the break for us to get the game's only goal as Zohore's clever run after he'd been fouled and Tomlin's vision to quickly thread the ball through to the striker from the free kick put him through on goal in a position which became increasingly familiar over the second half of last season. The result was usually a goal for us in 16/17, and it was here as well as Zohore confidently rolled the ball home.
Argyle, promoted from League Two last season, put us under pressure after that, but couldn't break down a solid rearguard in which Sean Morrison, who signed a three year contract extension in the week to, hopefully, put an end to the uncertainty caused by Sheffield Wednesday's bid for him a few weeks ago, shone against the home town club he had started his career with.
Jazz Richards' forty five minutes as a second half sub meant that all of our first team squad have got some game time now except Callum Patterson, who continues his comeback from the cruciate ligament injury he suffered late last year, and Lee Camp, but there are hopes that the latter will be able to feature in one of or both of this week's matches at Shrewsbury on Tuesday and then at home to Livingston on Friday.
As mentioned earlier, things did not go as well for the youngsters who accompanied their seniors to the west country. On Thursday, they drew 2-2 at St. Austell as they, disappointingly, conceded twice from headers from free kicks to lose leads given to them by Mark Harris and Declan John. Yesterday afternoon saw us go a couple of early goals down against Bideford – Ibrahim Meite reduced the deficit late on from the penalty spot, but it wasn't enough to prevent defeat in a match where Jamie Veale's saved penalty in the first period proved crucial.
The City teams for these two matches included a raft of trialists which included the Livingston pair (Matthew Knox and Danny Mullen) I mentioned on here a couple of weeks ago – they will stay with us next week until we face their parent club in five days time. Also recorded as a trialist by the media was Tyrone Duffus, whose presence in the pen pictures for the Development team on the club's website suggests he has already signed a contract for us.
Duffus is an attacking midfield player who was released by Everton this summer having signed for them from home town club Cheltenham in 2012 – he never made a first team appearance for the Goodison Park side, but now has the chance to make an impact closer to home so to speak.
Spending so much time discussing football matches is always a good sign in these reviews as far as I'm concerned because it signals that the "proper" stuff isn't too far away. However, there is still the odd off field story floating around which merits some sort of comment and so, here's a few words about the claim made in the national media a few days ago that Vincent Tan is prepared to sell the club for £30 million.
I must admit to being sceptical when I saw that figure because it seems to be low to me and senior figures from the club moved quickly to deny the story.
However, this story from the local media paints a slightly different picture in that it tells us that the document, which was at the heart of the original story, is only dated last month and those quotes in the Wales Online story from the opening lines are pretty unequivocal. My guess is that what we have here is a confirmation of what I think most City fans have known for some time. Vincent Tan is willing to sell the club for the right figure, but that has been true from the day he first became linked with the club eight years ago – I don't believe the release of this thirty two page document signals a new thinking on our owner's part, more it's a reaffirmation of something that was true from day one.
Anyway, that's an end to this off field stuff this week and I'll finish with a subject I'm much happier talking about – current and/or former City players.
Firstly, there's someone who now falls into the former City players category as the aforementioned Idriss Saadi moved to newly promoted Ligue 1 club Strasbourg this week on a long term contract.
I still believe that the main reason Saadi is no longer at the club is that he found it hard to settle in this country after moving here nearly two years ago and I note with interest reports that his wife remained in France when Saadi was signed.
People got very excited about a twenty five minute cameo off the bench by Saadi in a win against Reading back in November 2015 and I assume that this is why there were those who were critical of the club for selling him this week. Certainly, a couple of goals in his final appearance for the club to go with his impressive loan spell at Kortrijk last season adds strings to their bow so to speak, but as someone who watched Saadi and Kenneth Zohore playing in the same Development team on a couple of occasions late in 15/16, I rated Ken (then perceived as something of a raw failure for not fulfilling the potential of his teenage years) the more likely first team player at the time – notwithstanding the fact that Saadi scored a good goal in one of the matches.
One thing that was interesting was that Neil Warnock said we had got a good price for Saadi (who won his first full cap for Algeria last month) and I agree to the extent that we must, surely, have got more for him than we originally paid to bring him here. However, I'm far from convinced by claims that the fee we got for Saadi runs into seven figures, even if his transfer value has risen in the last twelve months – I'd love to be proved wrong because it would reflect well on the club if it were true, but I don't believe that the fee we got from the striker covers the whole of what we might end up paying for Danny Ward, as has been claimed on the messageboards in the last day or two.
Finally, kudos to those on the club's website responsible for it being so up to date on the players who will be turning out for City at Academy level over the next nine months or so. I've already mentioned ex Evertonian Tyrone Duffus, but looking at those at a younger age level than him, it seems that City may have benefited from there being someone at that club who had tipped us off about players they were releasing, because of the three new Under 18 players appearing on the website, two of them were with the Goodison Park club last season.
First, there's Welsh youth international utility player Ryan Reynolds who is versatile enough to play in a number of positions, but, given our lack of young strikers below first team level at the more senior of the various age groups, I'm pleased to see striker Henry Smith arrive – thinking about it, I believe both of them may have featured in the Under 16 team victory over Wolves in a game played at Cardiff City Stadium very late last season.
City have also signed Jordan Duffy, a goalkeeper who was with Plymouth Argyle and he featured from the bench in yesterday's Development team match.
*picture courtesy of
http://www.walesonline.co.uk/