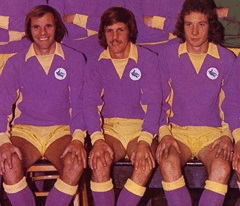 Aleksander Kolorov has been at Manchester City for seven years this summer. He's played getting on for two hundred matches for the club and, although he has been used as a centreback at times this season, most of his appearances have been as a left back.
Like many modern day full backs, it could be argued that Kolarov is better going forward than he is at defending, but you don't get to play so many matches for what has, arguably, been the country's top team during his time at Man City if you are a complete liability as a defender.
It would be interesting to see who Kolarov rated as the players who have given him most problems over the past seven years – is there a chance I wonder if a Cardiff City player would feature on a list of his most difficult opponents?
Craig Noone was injured at the start of our Premier League season (13/14) and so didn't feature in the never to be forgotten first home match back in the top flight when we beat a Man City team which had the Serbian as an unused substitute 3-2.
So, when the teams met for a second time on 18 January 2014, I suppose it's possible that Kolarov had barely heard of Noone, let alone seen him play. Certainly, the left back's unfamiliarity with his direct opponent that afternoon may have been a reason for the uncomfortable time of it he had against a player who was able to consistently get the better of him.
I remember I rated Noone's display that afternoon as one of the best I'd seen from a City winger and said so on here at the time. This opinion was disagreed with by some, but I maintain that, given Noone turned it on against the team that would win the title that year, he had a right to be mentioned in the same breath as the likes of Farrell against Middlesbrough, Villars against Palace and Anderson against quite a few opponents in 75/76.
Man City's attacking play was so potent that season that their first goal that afternoon was their hundredth in all competitions for the season, but, by losing 4-2, City could take some consolation from the fact that they didn't leave Manchester on the end of a real drubbing like so many sides did that season.
The main reason why we were able to give the Champions elect a decent game was that Noone had what has to have been his best game in a City shirt that day. He scored a lovely goal and, although this was yet another defeat we suffered that season with him in the team (given that he was absent for our decent start to that campaign, our results were absolutely appalling in the Premier League matches in which he featured), I'd still say that, overall, Noone was one of a very small group of our players who acquitted themselves pretty well at the top level.
Certainly, given his fine form throughout the Championship winning season, there were grounds for thinking that Noone would be one of our strongest performers back in the second tier and one of the foundations that any attempt to return to the Premier League would be built on – especially as, at twenty six, going on twenty seven, he was entering the period when it's generally reckoned that pro footballers are at their best.
Instead, the last three seasons have seen Noone in decline until it got to the stage where this week's announcement that he has been made available for transfer came as no shock whatsoever.
I remember reading an article at the time of Neil Warnock's appointment which picked out Noone as a player who would prosper under our new manager. Given that Warnock has spoken of his liking for wingers in the last few months and was, indeed, one himself in his playing days, I wouldn't be too critical of the writer of that piece for being proved wrong and it's true to say that the first goal of the Warnock era came from a penalty awarded for a foul on the scouser by Bristol City's Joe Brian.
Unfortunately, as another winger in Kadeem Harris, who was at the club before Warnock came here, has shot past Noone in the pecking order, the man who, famously, tiled Steven Gerrard's roof, has resolutely failed to fall under the spell of "the Warnock effect".
Actually, that's not strictly true. For a few weeks in February, Noone looked to be coming back to his best and it was no coincidence that his two goals for the season came within four days of each other in the high scoring wins over Derby and Rotherham, with the first of them being an absolute beauty. However, Noone was unable to maintain that form and Harris and Junior Hoilett soon resumed their places as first choice wide men in Warnock's team.
So, why did Noone not kick on and build on those two good seasons he had when he first came here? Well, I wouldn't put his demise down to a poor attitude on his behalf, because he remained willing to put a shift in for the team throughout the years since we were relegated. No, as a winger who relied on trickery to beat his opponent, rather than searing pace, I feel it was more down to a decline in confidence.
There will be those who will say that left footed wingers should play on the left and right footed ones on the right and, broadly speaking, I agree with that view. However, the left footed Noone was playing on the right that afternoon when he tormented Man City and, certainly, while the shots as he cut in to hit the ball with his left peg were hitting the net or forcing saves from the keeper, there was merit in the idea of playing him on the "wrong" side, but that fine goal against Derby became something of an oasis in a desert of shots that flew high, wide and not so handsome I'm afraid.
Presumably, Noone has just the one year left on his contract, hence the wish to get rid of him while we can still get a fee, but how big a fee it will be remains a matter of debate. There was a time when reports that a former club of Noone's was interested in signing him would set you thinking that newly promoted Brighton might be looking to integrate him into their Premier League squad, but, now, the only club I've seen him linked with so far is Plymouth who are also celebrating a promotion at this time, but only to League One.
Noone is too good for that level in my book and it wouldn't surprise me if, with a change of surroundings and a new playing challenge, he turned into a good, pretty cheap, signing for a mid to lower ranking Championship club who may well come back to haunt us at some time during 17/18 – I definitely believe the decision to make him available for transfer was the right one for all parties involved though.
That apart, it's been a very quiet week on all fronts at the club, with the only other transfer speculation/rumour I've heard being an unlikely sounding move for Preston left back Greg Cunningham (surely we have enough cover for that position already?) which brought the response that they weren't looking to sell any of their players from the Lancashire club. Perhaps I'll be proved wrong, but, on a scale where one is very unlikely and ten an absolute certainty in the transfer rumour stakes, I'd give this one a two.