No news at all in terms of players coming in I'm afraid (in fact I'm not even aware of any speculation linking us with anyone), but that's perfectly understandable given that we have still to appoint a new manager to replace Dave Jones. Whoever gets the job though is going to have a huge rebuilding task on their hands because, besides those who appeared on our not retained list, we sold Michael Chopra to Ipswich on Friday for a reported fee of £1,500,000 (all of which it seems will go to Sunderland because we still owe them from when we signed him two years ago!).
Our playing resources look very thin at the moment and it's easy to be downbeat about our chances for next season, but those supporters, like myself, who argued after the Reading defeat that we needed a root and branch dismantling of the squad, as well as a change of manager, can hardly start moaning now when we seem to be getting exactly what we asked for. Even if Chopra's departure doesn't see any of his transfer fee going to the new manager for players, the difference it will make in our wagebill will give him more room to manoeuvre.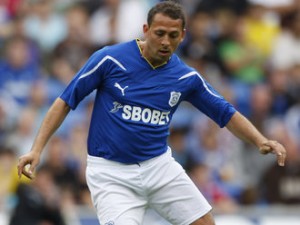 As for the player himself, it seems pretty clear that he has off field issues which did not help his performance levels at Cardiff last season one iota. Allowance should be given for this when assessing Chopra's time with us, but I have to say that for someone who spoke back in April of how he was grateful he was to Dave Jones  for the way he had been willing to grant him time off on different occasions in recent months, Chopra did next to nothing in those closing games of the season to repay our former manager. I wouldn't be too surprised if Chopra starts banging in the goals at Ipswich and it might turn out that they have got themselves an absolute bargain, but, while I'll always wish any departing player all the best at a new club, I'd be lying if I said I was really disappointed at him going. Although there still hasn't been any official confirmation yet as to who was involved (and I wonder if there ever will be), all of the players most strongly suspected to be amongst those who were out drinking before the Middlesbrough match are no longer at the club and, if , as I suspect, that is more than just coincidence, then good on those who came to the decision to get rid of them.
Just a few words as well for Chris Burke who signed for newly relegated Birmingham on a two year contract this week. Although, there was talk of him wanting to go back to Scotland, it's no surprise to see him pitching up at St Andrews. His former manager at Rangers, Alec McLeish has been a long term admirer of Burke and, although I doubt if the transfer would have happened if Birmingham were still in the Premiership, Chris seems to have landed on his feet at a club that are bound to be amongst the favourites for promotion – best of luck to someone who may not have been at his best in 2010/11, but always tried his hardest and appeared to be a decent bloke into the bargain.
Going back to the manager situation, what speculation that is around this morning seems to point to Watford boss Malky Mackay being the man most likely to get the job at the moment despite the fact that we would have to pay his club compensation if he came here. This story which appears in the People, suggests a decision is imminent and Mackay is favourite to be our new manager (for what it's worth, it's also been reported in the local press that Mackay has moved in front over the weekend in the betting for the job).
You'll not get any prediction from me as to who will be named as Cardiff City's new manager, but I do get the suspicion that the chances of it being Chris Hughton or Roberto DiMatteo, the two names most consistently linked with the job, are diminishing by the day because it's hard to see why they would not be in place now if we really wanted them. So, what of the other contenders – if we rule out people such as Mark Hughes and Martin O'Neill who are, seemingly, out of our financial reach?
Well, starting with Mackay, based on what he had done at Watford, stories which surfaced last week linking him with Wigan Athletic if Roberto Martinez had decided to take the vacant Aston Villa job, had some credibility to them. Watford have been favourites for the drop in the past two seasons, but survived pretty comfortably both times and last season, with them scoring goals galore, there were times when they looked like genuine promotion candidates – he's done a great job with a tight budget and a small squad. Derek McInnes of St. Johnstone is not too well known down south, but is highly regarded in Scotland and Bolton's Owen Coyle talks of him being a Premiership manager in waiting – McInnes turned down the chance to become Brentford manager in early May after many St. Johnstone fans had been saying that they thought he was destined for a bigger club than them.
Huddersfield boss Lee Clark gets a mention in that People story as well and it has to be said that, in most other seasons, he would have been a manager of a Championship team already. Huddersfield's superb unbeaten run of twenty eight matches which ended with their defeat to Peterborough in the Play Off Final would have got them up if it wasn't for Southampton's fine form. Mark Robins is different from the other three in that he is not working currently having left Barnsley at the end of the season. Robins' can hardly be called a big name, but he did a superb job at Rotherham considering the mess they were in when he took over and, although the progress he made at Barnsley was fairly modest, it was progress nonetheless and he left them in a position where they could now be considered to be an established Championship club.
There could still of course be someone who isn't being mentioned in the current speculation who makes a late run to get the job, but I would guess it's going to come down to one out of the six (including Hughton and DiMatteo) I have talked about – my own, slight, preference would be for Mackay with McInnes as second choice, but I wouldn't be overly disappointed with any of them.