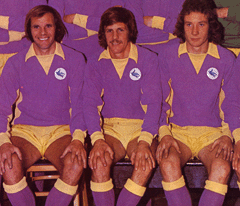 City were portrayed as the underdogs in the battle with Wolves to secure Newcastle's Sammy Ameobi on loan, but when it came to decision time last week, the winger chose us and so, we finally have a second new player for 15/16.
Mind you, if this story is to be believed, it almost didn't happen. Based on what occurred last season, Wolves seemed, on the face of it, to be the more attractive option for the player, but something happened to change his mind and the most realistic explanation for me is that some sort of promise was given by City that Ameobi  would be starting in the side every week – maybe I'm wrong, but, like any Premier League team loaning a player out to a club from a lower league, Newcastle would want him to be playing regular first team football and maybe City went further towards giving them such an assurance than Wolves did?
It would appear therefore that City were desperate to get their man, but I have to wonder if that desperation sprang from a belief that Ameobi was a terrific talent who could help transform what was a pretty featureless outfit lacking pace, style and flair last season into a team with more of the sort of class needed to achieve such a transition or if it came from almost a sense of panic arising from the fact that we were just not attracting the men who Russell Slade had on what has been called his A list?
More often than not, the answer to the sort of question I've asked there tends to fall somewhere in the middle of the two extremes set out and I suspect it may be the case here. Again, you tend to get extremes when looking at the player himself – on the one hand, you could argue that anyone who plays as much Premier League football as Ameobi did last season has to be good enough to make a significant impact at the level below that, but, then again, he was featuring in a team which was in free fall down the league from about January onwards and he's hardly receiving glowing recommendations from the fans and pundits in the North East who have given their opinions on the player since our interest in him came to light about two or three weeks ago.
Now, from a distance of 300 miles plus, it seems to me that Ameobi is being judged on the fact that he was a pretty regular selection in a team that was producing awful performances and results week in and week out after Alan Pardew left for Crystal Palace. However, as a young local lad having his first prolonged spell in the team, shouldn't the old hands in the Newcastle team (surely, the real culprits when it comes to the lack of character and confidence shown by the side) be more deserving of criticism than him?
Ameobi has played Championship football before – in fact, he was a match winner in his first appearance in a loan spell at Middlesbrough in 2013 when his fine performance and quality goal were major reasons for our 2-1 defeat at the Riverside in March of that year. Six defeats in the eight games which followed that though meant that Ameobi was unable to arrest Boro's decline from title chasers in the first half of our Championship winning campaign to also rans in the second and he had been dropped to the bench by the time he returned to his parent club.
So, there's plenty of contradictory evidence about concerning Ameobi and how he will perform at Cardiff. In fact, there's so much of it that my attitude is that I have a completely open mind on him and have very few preconceptions as to what he will or won't do while he is here. Others have mentioned Wilfried Zaha and Ravel Morrison as precedents as they argue that we've had other "hugely gifted" loan players from Premier League clubs who have done little or nothing for us, but, surely, as long as Ameobi, who, almost certainly, comes third to those two when it comes to natural ability, has a better attitude than they did while they were here, he'll make more of an impact than either of them.
Moving on, Derby's signing of the talented, but, on the basis of what's happened in the last two seasons at least, very over rated Tom Ince for around £5 million has, reportedly, seen City's interest in Johnny Russell reignited. I mentioned when this rumour first surfaced that I would like to see us sign Russell, but, with Ameobi now here to add to the likes of Pilkington, Noone, Kennedy and Harris, we seem to have a surfeit of wingers already, while the central midfield which I believe most fans would identify as our biggest problem area last season, remains unchanged.
I say unchanged, but the emergence of the Kagisho Dikgacoi who was an effective midfield presence in the Championship for all of those years at Crystal Palace would be like a new signing I suppose.
It could be argued that the fact that the player has spent the summer on an individual fitness regime designed to make him ready for first team football come August gives a pretty big clue as to the reasons behind the non event that was Dikgacoi's 2014/15 season, but it probably also hints at how Russell Slade would defend himself against charges of it being the same old, same old at Cardiff if we are unable to bring in more new players.
City have spent the week away in Leicestershire on what sounds like a glorified team bonding exercise. I tried to avoid such things like the plague during my previous existence as an employee of her Majesty's Government because I have a natural aversion to transatlantic corporatespeak and the sort of role playing nonsense such gatherings deal heavily in, but I'd say the fact that Russell Slade thought such a course of action was required is significant.
Also, given the number of times the manager made reference to the fitness levels of the squad he inherited during the course of the season, you would have thought that there would be a big emphasis on fitness training at the moment – certainly, there have been media stories since the players returned from their holidays emphasising how much work is being done in that regard.
Therefore, I daresay our manager will claim that, even if the players end up mainly being the ones who made last season such a miserable experience, they will be different in terms of attitude and fitness, thereby bringing about an improvement in performance levels – it's a case of the proof of the pudding being in the eating I suppose.
Finally, City pay their usual visit to Forest Green on Wednesday to play their first friendly and it's been confirmed that there will be a couple of games played when City visit the Netherlands for a week in ten days time, with Israeli side Hapoel Ironi Kiryat Shmona at the ground of SDC Putten (it's about an hour's drive from Amsterdam) on 21 July and Sparta Rotterdam in a behind closed doors match three days later providing the opposition.