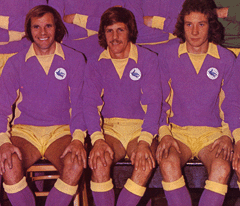 I think it is fair to say that City have coped fairly comfortably with life in the Championship since they were promoted in 2002/03. Although I don't want to tempt fate with the possibility of ten point deductions still a factor, it is only in 2004/05 that our place in the second tier has been threatened, but, for an established Championship side, our home record against promoted teams is a very poor one. In twenty one matches against the teams who went up during our seven completed seasons at this level, we have won just five times and, with no wins in our home games against the current top three this time around, there's little sign of things improving anytime soon.
It's strange therefore that the team of 1981/82, which I would rate as the worst City side I had seen in nearly twenty years of watching the club at that time, were able to beat two of the three promoted sides that season as they fought an ultimately unsuccessful battle against the drop – although I am sure Watford fans there to watch the game probably wondered quite how we managed to beat their side on 3 April 1982.
The rise of Watford, under the Chairmanship of Elton John and the management of Graham Taylor, from the old Fourth Division to runners up in the top flight and FA Cup finalists was one of the great footballing success stories of the late seventies and early eighties. Although the quality of player at the club obviously got better as Watford went up the leagues, the methods used didn't change to any great degree as the midfield was largely bypassed with the ball frequently played to a tall target man like Ross Jenkins as a support striker and a couple of wingers fed off him. In many ways, the system Watford used was more 4-2-4 than 4-4-2 because the wide players they used were very much wingers as opposed to wide midfield players. Although Jenkins and the support striker Luther Blissett (who went on to earn fourteen caps for England) were amongst the few players who stayed in the team from Fourth Division to First,  the improved quality available to Watford that day could be gauged by the fact that their side included former Arsenal captain Pat Rice, Northern Ireland striker Gerry Armstrong, who was to star for his country in that summer's World Cup, and John Barnes who, within a year or two would be scoring a memorable goal for England in a win over Brazil at the Maracana Stadium.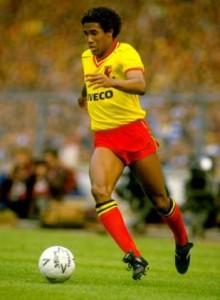 Just as with Wimbledon a few years later, football purists despised Watford's "route one" football, but it was a bugger to defend against! City had done very well to come away from Vicarage Road with a 0-0 draw earlier in the season in a game featured nationally on Match of the Day so they knew that they had it in them to withstand the coming aerial bombardment – that point had been earned during the honeymoon period of the strange Graham Williams/Richie Morgan partnership which had seen the latter, effectively, moved upstairs after doing a perfectly decent job as manager for nearly three years.
City had got as high as ninth following an early December win over Derby, but the wheels had well and truly come off after that and Messrs Williams and Morgan were both out of jobs by early March as former Newport County manager Len Ashurst  arrived in their place. Ashurst inherited a squad that was heading towards the Third Division – there was little or no money available to him, but that did not stop him bringing in a weird selection of players, who had wildly varying degrees of success in their time at Cardiff, before the transfer window closed in late March.
The departure of keeper Peter Grotier to Grimsby and winger Paul Giles to Exeter freed up some money for the manager who brought in right back/midfield player Mick Henderson from Watford on a contract until the end of the season. I must admit that my feelings about this player were formed when he, along with City's regular left back for that season, the late Tim Gilbert, were part of a woeful Sunderland back four that Paul Went and Ray Bishop took to the cleaners in a 5-2 City win in January 1978. Since then though Henderson had done a good job at Watford, sometimes in a central midfield role, before the better quality coming through that I mentioned earlier saw him lose his place in the side. Also arriving were midfielder Andy Polycarpou who had been freed by the likes of Millwall, Southend and Cambridge United in his time and former Norwich winger Phil Lythgoe who arrived from non league football but,  bizzarely, was only able to play in Welsh Cup matches!
Although Henderson made some impact in a midfield ball winning role, all three of these players were released by the club at the end of the campaign and by far the best of the new signings was central defender Jimmy Mullen who arrived from Rotherham after previously playing under Len Ashurst at Sheffield Wednesday. Although Mullen initially arrived on loan, the move was made permanent that summer as City paid £10,000 for his services and, for his contribution in the 82/83 promotion team alone, it was money well spent on a man who ended up as a joint manager of the club with Jimmy Goodfellow for a while in 1984 after Ashurst left to join Sunderland.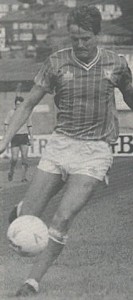 At five foot ten, Mullen wasn't tall for a centre back and you might have thought that his lack of height would tell against him against a team like Watford, but his anticipation and clean tackling was to stand him in good stead on an afternoon where City were called on to do more than their fair share of defending. To give anyone who wasn't at this match an idea of how it panned out, I can remember that the Echo reported that the corner count was 20-2 in Watford's favour and there was a definite reversal of the traditional home and away team's roles as Watford enjoyed a great deal of territorial domination. Mullen and co stood firm though as City soaked up the pressure with Keith Pontin (who would mysteriously retire from the game at the age of twenty six less than six months later) outstanding against the visitor's stream of crosses and high balls.
I said earlier that this was probably the worst City side I had seen up to that time, but what they did have was an outstanding winger cum striker in Dave Bennett and as the game wore on, the hope grew that he might be able to engineer something for them on the break. That it was precisely what happened early on in the second half when Bennett completed a good, quick  passing movement by cutting in past a couple of defenders to knock the ball low past keeper Steve Sherwood from around the penalty spot.
This goal only served to increase the Watford pressure, but, with something to hold on to, City were turning in what was probably their best performance of that season – from memory, there was not much pretty football played, but there was plenty of commitment and determination which had you thinking that there was actually a chance that City could pull it off. As the minutes ticked by, Watford had to commit more players forward and the opportunities for City to break became that bit more frequent with Tarki Micallef capitalising on one of them to clinch a victory which, despite all of the visitor's possession and pressure, they probably deserved.
What looked like a crucial win at the time was the third in a run of four consecutive wins at Ninian Park for the team and when you consider that they also had a run of five home wins out of six earlier in the campaign, you would have thought that this should have led to us staying up. However, the fact is that, apart from those two purple patches, they did not win a single game in front of their own fans and, having given themselves an excellent chance of avoiding the drop by climbing to sixteenth with seven matches to go, one win and two draws from those games sealed their fate – I'm afraid that, in the end. the team got what they deserved.
3 April 1982
Cardiff City 2 (Bennett D, Micallef) Watford 0
City Healey; Jones, Pontin, Mullen, Gilbert; Grapes, Henderson, Micallef, Bennett D; Stevens, Kitchen; sub (not used) Maddy
Watford Sherwood; Rice, Terry, Bolton, Pritchett; Rostron, Taylor, Lohman(Armstrong), Barnes; Blissett, Jenkins
HT 0-0
Att. 6,729