The ridiculous situation of a year ago whereby Wales and Cardiff City played games on the same night was repeated yesterday as Australia were the visitors to Cardiff while City had to go to Oxford for a First Round League Cup tie with a squad missing ten first team players through international call ups and injuries.
I was at Cardiff City Stadium to watch the international game on a night of mixed results which saw Wales continue the slump that has seen them drop to bottom seed status for the recent World Cup 2014 qualifying draw (we were paired with Croatia, Serbia, Belguim, Scotland and Macedonia – not a bad group, but we've got no chance on current form) and to 112th in the Fifa World rankings and City eventually prove too strong for their League Two opponents after a hard fought tie that went to extra time.
"Hard fought" is certainly not the description that comes to mind when recalling the first half (and much of the second period) of the Wales match! The game started with Wales dominating possession, but it was never to any purpose as slow and "safe" passing saw them playing in front of Australia all of the time with the visitors perfectly content to let us have the ball. Thinking back, I'm not sure Wales, with Aaron Ramsey sometimes the furthest man forward,  even had an effort on goal in the first half – if they did, it was a punt from fifty yards or more! For a long time, Australia were little better, but they did at least carry some goal threat and a thunderous drive against an upright by former wurzel Luke Wilshire awoke every one from their slumbers around the half hour mark.
Tim Cahill's smartly taken goal on the stroke of half time put the visitors into a lead which they deserved on the basis that they were the least bad of the teams, but it also set up a second period which proved to be  a lot more lively and competitive than the first forty five minutes. Wales substituted Darcy Blake for an out of sorts Danny Gabbidon (any one who is a regular reader of this blog will know how highly I rate Gabbs, but he looked like a player whose time at this level had gone last night) and Jack Collison for a subdued Ramsey, but, while the latter added some much needed urgency to the home midfield, Australia were getting increasingly on top and it took a combination of a fine save by Wayne Hennesey and the upright to keep them from doubling their lead. However, it was only postponing the inevitable and when they got in down our left again, the keeper's parry dropped to Kruse who tapped in from two or three yards out.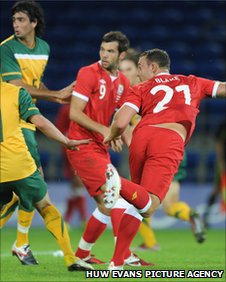 From then on, we saw the usual and numerous substitutions that you get in these sort of games, but what was unusual this time was that they increased the game's entertainment value. Australia were still able to show some of the form that enabled them to win in Germany a couple of months ago at times, but the introduction of Steve Morison, Joe Allen and Adam Matthews definitely improved Wales and, with Gareth Bale becoming increasingly influential, they finished the game the stronger. There was a treat for City fans when Blake scored a goal (which he has never threatened to do in a City shirt!) by heading in a corner and Aussie keeper Mark Schwartzer was as busy in the closing ten minutes as he had been in the eighty that had preceded them as Wales swarmed forward.
It was all in vain though as the visitors held on to their 2-1 lead and, truth be told, Wales' late rally couldn't hide the fact that the better side on the night had triumphed. Australia are not ranked at twenty three in the world rankings for nothing, but, the frustrating thing from a Welsh point of view is that in terms of individual talent, I don't think there is much between the two sides. When you look at the players Wales have to choose from, they should never be as low as they are in the rankings and Gary Speed has to take some responsibility for the way the talented individuals available to him are not gelling into a team, but, he was as critical as most supporters were about the way his side started the match and the Welsh side has been under performing for a couple of years now under three different managers.
As for City, well I might have had a different view on things if I had been there to see it because quite a few who were weren't over impressed. From a distance though, their 3-1 win over a team I have seen tipped by some to be League Two champions looks a tremendous result when you consider who wasn't available for us. Nine of the sixteen man squad for the West Ham match didn't start last night as well as two more (Kiss and McPhail) who are on the injured list – first year pros Alex Evans and Ibby Farah made their first starts in the senior team and fellow ex Academy player Nat Jarvis joined them when he made his first team debut as a second half substitute for Rudy Gestede.
Besides that, second year Academy trainees Adedeji  Oshilaja and Joe Ralls were on the bench and the latter got to play nearly an hour when he came on for Martin Taylor midway through the second half. Ralls (who is a left footed play maker) acquitted himself as well as any of the youngsters apparently, but Evans' performance was praised by the radio team I was listening to as was Farah's. Ibby almost got himself a goal when his twenty yard shot came back off the post, but Jarvis did manage to find the net when his header from a long ball forward looped over home keeper Clarke to put City out of sight at 3-1 deep into extra time.
Judging by what I heard during the second half though, City were a little fortunate to get to extra time. They seemed to be under continuous pressure for much of the time from a home team that recovered from Craig Conway's deflected effort (having now seen it on the telly, it looks more like an own goal to me) which put us ahead in the twelfth minute to level on the half hour through Simon Cliss. Besides wasting a great headed chance to put us 2-0 up, Jon Parkin also had what seemed to be goal ruled out at 1-1 when it was deemed that the ball had not crossed the line – independent witnesses (well they were City fans actually!) swore blind that it was a foot or so over, but the home side could also point to them hitting the woodwork and a series of efforts just too high and too wide and so it's probably fair to say that extra time was the least Oxford deserved.
Of course, as soon as you go into extra time, then thoughts immediately turn to penalty shoot outs. However, when City found themselves in a similar position against League Two opposition in Burton Albion last year, they showed their superior class to score three times and ease to a 4-1 win. This time around, it sounded like it was the class of an individual rather than the side as a whole that saw them through as Peter Whittingham, on as an early sub for hamstring victim Soloman Taiwo, fired in a low, left footed shot from twenty five yards that was too good for Clarke. By common consent, Whititngham was the best player on the pitch last night and he seems to have continued a very encouraging start to the season – far from being moved on, as many initially suspected, when Malky Mackay arrived, it would appear that our new manager sees Whitts as, possibly, the player we can least afford to lose.
Speaking of our manager, you cannot but contrast his approach to young players with that of Dave Jones. To be fair to our former boss, he did give Aaron Wildig (who was conspicuous by his absence from the squad last night – given his limited time on the pitch in our pre season matches, it's beginning to look as if Malky might not rate him)  his debut in a League Cup tie a couple of years ago, but I think someone like Joe Ralls would never have got the opportunity he got last night under him. As a rule, youngsters might have been selected on the bench for this type of game in the past, but they would never get on the pitch. Indeed, there were times in the League when injuries and suspensions meant that Dave Jones would go with less than the allowed number of subs rather than use a youngster(s) from the Academy – hopefully, we'll not be in a position where we don't have enough senior players to fill the bench this season, but, if we are, I believe Malky Mackay would think differently.