On the face of it, that's some claim to make, but, when you realise that we have only played England three times before last night since Mark Hughes' goal at Wrexham back in 1984 was enough to secure a 1-0 win, then it's not as impressive as it first seems. Indeed, Wales would not have had to play half as well as they actually did for such a claim to have some merit – we were absolutely awful in losing 2-0 at Old Trafford in 2004 and in Cardiff in March, while we didn't reach any great heights during the 1-0 defeat at the Millennium Stadium in 2005 either.
As I alluded to in my review of the Montenegro game, it's a Welsh trait (of which I'm as guilty as anyone) to go well over the top in response to good or bad performances by those representing our country and I suppose it needs to be remembered that England's record at Wembley going into the game had been poor – they hadn't beaten anyone there in over a year and yet they managed to see us off. However, you only need to go back less than five days to see what was being written and said before the Montenegro match and then put that against the last two performances to realise that the general feeling of renewed optimism and confidence has some justification to it.
Wales were good last night. They were certainly better than the Republic of Ireland team that luckily escaped from Moscow with a 0-0 draw against Russia a few hours earlier. The thing with the Irish though is that they are a team not used to losing and they were able to combine their international know how, some great last ditch defending and some awful finishing from their opponents (the chance the Russians missed in added time was almost as bad as the one Earnie missed last night with fifteen minutes left) to see things out. In my opinion, if Wales can acquire that international know how mentioned above, then I believe they have more to offer in most areas of the pitch than that Irish team did.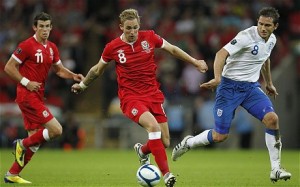 I say in most areas mind, because it appears to be the fate of those who follow the Welsh team that even our best sides still fall short in one of the key areas of the game or another. For example, that 1984 team I mentioned had Ian Rush and an emerging Mark Hughes in it and they'd soon be joined by Dean Saunders – the problem was though that we never really had a midfield good enough to fully exploit their talents. In the previous decade, the 1976 team that reached the last eight of the European Championship had the midfield, but, apart from an increasingly injury prone John Toshack, not the forwards to fire it to it's true potential, while the side that reached the Play Offs for Euro 2004, were short of a really commanding keeper and, when Mark Delaney was missing, lacked true international quality at full back.
This team has a midfield that might well turn out to be the best I've seen represent us, while the emergence of Neil Taylor and Darcy Blake offers hope that we can become a decent defensive team as well – especially if Wayne Hennessey keeps on playing with the assurance he has shown for club and country over the last twelve months or so. However, I'm not sure where the goals are going to come from in the next few years. This isn't just a knee jerk following last night's nil – we've scored three in six matches in this qualifying group. To be fair, we look very dangerous going forward on Friday – Steve Morrison has made tremendous strides since he came into the Football League at a relatively late stage in his career and there might be a lot more to come from him yet, also, put Craig Bellamy in last night's team and it immediately looks more threatening. However, by the time the players in their early twenties now reach their peak, Bellamy will not be the player he is currently (if he is still playing at all that is) and there seems to me little sign at the moment of a natural replacement coming through. For me, the big disappointment with the current crop of youngsters is that not one of the trio of Ched Evans, Sam Vokes and Simon Church, that looked so promising two or three years ago, has really kicked on. Church, who had an almost telepathic understanding with Aaron Ramsey in the Under 21 team, is the biggest disappointment for me – he seems to have recently been overtaken in the Reading pecking order by Hal Robson-Kanu who, at the moment, looks to be the best hope we have of unearthing that new striker we need.
Going back to last night, would we have caused England more problems with Gareth Bale attacking Chris Smalling on their right hand side instead of Ashley Cole on their left? I happen to think that we might well have done, but, just as against Montenegro, I'd prefer to concentrate less on the one thing Gary Speed, arguably, got wrong and more on the things he got right. For a start, the easy option for him would have been to bring James Collins back in after his suspension for Darcy Blake, but, recognising that England would not present that much of an aerial threat, Speed chose to keep things as they were and was rewarded by what was comfortably Blake's best performance yet in a senior Welsh shirt. The City man was quick and assured in his defending (I thought he outshone his centreback partner in that respect) and, for someone who has been, justifiably, criticised by some for his use of the ball, he looked completely at home with the pass, pass, pass philosophy that Speed wants. On the subject of passing the ball, it takes a brave team and manager to go to the ground of a side rated as 7/1 on favourites and play like Wales did – there were periods, particularly after the goal, when England showed what they were capable of, but, generally Wales outpassed them and looked a composed and well organised outfit. Wales also seem to be good finishers of a game under Gary Speed – invariably, they look fitter than their opponents in the closing stages of games.
With regard to individual performances, there might not have been eleven displays as good as the ones against Montenegro, but Neil Taylor largely equalled the standard he set against Montenegro, while Blake and Chris Gunter improved on theirs. Andrew Crofts did not suffer in comparison to the highly paid "superstars" he was up against in the England midfield and while not as effective as he was on Friday, Bale showed why Fabio Capello changed his team and tactics to try and deal with him, However, the player who stood out for me was Aaron Ramsey. He was the youngest player on the pitch, but you would never have guessed that mind as he controlled things in the middle if the park. In the second half especially, he came so close to finding the pass that would unlock the England defence – for the first time since his return from injury I thought this was Ramsey back to his best.
So, a very promising couple of early season matches for Wales with many of the much hyped youngsters from the past five years or so showing the sort of ability they displayed at Under 21 level on the bigger stage – regarding the Under 21's, I'm afraid they were beaten 3-1 in Montenegro (Jon Meades got his first cap after coming on as a sub for the last quarter of an hour) after scoring first in their Euro 2013 qualifying match. There were other City players involved in games last night – Don Cowie gave a typically hard working performance while playing the full ninety minutes for Scotland in their 1-0 victory against Lithunia and Filip Kiss came on as a sub for Slovakia Under 21's in their 1-0 win in Kazakhstan, but Aron Gunnarsson, Dekel Keinan and Joe Mason did not figure in the squads for Iceland, Israel and Ireland Under 21's respectively.