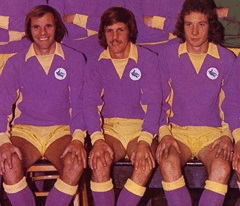 The trouble with watching your side in one of those very occasional games where everything goes perfectly is that it makes the return to the reality of supporting a club like City so hard to adjust back to!
A low key Development team game at Leckwith unluckily lost in the last minute was a reminder, that wasn't really needed, that life watching Cardiff City is much more about City 1 Sheffield Wednesday 2s than it is about City 3 Aston Villa 0s!
The feelgood factor engendered by Saturdays's great occasion, along with school summer holidays, must have been responsible for the biggest crowd I've seen at the new Leckwith Stadium for a Development/Academy team match, but, unfortunately, the fare on the pitch did little to persuade any first time watchers at this level to give it a second try.
City named Stuart O'Keefe as captain and also included players with first team experience in Declan John, Mark Harris and Ibrahim Meite, but a couple of other names took my eye when I saw the team sheet – Tyrone Duffus, who has signed a contract for us following his release by Everton, surprisingly lined up at centreback given that everything I had read about him beforehand had him as a number ten type attacking midfielder and there was also a place for Gus Poyet's son, Diego, who was included in our midfield as a trialist.
This news came as a surprise, because everything I had read about Poyet had indicated that he was a fantastic prospect destined for far bigger things than turning out for our second string at the age of twenty two on a Monday afternoon at Leckwith, but I was thinking of the Poyet of three or four years ago – a look at his Wikipedia page shows that his career has plateaued out in recent seasons.
By contrast, there was only one name in the Wednesday side I recognised – Ashley Baker, who left us for the Hillsborough club in January, was included at right back.
City, began with Meite playing as a lone striker and it soon became clear that Poyet was being used in the sitting central midfield role normally reserved for Jamie Veale who, instead, found himself in more of the number ten type position I had assumed Duffus would be filling.
Whatever the formation was meant to be, City were slow out of the blocks and it was the visitors who looked the better team early on. There were very few chances at either end during a dull first period, but it was home keeper Oliver Byrne who was much the busier as he had some dangerous looking crosses to deal with and was required to come off his line quickly to snuff out potentially dangerous situations from time to time.
By contrast, Byrne's counterpart in the Wednesday goal, Dan Wallis, only had one moment of anxiety when he came just outside his area to deal with a through ball, but found himself beaten to it by Meite who was then faced with a dropping ball about eighteen yards out that he decided he had to volley towards the unguarded goal – it was a difficult chance and an awkward skill to master and I'm afraid Meite couldn't pull it off as his effort ballooned well wide.
City had got a little better as the first half had progressed, but this improvement only really meant that the likelihood of a goal at either end decreased as Wednesday's early superiority disappeared. The teams were now cancelling each other out, so it was something of a surprise when Wednesday made their height advantage count five minutes into the second period when centre half Connor O'Grady nodded in captain Jack Stobbs' corner at the far post.
Declan John received a back injury as Wednesday scored which forced him off and led to a first appearance at this level for Keiron Proctor who I last saw playing for the Academy team just under a year ago – presumably an injury had kept him out all of that time?
Anyway, Proctor's introduction coincided with an impressive reaction by the home team to falling behind as they upped their game considerably. With Poyet not making much of an impact, Veale was now popping up in the areas where he is most comfortable and I don't think it was a coincidence that we suddenly started passing the ball a lot better than we had been doing.
With O'Keefe and Harris more prominent than they had been and Cameron Coxe having more opportunities to get forward, City began to make inroads down Wednesday's left hand side and a goal looked on when the ball was laid back into Meite's path from the bye line only for the striker's very powerful shot from around the penalty spot to be well blocked by a defender.
City weren't to be denied though and when O'Keefe's neat pass played in Harris, the youngster did well to unselfishly lay on a simple chance for Meite which was put away with a minimum of fuss.
All square with a quarter of a game which had certainly improved as it went on left, City were now definitely playing the better football and looking the more likely winners, but they were never able to open up the visitors again in the manner they had been doing in the minutes leading up to their goal. There was plenty of pressure on the Wednesday goal, but, apart from a Duffus header from a free kick which flew inches wide, the visitors were more comfortable at the back than they had been.
Duffus' near miss came with three minutes left and, with Wednesday having done little of note going forward in the second half, I assumed that the match was destined for the draw which would have probably been the right result over the ninety minutes. However, when visiting left back Matt Penney, first, did well to get so far forward so late in the game and, second, managed to reach a deep cross and knock the ball across to present Fraser Preston with a tap in, the visitors had themselves the last minute goal which consigned City to defeat.
Given the paucity of goalmouth action and decent football in the opening half, it's not really saying much that the second forty five minutes proved to be more watchable, but the truth is that, after Saturday, all concerned had a very hard act to follow.