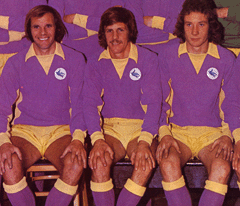 Well, it's 6 a.m. on transfer deadline day as I type this and it's started already with the Daily Mail claiming that Wolves have put in a bid for Joe Ledley. I'm sure this certainly won't be the last time that there is transfer speculation of some sort regarding Cardiff City over the next eleven hours or so and, my feeling is that most of it will be about potential departures rather than possible arrivals.
With Peter Ridsdale stating that there will be no new players signed on the day that he tells us will involve him  jetting off to Malaysia again, it seems unlikely that we will see any new arrivals today and, as Football League clubs will be able to sign loan players again before we play our next match, you have to believe that there is no need for us to bring anyone in today.
On the other hand, if the club had received a pound for every time our Chairman has said that all of our players are available at the right price, the Langston debt would have been paid off months ago! Although City turned down Hull's approach, you get the feeling that it's not just Ross McCormack and his agent who will have been disappointed by his hamstring injury because the suspicion lingers that the masterplan for this summer involved two multi million pound departures from the club not just the one.
Although the chances of McCormack leaving today have been greatly reduced following his injury at Blackpool, there is still time for that second player to go and the most likely departure for the sort of money we are talking about is the aforementioned Joe Ledley. I must admit that I thought Joe would gone to a Premiership side by now, but, it's worth remembering that it was at this time last year that Stoke came in for him with their first bid. City turned that bid down and it was mentioned that one of the reasons for doing so was that they would have been left with little time before the window closed to bring in a replacement of the sort of quality we would have needed to replace Ledley. However, would the club be quite so determined to keep hold of Joe this time around given his current contractual situation – I tend to think they wouldn't.
There are other possible candidates for a big money departure of course – Real Radio have been reporting that a fee has been agreed with La Liga team Club Deportivo Tenerife for Peter Whittingham and there was also a report last week about Newcastle making a £6 million move for Michael Chopra if Alan Shearer was installed as their manager, but they both look like real long shots to me.
No, if anyone is going to leave today for big money then Joe Ledley has to be the clear favourite – if I had to bet on it though, my not very confident at all forecast would be that, apart from the possibility of some of our younger players being loaned out, our squad will look the same at 5.00 pm today as it does now.