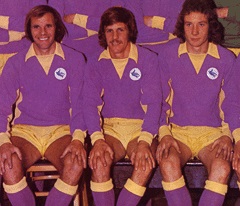 In front of a crowd that was noticeably bigger than you would expect to see at a Development team game played at the ground, Cardiff City and Swansea City Under 15s played out a 0-0 draw which had a great deal more to commend it than the last game with that scoreline to be played at Cardiff City Stadium (between City and Derby's senior sides) last night.
For the whole eighty minutes, plus six minutes of added time at the end of the halves, it was a match which always suggested that it had at least one goal in it and the over riding reason why it didn't was that the three goalkeepers involved all came up with a number of high quality saves to deny the forwards of both sides.
The reason three keepers were needed was that Swansea's original selection Benjamin Alexander, who had already distinguished himself with a flying save inside the first few minutes, received a head injury (he was able to walk off the field when he was subbed, so, hopefully, his withdrawal was a precautionary measure) as he bravely dived at the feet of Slyabonga Ligendza as the City striker attempted a shot with about a quarter of the match played.
Any hopes that City fans may have entertained that Alexander's replacement, Luc Rees, might be a bit of weak link in the Swansea side didn't last long because he was soon producing the first in a series of notable saves – it's no exaggeration to say Rees did not put a foot wrong in the hour or so he was involved.
Two evenly matched sides would enjoy periods of superiority which would last for a few minutes, but the opposition would always come back and, by the end, I don't think there would have been many in the stadium who'd have argued too strongly against the notion that it was a match which neither side deserved to lose.
That said, with about five minutes left, I remarked to the person I was watching the game with that City's keeper, Leo Satherley, had not been anywhere as busy as Alexander and Rees had been and, of course, this proved to be the catalyst for him having to show his mettle as he brilliantly turned away a header and then showed good anticipation and bravery by getting off his line quickly to deny an onrushing Swansea forward. Satherley deserved the luck he got when substitute Aaron Hillier put an awkward, but reasonable, chance high and wide from the rebound when faced with an unguarded goal from twenty five to thirty yards out.
Most of Satherley's saves before that had come from a series of long range shots which were cleanly struck, but too close to him to cause an alert and on form goalkeeper too many problems. However, what made his clean handling of them all more impressive was the rain I was surprised to feel as I came out of the game – it had been dry at kick off and, given he had a greasy ball, to deal with, Satherley should be given credit for the fact that everyone of them stuck with him – there were no fumbles or desperate grabs at the ball as it squirmed loose from his grasp.
One other thing soon became clear – this was a game played with all of the intensity of a Cardiff v Swansea derby at senior level. I was taken aback a bit at first as it became clear that there was such a feisty edge to proceedings and things came to a head when City's Ethan David was yellow carded for his his reaction to being fouled by Swansea's McCauley Power.
I thought Power was lucky to escape a caution for his part in the altercation which followed his foul and there were quite a few other free kicks conceded by him after that. However, there was more to Power than just fouling and he shone as one of Swansea's better players, as was their combative centre forward Joshua Thomas, who put himself about from the first whistle to the moment he was substituted with little time left.
Despite the ability shown by Power and Thomas, I thought Swansea's best outfield player was Harvey Miles. Down the years, I've heard stories of City releasing defenders who were considered too small to make central defenders at senior level (Bristol Rovers' captain and Wales senior squad member Tom Lockyer being a fairly recent example) – Miles was the shortest player in the Swansea side and yet he was still a very effective centreback as he used things like anticipation, technique and natural talent to get himself through the game impressively.
Although I've already mentioned that the teams were evenly matched, Miles highlights what was a very significant difference between the two squads – he may have been Swansea's smallest player, but he was still bigger than three or four of City's starting eleven.
While City's captain Eli King, an elegant midfielder who played for our Under 18s on Saturday, compared well with Swansea in the height stakes and there were a few others who, physically, looked like they were at the very top end of the ages in which you would be allowed to play in last night's match. I wouldn't be surprised at all to learn that about half of our outfield starters last night were eligible for, say, our Under 13 side when they play on Saturday – Miles apart perhaps, there was no one in the Swansea side I could say that about.
City's number five Cris Dignadice typified the difference in physique between the two sides, but this didn't stop him being an effective member of his team as well as someone who never took a backward step in the physical side of the match.
These differences only became more marked when City started making substitutions. The second one we introduced, Fraser Thomas, would have been the smallest player on show if he had come on first, but Rhys Schwank was an inch or two shorter than him and was, surely, the shortest player ever to have played at the ground in a "proper" game – I'd guess he must also be the youngest.
However, just like their colleagues who had to concede a few inches to their opponents, Thomas and Schwank both proved their right to be out there representing their club – indeed Schwank would have won the game in added time if Rees had not produced, perhaps, his best save of the night to keep out his angled right foot shot.
In truth, it would have been cruel on either side to have lost the game and I left the ground having thoroughly enjoyed an encounter which I'm sure that all who played in it will remember for the rest of their lives – all of them can feel proud of their efforts this morning.