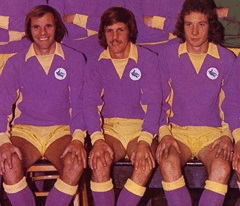 To the relief of many I suspect, these post match pieces on first team games have been getting shorter in recent weeks as it's become clear that, to use Neil Warnock's phrase, we were going to be "limping over the line" among the middle of the field also rans in this season's Championship.
Of course, this finishing position is a lot better that it looked like being in the first half of the Championship marathon and, realistically, is as good as could be expected given the position we found ourselves in going into the season's second international break. However, the truth is that City's season has been winding down for around six weeks now and, although I would never accuse this squad of not trying, recent performances have tended to reflect this – consequently, our games have raised less talking points.
So, this was always going to be a fairly short piece, but, having just watched Neil Warnock's post match press conference following our 2-0 loss to Newcastle, it's going to be shorter still because he made precisely the two points that I was going to build this piece around – I'll still make them though!
The first is that, although Newcastle scored from two quality strikes and at times showed why they can still finish the season as Champions, I felt we had the chances which could have led to a different outcome.
I generally find myself agreeing with Wales Online's Chris Wathan and I would recommend his book recording Wales' progress as a team in the years leading up to Euro 2016 to anyone interested in football in this country, but how he can say, as he does in this report on last night's match, that the two opportunities sub Craig Noone had in the second half were the only ones we had on the night is beyond me.
For me, the match epitomised the general lack of ruthlessness in front of goal we have shown for much of the season with Noone's misses coming from chances from close in that he miscued pretty horribly. Visiting keeper Rob Elliot, who has been making a comeback from long term injury in recent weeks, was given little to do apart from deal with an early daisycutter by Aron Gunnarsson and turn away an effort from another sub, Anthony Pilkington, that I'm sure was meant as a cross rather than a shot, but this doesn't mean chances weren't created, it just offers more proof that too much of our finishing this season has been substandard.
There were chances from headers and promising positions wasted which should, at the very least, have resulted in Eliot being given a busier evening than he had. I thought, generally, our play up to the final third was pretty good last night, but all of our attacking players (including Kenneth Zohore, who it was announced had signed a new contract with us lasting until 202o) have dropped  a few notches in their performance levels since the first three months of the year when we were carrying a distinct threat going forward.
Junior Hoillet, Kadeem Harris and Zohore have not been as successful lately and the question has to be, is this due to that general loss of "edge" in the team since it became clear we were going to stay up, or have they been "found out" by defences who would have had little or no previous experience of them before this year?
There will be certainly be a degree of the latter, but my feeling is that you don't lose pace in a period of weeks when you're the age those three are and my hope and expectation is that, come August, that intensity they had in January and February will be back – always assuming Harris and Hoilett have agreed new deals with us of course.
However, although I can understand Warnock's desire to extend Hoilett's contract, the truth is that, even when he was playing better for us than he is now, his finishing was not that good and the same can be said, albeit to a lesser extent, about Harris who has not being able to carry his impressive strike rate from his Development side days into first team football.
Although I'm more confident about Zohore's finishing ability than I was, it would be good to see him proving that his virtual goal a game spell over a period of ten weeks or so was not just one of those hot streaks that so many strikers have, maybe, two or three times in a long career in the game. I'm not saying that he should be a goal every other game merchant, but he needs to be looking to one in every three  at least (i.e. fifteen goals in a full league campaign) every year he's with us from now on.
So, although the current squad have had a spell over a decent number of games when their goalscoring rate was at a level you would expect from a top six side, the general impression gained over the course of the season is that we need better than we've got when it comes to finishing if we are to be genuine challengers in 17/18 – on chances created last night, we should have scored two of our own to match Newcastle's pair of goals.
As for the second point I wanted to make, I'll say that, in some ways, last night reminded me of what it used be like when we were in the Premier League – a big crowd, good, and noisy, away support (not that this was always the case in 13/14 mind) and a constant stream of people going back and forth to the toilets/food or drink stores blocking your view of certain parts of the pitch!
There was one other similarity as well – a feeling that the so called big team would get the benefit of the doubt in any decisions the officials had to make. To be fair to ref Graham Scott, I'm not going to be able to get a second chance to see Sean Morrison's disallowed goal until it's posted on Cardiff City World, so I cannot comment on whether he made a right decision there or not and I did think that Newcastle had a strong case for a penalty at one time, but, overall, I tend to agree with Neil Warnock's view that he was "terrible".
Looking through his history, I see the number of City matches Mr Scott has taken charge of probably runs into double figures, but, while it's true to say we've lost a lot of them, his is certainly not a name I look at beforehand and think "oh no". So, I would guess that, rather than being a bad referee full stop, he was probably a decent ref having a bad night – whether their overall performance is good, bad or indifferent, I think it's fair to expect consistency from a referee in the way they treat both sides and I'm not convinced that was the case with Mr Scott last night.
One last thing, perhaps someone who was closer to the incident or someone who saw it on television, could tell me whether the linesman on the Ninian Stand side of the ground really did make an absolute howler of a decision when one of the Newcastle defenders slipped on the ball in the second half and left Zohore with a run in on goal from the side of the penalty area? Yes, Zohore was originally in an offside position, but everyone around by me, sat about fifteen yards behind the official, thought the Newcastle player had touched the ball, thus playing our striker onside – was that how it happened or did the centreback just fall over and not touch the ball?
*pictures courtesy of http://www.walesonline.co.uk/